This betPawa review will guide you through betPawa Ng, one of the most popular betting sites for Nigerians. It features a wide range of betting markets, mobile options, lots of bonuses, and even a few slot machines and casino games.
Note: we don't have an affiliation with betPawa. We recommend that you check our Bet9ja promotion code article
| betPawa review | Our rating |
| --- | --- |
| Welcome offer sport | N/A |
| Welcome package casino | N/A |
| Markets | 2.5/5 |
| Odds | 3.5/5 |
| Steaming/Live options | 4/5 |
| Mobile app | 4/5 |
| Payment options | 4.5/5 |
| Customer service | 4/5 |
| Average grade | 3.75/5 |
| Register | Sign up |
BetPawa Review – Sports
Most online casinos and sports betting sites have a welcome bonus when you sign up. The welcome bonus is usually a deposit bonus or a free bet bonus. The deposit bonus would add extra cash to your deposit.
For instance, let's assume you register, log in, and deposit ₦1,000. A 100% first deposit bonus would give you another ₦1,000 as a bonus, bringing your total up to ₦2,000. On the other hand, a free bet bonus lets you place a wager for free.
With a free wager, your money won't be taken when you place the bet. However, if you win, you'll still get the winnings equal to the stake value of the free bet. If you lose, none of your money is lost.
Another type of free wager is a cashback bonus offer. With this bonus, you would spend your money as usual to make a bet. However, if you lose, the money would be refunded instead of spent.
Accumulator Bonus: 500% Win Bonus
There is no welcome bonus at the time of writing this betPawa review, but you can follow the website to check if it appears in the future. However, there is an accumulator bonus. This is a great way to bet when you want to min-max the risks and rewards.
The 500% win bonus applies when you wager on an accumulator bet. With three selections or legs in the accumulator, the bonus is 3%. Moreover, with four legs, it is 5%. Then, with five legs, it is 10%. This slowly increases up to 45 legs for a 500% bonus.
Unlike most other sports betting sites, there are no minimum odds on this accumulator. You can select bets with high chances of winning and very low odds if you want.

Betting Markets / Available Sports on betPawa – 2.5/5
This part is betPawa's weakest aspect. Most sports betting sites usually offer at least 5-10 of the most popular sports. However, betPawa is limited to only three different sports: Football, Basketball and Tennis.
Want to bet on American Football, Rugby, Badminton, Ice Hockey or any of the dozens of other sports out there? You can't do that at betPawa Ng, which is really unfortunate.
At least for fans of Football, Basketball and Tennis, betPawa is a solid betting site with a lot of available markets and betting options. Punters can bet on leagues like the Premier League, UEFA Champions and Europa Leagues, FIFA World Cup, Africa Cup of Nations, Serie A, Bundesliga, Ligue 1, La Ligue, etc.
Live games are always available as well, and there are also many virtual sports to check out.
Finally, there's a jackpot called Pawa6. Predict the winners of six matches. If you get all scores correct, a big reward awaits you. The Pawa6 jackpot is also free every week.
BetPawa Review Casino
While betPawa Ng is a sports betting site, it does have some casino games. Casino games can be a short break from the majority of sports betting. Here, they are fun, arcade-style distractions from sports betting. Read on this betPawa review to find out more about its casino section.
Tables
Table games are commonplace at every online casino. They are card or dice games that are, as you can guess, played on a table. Examples of table games are Blackjack, Poker, Roulette, Baccarat, Craps, Keno, etc.
At betPawa Ng, you can play Sweet Candy 6 Keno and Lucky Roulette.
Slots
Slots involve several reels, 3 or 5, spinning randomly. They come to a stop at random points. Several symbols are placed on the reels, and if they line up, they pay out a reward based on the symbols.
Slots are the simplest and most common type of casino game. That might be why they are found at nearly every online casino. For example, on betPawa, you can find Trafrica.
Progressives
Progressives are slot games that have a big jackpot reward. The jackpot builds up over time as people play the slot game. Eventually, it can be worth hundreds of thousands or even millions. The chance of winning the jackpot is very small, but lucky people still do.
Video Poker
Video poker is basically poker played against a computer. You simply win or lose based on the poker hand you got. For many people, the excitement of poker is in playing it against other real people. It's a great way to have fun with poker without the stress of a real game.
betPawa offers Jacks or Better video poker.
Blackjack
Blackjack is another very popular casino game that is found at most casinos. It involves collecting cards in your hand until your hand total is as close to 21 as possible. Going over is an automatic loss, called a bust. Unfortunately, there are no Blackjack titles at betPawa.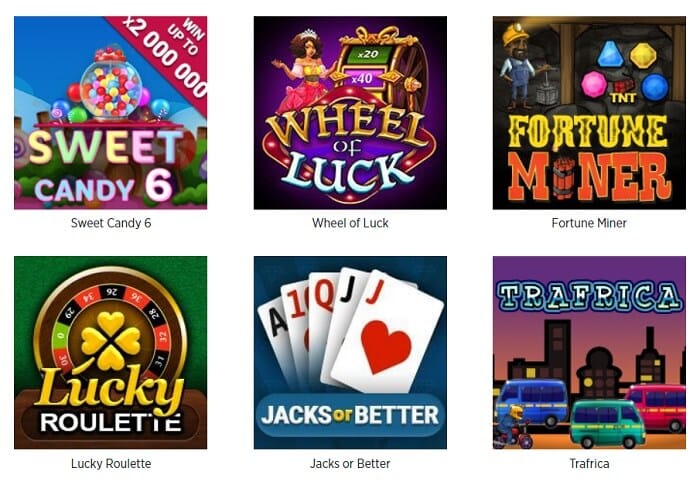 BetPawa Casino: Welcome Bonus – Terms and Conditions
There is no welcome bonus for casino games at betPawa Ng at the time of our betPawa review. The only bonuses are focused on sports betting. However, there may be some bonuses like a deposit bonus or a free spins bonus added in the future.
Odds on betPawa – 3.5/5
The odds on betPawa are comparable to most other online sports betting sites. When we compared it with others, we found that the odds were within a few decimal places of each other.
betPawa does not have higher or lower odds than other Nigerian sports betting sites. We would rate it as average in this betPawa review.
Streaming and Live Betting on betPawa 4/5
Most of the time, sports betting refers to pre-game betting. That is, punters bet on the game before it starts. Once it has started, there is no way to place a pre-game bet anymore.
However, live bets are different. Live bets are placed after the game has started and while it is ongoing. In live bets, the odds for different events are updated in real-time.
Live betting is exciting since you can get right into the flow of the match. Rather than relying on statistics, punters must rely on their game sense and intuition. It's a different way of sports betting. Plus, the odds can swing in live bets.
For a 1×2 bet, the odds could go from 1.5 to 3.0 in an instant if one team scores a goal or one team loses a star player. The unpredictability is yet another draw of live betting.
BetPawa Mobile App – 4/5
The majority of Nigerian punters are not on desktop computers but rather mobile phones. If you have an android phone, then we have good news for you.
betPawa Ng offers a great android app for all its customers, putting it near the top of the overall best betting apps available in Nigeria. There are a lot of advantages to using an app, so we suggest downloading and trying it out.
The mobile app's advantages are in convenience and efficiency. When you download the app, you only have to download all the assets and designs once. So, the app uses a lot less mobile data than the website.
With the app installed, you can enable notifications. You will be notified the instant a match starts or finishes. You can also get notifications for bonuses, payments, etc.
The app is currently only available for Android users. We have tested it out, so rest assured it is a safe app. If you get any warnings when downloading and installing it, don't worry about them. Just make sure you are downloading the app from the betPawa website, and you will be fine.

BetPawa Nigeria – Payment Options – 4.5/5
At betPawa Nigeria, there are several different payment options. In order to make a deposit, punters must first register an account. After login, they can deposit by going to the 'Menu' at the top right and selecting the 'Deposit' option.
The deposit methods are VISA and Mastercard Credit and Debit Cards, Direct Bank Deposit, MTN Airtime and USSD.
The actual process of depositing is very similar for all of them. It is quite straightforward, so punters have no reason to be confused. Simply choose the deposit method and amount to pay/deposit. Then confirm it by entering any payment details and confirmation codes.
The minimum deposit using any method is ₦100. The maximum deposit is ₦20,000 when using credit cards. When making deposits, keep any possible deposit bonuses in mind as well.
How to Contact betPawa Customer Care? – 4/5
betPawa customer care can be contacted in several different ways. The simplest and easiest way is to request a call. Go to the 'Help' page and scroll all the way to the bottom.
There, you will see a 'Request a call' field. Fill in your phone number and submit it, then wait. They will call you as soon as they can.
If you don't want to wait for a call, you can call them instead. betPawa's phone number is +234 7002387292. If you want to chat with them rather than call them, then you can message them on WhatsApp. The WhatsApp number is +234 818 840 9405.
Another option is emailing them. betPawa's email address is [email protected]. Emailing is probably the slowest method, but it gives you the chance to put in a lot of detail about your issue. Expect a response to emails within one day.
Finally, there's the option of contacting them through social media. betPawa runs a Facebook page, so you can easily message them on the page. However, we recommend using email or phone communication first.
BetPawa Review: Our Verdict – 3.5/5
Overall, betPawa is a fairly decent sports betting site. The company also has branches in several countries other than Nigeria, including Uganda, Ghana and Kenya.
The biggest issue with betPawa is its lack of bonus offers and the minimal betting options. If you want to bet on any sports other than Football, Basketball and Tennis, then this is not the site for you.
Otherwise, betPawa has a small but fun selection of casino games. Registration is quick and easy. It has fast deposits and withdrawals. Customer support can be contacted easily. There is also a mobile app optimised for those who prefer to play on the go. Take a look at the table below that summarises our betPawa review.
| ✔️ What we like | ❌ What we don't like |
| --- | --- |
| Fun, arcade-style casino games | Very few sports to bet on |
| Mobile App | Very few bonuses |
| Customer Support is easy to reach | |