Our article on BetKing registration aims to present you with all the need-to-know information about creating your BetKing account. You will also learn more about the BetKing registration bonus and everything this brand offers. Open a BetKing account, meet the requirements, and get a chance to receive the 5x Cashback Bonus.
How to Register Your BetKing Account – Step by Step
There is an excellent reason for those interested in sports betting to join this brand. BetKing is not only popular for its sports offering but also for its user-friendly mobile site that works with older mobile devices.
The BetKing online registration process is one of the simplest procedures compared to other online betting sites in the country. It only takes minutes before you can embark on endless betting opportunities.
To open a BetKing account, follow the instructions below.
Visit the bookmaker's official platform.

Press the Join button. A box will appear where you can fill in the BetKing registration form.


Start by entering your mobile number and enter your referral code VIPBET.


Next, you will need to create a password & provide your personal information, such as your first and last name.


Enter a valid email address, your birth date and your state of residence.


Tick the box to confirm you are above 18 and agree to the terms and conditions.


Press the Sign Up Now button to open your BetKing account.
After completing the BetKing registration process, you will receive a confirmation message. You will also receive a confirmation email to the provided email address. All you need to do is click on the link to confirm it and start placing your bets.
BetKing Mobile Registration
Many players still use the old mobile version because it works with older and new mobile devices. To access the platform's mobile version, you must open the brand's site and press the Main Menu page. Then, press the Quicklinks button. From there, choose the BetKing Mlite option.
Once it loads, you can start the BetKing registration form. The BetKing account creation through a mobile device is simple and goes like this.
Press the BetKing Registration button.
Enter your mobile number.
Pick up a username and create a new password.
Provide the required information, including your personal and contact details.
Enter your email address and state of residence.
Tick the box to agree to all the terms and confirm you are above 18.
Hit the BetKing Registration button to finalise the process.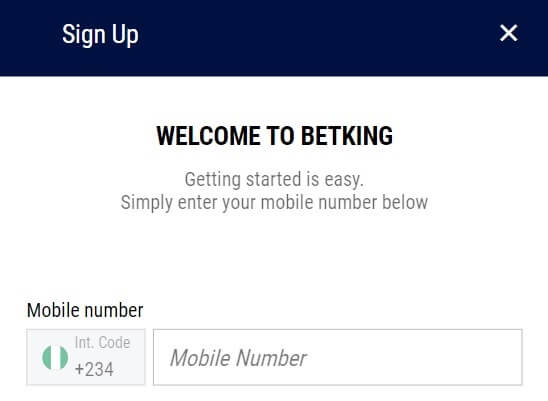 Once you complete the BetKing online registration procedure, you will receive a confirmation message on your mobile phone. You will need to confirm it and then start your betting journey. Once you have an active BetKing account, it will open doors to endless sports betting opportunities.
Compared to other online bookmakers in the country, this brand is considered a sports betting company that offers the most popular sports to bet on daily. You can open the sports page and find all available tournaments by default.
BetKing Registration via Phone Number
Unfortunately, Nigerian players cannot register their accounts via SMS. Hence, those interested in placing remote bets can create a BetKing account by following the same steps provided above.
Once you fill in the BetKing registration form, you will need to log into your account and verify your mobile number. Here are the steps you need to take.
Log into your account.


Open the Main Menu page and click the Verify Mobile option.
Once you confirm your mobile number, press the Send Verification Code button.
You will receive an SMS with the verification code.
Enter the code and press Verify.
BetKing Registration on Desktop
If you decide to use the platform's desktop version, you are likely to follow the same instructions for registering with the mobile site. The procedure is straightforward and goes like this.
Open the operator's betting platform and click the Sign-Up button.
Start by entering your phone number.
Tick the box below to enter the promotional code if you have one.
Then, enter the required details in the designated fields. These include some of your personal and contact information.
Next, create a password.
Tick the box to confirm you are of legal age and agree to all the terms.
To create your BetKing account, press the Register button.
Create an Account on BetKing – Terms and Conditions
Online betting sites have set various terms and conditions customers must meet once they join them. One essential term for joining all online bookmakers in Nigeria is that players must be over 18 to create their accounts and place online sports bets.
This is parallel to the BetKing sports betting company. Nigerian players acknowledge that they are above 18 and have read all the operator's terms and conditions. Besides, all the details they provide must be valid and correct.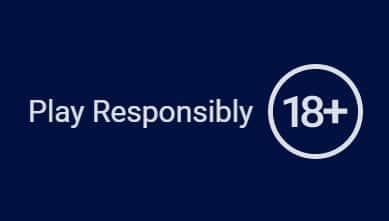 BetKing Referral Code for Registration
Registered players are given a chance to opt for the bonus after meeting all the bonus requirements. Those who meet all the bonus qualifying steps will get the 5x Cashback Bonus. If you are interested in claiming this promotion, you are required to add the BetKing promo code VIPBET.
5 Times CashBack

18+Qualifying bets that settle on weekends (Fridays, Saturdays, Sundays) during the promotion will receive 5x times Bet Bonus Cash Back on the following Monday. T&Cs Apply.

Visit site
In addition, the bonus comes with important terms you must meet before being able to claim it. All participants must have a registered BetKing account and be of legal age, which enables them to participate in all the accessible promotions.

Verify Your Account on BetKing
Verifying an account is one of the most important procedures you need to complete before withdrawing funds. Any online bookmaker wants to confirm the identity of its users before they are allowed to activate the withdrawal function.
The account verification procedure is straightforward. You will need to provide a valid photo of your ID. To verify your BetKing account, you must complete a set of qualifying steps, as follows:
Visit the operator's betting platform.
Log into your BetKing account by providing your username and mobile number.
Click on the Main Menu section and press the Verify Link button.
Upload a photo of your ID card.
To complete the procedure, press the Submit button.
Once you submit your request, the support team will review the provided details within a few hours. If more information is required, you will receive a notification.
Why Do I Have Issues with My BetKing Registration?
If you have troubles with the BetKing registration, there are several things you need to consider. Most importantly, make sure you have a good internet connection. This is because you won't be able to create your account with a poor internet connection successfully.
Another thing to consider carefully is the required information you provide while filling in the registration form. While creating an account, all the entered details must be correct and valid. In addition, all Nigerian players must be over 18 years old to be able to join this brand. Thus, if you are younger, you won't be allowed to set up an account on the bookmaker's website.
Moreover, you will have issues creating your account by adding a phone number already used with an existing account. Besides, using registration details already linked with an existing BetKing account is also why you cannot complete the signup process. Hence, make sure you don't use ineligible signup details. If nothing from the above is the reason, it is best to contact the customer support team for help.
Can I Change My Account Details after Registering on BetKing?
Unfortunately, the bookmaker doesn't allow you to change your account details after completing the registration form. This also refers to the username you create while filling in the registration form. You won't be allowed to change the username once you create your betting account.
However, you can still change your password by opening the My Account page and choosing the Change Password option. In addition, to update your personal details, you will need to contact the support team. This can be done by emailing them at [email protected]
Is It Legal to Register on BetKing in Nigeria?
Anyone above 18 years of age can create a BetKing Nigeria account. The brand is one of the top sports betting companies serving Nigerian players. It holds its licence from the Lagos State Lotteries Board and Anambra State Gaming Company.
Furthermore, outstanding betting opportunities await you here on this betting platform. Once you open the Sports page, you will be amazed by the extensive selection of sports and sports events available to bet on daily. Whether you use the platform's desktop version or the mobile site, you will access all the available sports and live events with a press of a button.
BetKing Registration – Frequently Asked Questions
How to register for BetKing in Nigeria?
To register an account on this betting site, you must be over 18, as it is one of the key terms that apply to it. However, the procedure is simple and requires providing correct personal and contact details.
Where can I find the BetKing registration form?
If you click on any of the buttons on this page, you'll directly land on the registration form. Or, you can manually trigger it by clicking on the "Join Now" button on the main website.
How much is the BetKing registration fee?
There are no fees. The registration is completely free of charge.
How to verify a phone number on BetKing?
When you enter your number the first time, the website will send an OTP (One Time Password) to verify your number.
How do I register for BetKing via SMS?
Unfortunately, there isn't any available option for Nigerian players to register an account via SMS. However, players using their mobile devices can follow the Register Via Mobile instructions provided in our review above. 
BetKing blocked my account: what can I do?
The bookmaker may have blocked your account because you didn't complete the account verification procedure. Another reason is that your provided phone number is already attached to an existing BetKing account.
Can I sign up on BetKing on my phone?
Yes. Whether using the desktop version of the platform or the mobile site, you will follow the exact instructions to open a new account.