You need to open an account on Bet9ja before you can begin to place bets on the betting platform. This guide will cover the steps to complete your Bet9ja registration on mobile or desktop within a few minutes.
Bet9ja Desktop Registration – The Step-by-Step Guide
Having been one of Nigeria's top betting sites for nearly a decade, it's no surprise that the Bet9ja registration is quick and easy. This site puts itself in its customers' shoes to ensure that it offers a seamless betting experience. Here's a step-by-step guide on how to register via the desktop platform.
Click the button below to visit Bet9ja Nigeria.
Once you are on the sports homepage, hit the 'Register' button.
Complete the Bet9ja online registration form with your correct personal and contact details.

Enter the Bet9ja promotion code SPORTMAX. Then, click 'Continue' to proceed to the next page.
On the next page, create a username and password, select your state of residence, and enter your phone number.
Then click the "Create My Account" icon to finalise the registration process.
Go to the payments section and make your first deposit. Activate the welcome bonus, and start betting.
Mobile Registration on Bet9ja – Step-by-Step Guide
With smartphones being the most popular device used by online bettors in Nigeria, knowing the Bet9ja mobile registration steps is vitally important. The good news is that it's straightforward to open Bet9ja account, as you can see.
Use the button on this page for instant access to Bet9ja
Tap the 'Register' button in the top-left corner.
Complete the first page of the Bet9ja registration form and click on "Continue". Ensure you enter the promo code SPORTMAX to claim the welcome bonus on the form.
On the next page, create a username and password and select your state of residence and enter your phone number.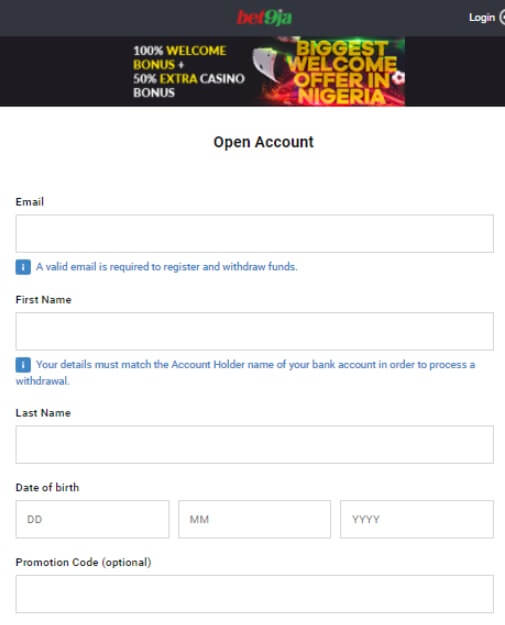 Then click the "Create My Account" icon to complete the registration process
Go to the cashier and make your first deposit.
Claim your welcome bonus and place your bets.
What documents to provide when registering on Bet9ja?
The only thing you need to complete the Bet9ja registration is a valid email address and mobile phone number. Once you've registered, the operator sends you an email or SMS so that you can confirm the Bet9ja account opening.
With that said, you will need to verify your identity at some point. When you register, you are agreeing to allow the operator to conduct 'any and all identification checks' when it deems necessary and/or it's required by the licensing laws in Nigeria.
The most likely time when you'll have to go through the identification check is when you deposit or withdraw. Bet9ja reserves the right to verify ownership of a particular payment method if it deems necessary.
For most customers, the verification check takes place when you make your first withdrawal, which could be some time after your Bet9ja registration. The betting company will ask for a copy (front and rear) of your national ID card. Also, for credit card transactions, you will be asked to provide a copy of the card (showing only the last 4 digits). While optional, Bet9ja could also insist you show an official document, such as a bank statement, with your name on it and billing address on it.
Why should I Register on Bet9ja?
Sports bettors in Nigeria have a wide selection of local and international betting sites to choose from. Therefore, why should you register on Bet9ja over the others? Of course, it's a personal choice, but these are some of the advantages of using this site.
Sports & Betting Markets
After you've completed the Bet9ja registration, you can bet on more than 20 sports, including soccer, tennis, basketball, cricket, American football, ice hockey and volleyball. From these sports, there are thousands of matches and events every week.
Furthermore, Bet9ja delivers outstanding market depth on all the top events. For instance, you can bet on individual Champions League games and place bets of home no goal, 1X2, double chance, first goalscorer, GG/NG, HT/FT, and many others.
Super9ja
Super9ja is a free-to-play soccer prediction game that you can enter when you open an account through the Bet9ja registration. All you have to do is predict the six correct scores from the pre-selected matches, and you'll win a share of 10,000,000 naira.
There are also consolation prizes for the top 20 players. However, terms and conditions apply, which you can read either before or after your Bet9ja registration.
Bet9ja Fire Bets
With Firebets, Bet9ja provides a certain number of games per bet slip for a series of betting markets and allows customers to get the code to make a booking. There could be 8, 10, 12, 14, or 16 per betting market, and all you have to do is to get the code and enter it into the betting terminal or to a cashier. This means that Bet9ja has made the bookings for you, and you only need to pick from the list.
Cash-Out on Bet9ja
Cash out is a hugely popular betting tool that allows customers to settle their bet before the event has finished. For instance, Arsenal are leading Everton 1 – 0 with 75 minutes on the clock. You bet on Arsenal to win but Everton look dangerous. You choose to cash out. Alternatively, if you bet on Everton to win and at half-time, they are losing 1 – 0, you can cash out to salvage some of your original stake.
Virtuals and Casino on Bet9ja
While this gambling site is best known for its sportsbook, after your Bet9ja registration, you also have access to an impressive range of virtual sports, an instant-play casino with 500+ games, and lotto betting. It truly is an all-in-one gambling destination for players in Nigeria.
All the Promotions
One of the features that make Bet9ja stand out among other betting sites in Nigeria is the variety of promotions available on the platform. Bet9ja provides promotions and bonuses to ensure bettors have the best betting experience.
Apart from the Bet9ja welcome bonus offered when you register an account, you can access other promotions. Some of them include Cut 1, which allows you to still win if one game cuts your bet. You can also use the multiple boost bonus that pays you more than your original returns from a bet. Bet9ja also allows customers to collect points on their bets.
Mobile Apps
Most bettors prefer to wager on their phones as it allows them to wager from anywhere. As a result, Bet9ja provides mobile apps where customers can wager to get the best betting experience. The advantage of using the mobile app over accessing the bookmaker from the mobile website is that it gives you a more personalized experience. With the mobile app, you can get notifications of the latest promotions and follow up on your bets.
Bet9ja makes it even more special by creating two apps; one for sports games and the other for casino games. However, only Android device users can download the apps as they are not compatible with iOS devices. Customers using iOS phones can use the mobile version of the Bet9ja website to access the platform.
In the Bet9ja review, you will find a full overview of the features provided by the bookmaker.
Bet9ja Registration Legality in Nigeria
Bet9ja is one of the first established betting platforms in Nigeria, allowing bettors to trust the bookmaker since it has been around for a long time. The Bet9ja website is the registered trading name of KC Gaming Networks Limited, licensed by the Lagos State Lotteries Board and the State of Osun. As a result, Bet9ja can operate in any state where betting is permitted across Nigeria.
Thanks to this, it is safe and legal to register, deposit, place bets, and withdraw on Bet9ja.
Bet9ja Registration Bonus: Terms and Conditions
Online betting bonuses come with terms and conditions that have been set by the operator. Bet9ja is not different, as you must meet certain criteria to get the 100% sports bonus + 50% casino bonus. Here are some of the terms and conditions.
Only available to new customers who are 18 years or older.
After you open an account, your first deposit must be via one of the brand's online payment methods.
Once the deposit has been credited, you must wager the full amount on single or multiple bets at odds of 3.00 or greater.
After completing the qualifying bet(s), the welcome bonus will be awarded. This is a 100% matched bonus for sports and a 50% matched bonus for the casino.
You must wager the sports bonus 10x on selections of 3.0 or greater and the casino bonus 40x before withdrawing any winnings.
Please view the welcome bonus page for a full rundown of the other T&Cs.
Other Promotions on Bet9ja After your Registration
The Bet9ja registration bonus is one of the largest welcome offers in Nigeria, but this betting company has other promotions waiting for existing customers. These include:
Cut One: If your 5-fold+ accumulator loses by one selection, you can cut it from your ticket so that you get a payout. Only available to customers after Bet9ja registration.
170% Multiple Boost: Place a multiple bet with 5 selections and get a 5% boost on your winning tickets. This boost goes all the way up to 170% for winning accumulators with 38 selections or more.
Bet9ja Rewards: Collect points on all real money bets and redeem them for cash.
Do you have problems with Bet9ja registration?
Overall, Bet9ja registration is pretty simple, but some customers run into small issues. Here are some of the most common problems encountered during the signing up phase and the Bet9ja login.
Invalid Email Address
It's a requirement during the Bet9ja registration that you provide an email address. If you type the address in and see a message saying 'Invalid email address', do not panic. The most likely cause for this is a typing error. Carefully check the email and correct it, and then you'll be good to go.
Invalid Personal Details
When registering an account on Bet9ja, you need to enter your correct personal details, including your first name, surname, and date of birth. It is recommended to enter your name as it appears on your bank. This is because you will face a challenge withdrawing your winnings if your registered name does not tally with the one on your bank account.
The Page Is Not Loading
If a page isn't loading, it's usually because of your internet connection. Check that you are connected and what your signal strength is. Often, if you move around, you can find an area with a better signal, and this can improve your internet connection.
What to do if Bet9ja Is Down
All websites have gremlins from time to time, or perhaps their scheduled maintenance, but now and then, Bet9ja will be down. At first glance, this can appear like an internet connection issue. You can easily check by visiting a different website to see if that works. If yes, then you know the issue is with Bet9ja. In this case, you simply have to wait until it's online again.
Bet9ja Blocked my Account: What Should I Do?
It is not out of place for Bet9ja to block your account if the bookmaker notices any discrepancy on your account.
The bookmaker will block your account if you open more than one Bet9ja account. Once the betting site notices this, you will lose all the accounts you have on the platform. If you opened more than one accounts due to a mistake, the betting platform will only allow you to continue using the first one you registered and delete the other ones.
Bet9ja could also block your account if you provide incorrect login details in more than five attempts. It is better to click the "Forgot Password" icon to reset your password if you cannot remember your login details.
Also, it is essential to use your valid name when registering. It is recommended to use a first name and surname that tally with those on your identification card. The bookmaker can block your account if the names on your identification card differ from your registered names on the platform.
The platform can also block your account if you open an account when you are not yet up to the legal age of 18.
If you believe your account was blocked by mistake, you can contact the customer support representatives of the bookmaker to find out why. Perhaps, they can unblock your account after answering some questions and providing a means of identification.
How to Verify my Bet9ja Account
Betting platforms usually ask customers to verify their accounts to ensure they do not promote internet fraud or money laundering activities. Bet9ja also ensures all its customers undergo KYC by verifying their accounts to be sure they are the real owners of the account.
While the betting platform can ask you to verify your account at any time, the process usually occurs when you want to withdraw your winnings from the platform. Bet9ja will ask you to provide a means of identification to ensure you own the account. The means of identification asked for could be a government-issued ID, including an international passport, national ID card, Driver's License and others. Bet9ja also has the right to ask for utility bills or bank account statements to verify your residential address.
How to Bet on Bet9ja upon Registration
Upon completing your Bet9ja registration, you can follow the steps below to bet on Bet9ja.
Deposit funds into your account using any payment methods available on the platform. Navigate to the homepage, and click the "Sports" icon. This will bring a list of ongoing games. You can then select any of these games if you want to wager on them.
Alternatively, choose your favourite sports from the list of available sports and click on the competition you want to place bets on the resulting page.
Then place your bets by clicking the odds against the games of your choice. Bet9ja provides odds for various betting markets against each game. You can also switch to different betting markets as you wish.
Bet9ja allows bettors to place accumulator bets. It means you can wager on many games on a bet slip. Chose as many games as you want, and they will all add up to the bet slip.
Then go to your betslip at the right-hand side of the page if you are using a desktop device. On the other hand, you can click the betslip button on the homepage if you are using a mobile device or the Bet9ja app.
Enter your stake amount on the bet slip and tick the box attached to "Accept Odds Change" to accept odds change. Unticking the box will allow your odds to remain as they were at the time you booked the bets.
Finally, click the "Place Bet" icon to place your bets. If you are yet to deposit funds at this point, the betting platform will lead you straight to where you can deposit funds.
Frequently Asked questions on Bet9ja registration
Now that you know how to complete your Bet9ja registration, you can go straight to the website to open an account. However, you can find the frequently asked questions below about Bet9ja useful.
Why is my Bet9ja account not opening?
There are several possible reasons why your Bet9ja account isn't opening: incorrect login details, poor internet connection, or the site being down. Check your Bet9ja login info to ensure you've used the correct email and password. If the page isn't loading, it might simply be that you have a poor internet signal. While it doesn't happen often, the issue could be that the platform is temporarily down.
How can I activate my Bet9ja account?
To activate your account after completing the Bet9ja registration, you must open the email sent by the betting company. This has a link to confirm your account. Once you click that, your account is activated.
How can I delete my Bet9ja account?
To delete your Bet9ja account and remove your data, you must send a message to [email protected]. You need to include your account details, a valid ID card and the reason for closing your account.
How can I reactivate my Bet9ja account?
If you want to reactivate your account, you will need to send a message to [email protected] to help you out. However, this will be subject to verification and checks, and you may have to provide a valid ID card to get back your account.
How do I delete my Bet9ja transaction history?
Log in to your account, click 'My Account' from the menu, and select 'Transaction History'. You'll find an option to delete all or partial sections of your transactions here.
Can I have two Bet9ja accounts?
No, you cannot have two Bet9ja accounts. The bookmaker only allows one account per customer, and you may lose all your accounts if Bet9ja finds out you have two accounts.
How do I add a bank account to Bet9ja?

Currently, the platform only processes withdrawals via bank transfer, so you will need to add a bank account at some stage. To do this, you need to open an account & go to "My Account". Then go to "Manage Bank Account" and click on "Add Bank Account". There, you'll be able to add a bank account. However, you can only add a bank account that has the same name as your registered name on Bet9ja.
How to change my Bet9ja registration number?
The operator doesn't provide any information for players wanting to change their registration number, so we don't think this is possible. Our advice is to contact the support and ask them directly.
How to change my email address on my Bet9ja account?
If you want to switch your email address to another one, you need to contact customer support to help you.