Betano is an amazing sportsbook with an interesting set of bonuses that can be unlocked with the Betano bonus code. But only punters lucky enough to reside in particular regions can complete Betano registration and access the site.
Now Nigeria is one of those regions. So, read on to find out everything you need to know about the Betano registration process and the welcome bonus.
How to Complete the Betano Registration Process?
Signing up for a new Betano customer account is very straightforward. Here is a quick step-by-step guide to the Betano registration process.
Go to the Betano site. Tap the 'Register' button at the top of the screen.
Enter your email address and other personal information.
You may also be able to enter a Betano promo code at this point.
You will receive a verification code.
Enter the verification code in the box provided.
Next, indicate that you are happy to receive a welcome bonus.
Confirm and verify to complete Betano registration.
Betano Registration via Mobile
Customers in Nigeria can now complete Betano registration using their mobile phones as well. Just follow these simple steps.
Go to the Betano site on your mobile phone.

Tap 'Register' and choose whether to join using social media or by email.

Follow the instructions and enter the relevant information.
Verify to confirm and complete registration.
Betano Registration on Desktop
New users can sign up for an account using the desktop version of the site, just as they can with their mobile phones. Here are the simple instructions to follow to register for a Betano account.
Go to the Betano site.
Tap the 'Register' button and decide on your registration process.
Enter all the personal details required and confirm.
You may need to verify your details to access your new account.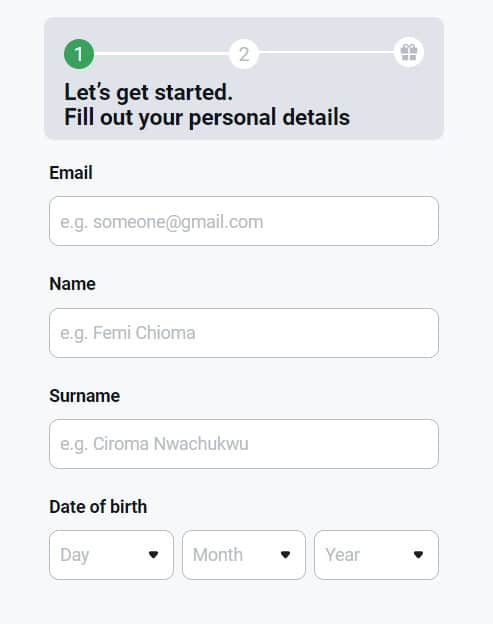 Open an Account on Betano – Terms and Conditions
As with any online registration, there are terms and conditions attached when you sign up with Betano in Nigeria. But the requirements are very basic and most people will not have any problems meeting them.
You will need to be 18 years of age or more.
Punters can have only one Betano account.
Only bettors who are residents of Nigeria can sign up.
You may also need to provide documents to verify your identity.
Betano Account Verification
When you sign up for a new customer account at many online sports betting sites you may need to provide proof of identity. This is the case for Betano, but the whole process is very straightforward and should not delay the start of your betting.
Betting sites will sometimes ask for verification of your identity to ensure that everything to do with your account is secure. A verification procedure is set up so that Betano knows that they are dealing with a bona fide customer. It works for both the bookmaker and the customer.
How to Upload My Verification Documents on Betano
You may be required to send Betano proof of identity in order to access and bet on the site. Betano will tell you exactly what is required but it will usually be some sort of ID, like a passport. You may also be asked to provide a copy of a utility bill that shows your name and address clearly.
Betano will not ask new customers to send originals of any personal identity papers. You can scan or send an image, as long as all the required personal details are clearly visible. Also, you will either be able to upload your details or email to Betano directly. A decision will then be made to allow you to carry on with your betting. This should take no longer than 48 hours.
Betano Welcome Bonus
Once you have signed up for a new customer account at Betano, you will be able to claim the welcome bonus. New customers who want to use the Betano promo code BETANG can receive a 100% deposit match up to a limit of N100,000.
Just complete Betano registration and make your first deposit. The minimum amount for this deposit is NGN100. You will then need to place a bet with the deposit amount as the stake and with odds of at least 3.00. You will then receive a 100% match of your first deposit, up to a limit of NGN100,000.
New customers will have 30 days to wager the amount ten times in order to withdraw any bonus funds.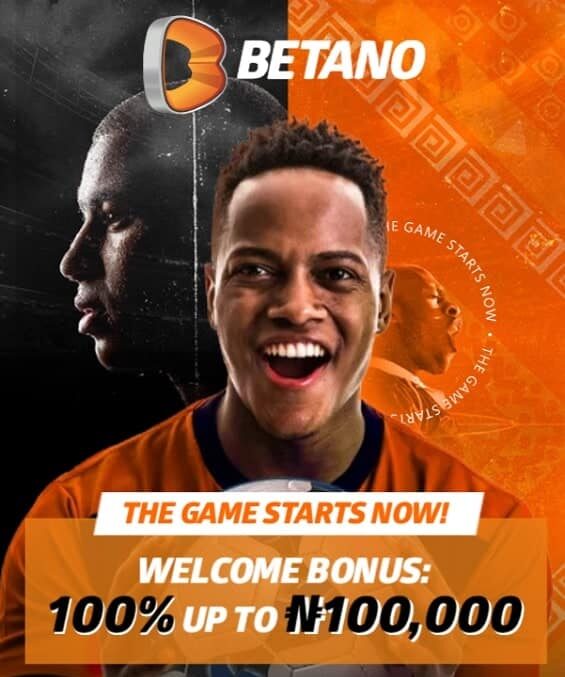 100% up to ₦100,000

18+. Make your first deposit with a minimum of ₦100. The Deposit Amount must be wagered 1 time before the bonus is activated. Then it must be wagered 10 more times with minimum odds 3.00. After claiming the bonus, such bonus money won't be available until you have completed 10% of the wagering requirements using your own deposit cash. Full T&Cs Apply.

Visit site

Live Betting
Mobile App
Bet Builder
How to Access the Betano Account Deposit?
Once you have completed the Betano registration process you will have to make a deposit into your account. This will help claim the welcome bonus and also provide you with funds to bet with.
Log into your Betano account and select the 'Deposit' option.
You will then need to select your preferred payment method.
Follow the individual payment method instructions and enter the amount you wish to deposit.
You will receive confirmation of your deposit and the funds should be available to be used almost immediately.
Betano Registration Help
As we hope you can see, registering for a new customer account at Betano is very straightforward. But, from time to time, potential players may experience some kind of difficulty signing up. The problem is usually very easy to solve and the account can then be set up.
So, here are some of the issues that new customers could face.
Incorrect Personal Details
When you are entering any personal details online you should be extremely careful to make sure that everything is correct. Double-check everything that you have written before confirming. If any of your information is incorrect it may slow down the registration process.
Poor Connection and Signal
If you are in a location with a poor signal or weak Wi-Fi connection you may have trouble signing up for a new customer account. Just move to another location and try again later when you have a stronger connection.
Verification
You will have seen that you may need to provide further information to verify your new customer account at Betano. You will need to upload or send any details or documents that are asked for, clearly showing all the details. If you are unable to do this or the details are not visible, it will slow down the registration process.
Eligibility
There are not many terms and conditions attached to signing up for a new customer account at Betano, but you do need to make sure you meet them all. If you are not legally allowed to register for a betting account in Nigeria you will just have to wait until you are eligible and try again.
However, if you still have some issues when signing up, you should make sure to contact the operator's customer support.
Benefits of Registering With Betano
Betano is an international online sports betting brand with years of experience. There are plenty of good reasons why you should take a closer look at signing up for a new customer account with the operator. We have given you an honest and expert evaluation of the bookmaker and here are three areas where we think Betano is very good.
Betting Markets and Odds
There is an excellent range of betting markets and options available at Betano. This operator covers events from all across the world, including all the major tournaments in a variety of sports. You will be able to find competitive odds for events like the World Cup and AFCON, but also smaller events in Nigeria too.
Promotions and Bonuses
When you sign up for a new customer account at Betano you will be able to claim the welcome bonus. But that is not the end of the offers. You should check the promotions page on a regular basis to see what bonuses are available to all existing customers.
Some are long-running offers, while others are event-specific. Just take a look at the terms and conditions and claim the bonuses you like.
User Experience
Apart from everything else at Betano, using the site is just so easy. Navigating your way around to find what you need is very straightforward, even for a betting beginner. You will be able to place bets in no time at all and discover all the other features with little problem.
Is It Legal to Register on Betano in Nigeria?
Signing up for a new customer account at Betano is completely legal in Nigeria. Betano is fully regulated and licensed in Nigeria, so your personal and financial data is safe and secure.
Betano Registration – FAQs
Now, take a look at some of the frequently asked questions about Betano Nigeria.
How Do I Make a Betano Account?
Customers in Nigeria can now register for a Betano account by visiting the site and starting the sign up process. Just follow the simple instructions to complete the process.

How Can I Reset My Password on Betano?
If you wish to reset your account password you can go to the account settings and edit details there. If you have any problems, just get in touch with the Betano customer support team.
How to Delete My Betano Account?
If you need to delete your Betano customer account for any reason you will need to get in touch with the customer support team.
How to Reactivate My Betano Account?
You will need to get in touch with the Betano customer support team to reactivate your account. They will be able to walk you through the process.