If you're interested in soccer betting, understanding the 1×2 meaning is vital. This market, which is also known as match-winner, is both the most straightforward and popular football bet you can place.
This guide will help build your knowledge of this market. We cover first and second-half 1×2 bets, plus look at handicaps and betting odds so that you can assess the best 1×2 predictions.
What Is A 1×2 Bet?
In a nutshell, the meaning of 1×2 in betting refers to the match result market. Each part; the 1, x, and, the 2 relates to a separate selection within the market as a whole.
1 = home team
X = draw
2 = away team
The main 1×2 bet covers normal match time only. For instance, in soccer betting, that's 90 minutes (+ added on time). If you bet on a cup match that goes into extra time, the 1×2 wager is settled based on the outcome after only 90 minutes.
All of the best betting sites in Nigeria offer 1×2 markets on every soccer match, as well as a few other sports. Regardless of the total number of betting opportunities available, this option is always available.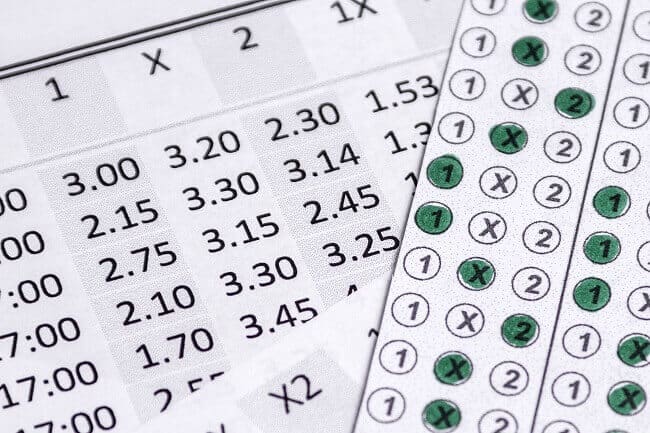 How To Place A 1×2 Bet?
By default, betting companies display the 1×2 odds on the homepage for the league or competition you want to view, so it's easy to place a bet on this market. However, for those new to online betting, here's a general guide to assist you.
Log into your betting company account. If you haven't chosen one yet, check out our approved list of Nigeria's top-rated online bookmakers.
Navigate to the football section and choose the country and league/competition that you want to bet on.
When viewing a league's fixtures, the 1×2 market is also shown. This means that you don't need to click through on individual matches for this bet.
Click on the odds for the '1', 'x', or '2' selection that you want, and it'll be added automatically to your bet slip.
Open the bet slip, enter your stake, and click Place Bet.
How To Calculate The Payout For A 1×2 Bet?
With the 1×2 meaning understood, it makes sense to know how to calculate the payout. As most Nigerian betting companies display their odds in (European) decimal format, the calculation is simply the bet amount multiplied by the odds; for example:
| 1×2 | Selection | Odds | Bet Amount | Calculation | Payout |
| --- | --- | --- | --- | --- | --- |
| 1 | Liverpool | 1.50 | ₦1,000 | 1,000 x 1.50 | ₦1,500 |
| x | Draw | 3.00 | ₦1,000 | 1,000 x 3.00 | ₦3,000 |
| 2 | Everton | 5.00 | ₦1,000 | 1,000 x 5,00 | ₦5,000 |
1×2 In Football
In explaining the meaning of 1×2 in betting above, we have used football as an example. Still, let's go through it to provide more information.
For all top-flight soccer matches, from the EPL, Champions League, the World Cup, and so on, most betting sites offer three independent 1×2 markets: 1×2 full-time, 1×2 first-half, and 1×2 second-half.
We expand upon these further down the page; however, the fundamentals are identical regardless of the timeframe. A bettor chooses the selection they want – 1 stands for the home team, the 'x' is to bet on a draw, and the 2 is for the away side.
Let's take Liverpool (1) vs Everton (2); you bet on Liverpool 1×2 full-time. If Liverpool win the match – the actual number of goals doesn't matter – you win the bet. But if the match ends in a draw or Everton win, the bet loses.
1×2 In Other Sports
The 1×2 meaning is the same for certain other sports where a draw is possible. If you consider a tennis match – the game ends with one player or the other winning. Therefore, it's not possible to have a 1×2 betting market.
However, the scores can finish level in ice hockey, rugby, American football, and basketball. Although it's worth mentioning that most US sports play overtime until there is a winner.
In this case, the betting company may offer both a two-way (1-2) market, which includes overtime and a three-way (1×2) market that only covers regular time.
Handicap 1×2 Meaning in Betting
For new bettors, the handicap 1×2 meaning in betting can cause some confusion because there are Asian and European handicaps. To note, Asian handicaps are not 1×2 markets because they use 0.25, 0.50, and 0.75 goal margins. This removes the possibility of a draw, so it becomes a 1-2 market.
European handicaps are different as they use whole goals/points, such as -2, -1, +1, and +2, which retains the draw bet selection. The handicap is an artificial scoreline at kick-off.
Therefore, 1 – 0, in this example, means Liverpool is starting the match with a one-goal lead. The handicap and the match result are combined at the end to determine the winning bet selection.
Match result is 0 – 0 plus 1 – 0 handicap = 1 – 0 result (Liverpool win)
Match result is 1 – 0 plus 1 – 0 handicap = 2 – 0 result (Liverpool win)
Match result is 0 – 1 plus 1 – 0 handicap = 1 – 1 result (draw)
Match result is 0 – 2 plus 1 – 0 handicap = 1 – 2 result (Everton win)
| 1×2 | Selection | Handicap | Odds |
| --- | --- | --- | --- |
| 1 | Liverpool | 1 – 0 | 1.10 |
| x | Draw | 1 – 0 | 3.50 |
| 2 | Everton | 1 – 0 | 9.00 |
| 1 | Liverpool | 0 – 1 | 2.50 |
| x | Draw | 0 – 1 | 3.50 |
| 2 | Everton | 0 – 1 | 2.50 |
Away 1×2 Meaning
The away 1×2 meaning is simply a bet on the away team, which is 2. Quite often, the odds are better on the away side because most teams are stronger at home.
The away 1×2 bet wins if the away team is victorious.
| 1×2 | Selection | Odds |
| --- | --- | --- |
| 1 | Liverpool | 1.50 |
| x | Draw | 3.00 |
| 2 | Everton | 5.00 |
1st Half 1×2 Meaning
As we emphasised above, the mechanics of the 1st half 1×2 market are the same, but the bet is settled based on the score after 45 minutes (at half-time).
Typically, the odds will be higher on the 1 and 2 selections but lower on the x selection. This is because the bet only runs for 45 minutes and fewer goals (historically) are scored in the 1st half compared with the 2nd half.
| 1×2 | Selection | Odds |
| --- | --- | --- |
| 1 | Liverpool | 1.80 |
| x | Draw | 2.00 |
| 2 | Everton | 7.00 |
2nd Half 1×2 Meaning
This market is identical to the one above, but the bet is only valid for the second 45 minutes. It does not matter what the score is at half-time. The 2nd half 1×2 bet starts from 0 – 0. For example, let's say Liverpool are winning 2 – 0 at half-time. However, the final score is 3 – 1. This means that the second-half score was 1 – 1, so the draw bet wins.
Again the odds are lower on the draw, as it's only 45 minutes, but they are higher than the 1st half 1×2 because more goals are scored in the second half.
| 1×2 | Selection | Odds |
| --- | --- | --- |
| 1 | Liverpool | 1.70 |
| x | Draw | 2.30 |
| 2 | Everton | 6.00 |
1×2 Odds Explained
Betting odds for all markets, including 1×2, are the prices that the bookmaker will pay if your selection is correct.
You can also view them as the bookmaker's implied probabilities of each selection being correct. For instance, if the odds are 2.00, it means the implied probability is 50%; you bet NGN 1,000 to win NGN 1,000.
When checking the 1×2 odds explained in detail, the lower the price means the bookmaker predicts that selection has a higher chance of winning. Of course, low odds equate to small payouts. The opposite applies to long odds. The chances of winning (according to the bookmaker) are less, but the potential payout is higher.
1×2 Betting Strategy
Let's be clear, no betting strategy is perfect, and there's no way to win every bet. However, we can share some tips that should help you prepare your 1×2 bets better.
Research: Delve into the teams playing. Check out their recent form, injuries, and head-to-head records. From this data, you'll have a foundation to build upon.
Value: Based on your research, look for the bets with value. Don't think you have to bet on the favourites all the time. If the odds are too short, there is unlikely to be any value in the market. It's all about risk vs reward.
Promotions: There are some stellar promotions to take advantage of when you place 1×2 bets. Utilise these to help stretch your bankroll further.
Odds: Expanding on value, you want to bet with the betting sites that offer the best odds. Put simply, you want the biggest possible returns from the bets you place.
What Are The Pros & Cons Of 1×2 Betting?
All betting markets have pros and cons, and 1×2 is no exception. Here are a few things to consider before jumping into this market.
The advantages of 1×2 betting are that its popularity means the bookmaker's margins are generally tighter, so bettors often find more long-term value. Also, it's the perfect bet if you have a favourite team, and you want to back them to win.
Of course, its popularity is also a disadvantage. Betting companies put in many hours curating their 1×2 odds for the world's top leagues, so bettors are unlikely to find pricing errors that can pop up in other markets. Furthermore, as it's a 3-way market, two possible outcomes can ruin the bet, which is something to be aware of.
Where Can I Bet On 1×2?
If you want to get started with 1×2 betting, browse through our hand-picked list of the best betting sites in Nigeria.
Bookmaker
Welcome Bonus
Bonus Code
Bet9ja Promotion Code

100% deposit match offer
+ 50% extra casino bonus
SPORTMAX
Betking Promo Code

Register, Bet, and Get 2000 Naira in Free bets!
VIPBET
1xbet Promo Code

330% up to ₦189,280
BETVIPNG
Betway Sign up Code

100% bonus up to ₦250,000
MAXFREE
Betwinner Promo Code

200% bonus on the first deposit up to ₦65,000.00
NGBET
bet365 Promo Code

Up to $30 in Bet Credits*
*Min deposit requirement. Bet Credits are available for use upon settlement of bets to value of qualifying deposit. Min odds, bet and payment method exclusions apply. Returns exclude Bet Credits stake. Time limits and T&Cs apply.
MAXFREE*
*The bonus code MAXFREE can be used during registration, but does not change the offer amount in any way.
Frapapa Promotional Code

100% bonus up to 50 000 NGN
Go to Frapapa
N1bet Promo Code

300% bonus up to 500 000 NGN
Go to N1bet
Parimatch Promo Code

100% first deposit bonus, up to NGN 150,000
Go to Parimatch
22bet Promo Code

100% match deposit bonus up to ₦60,000
+ 22 Bet Points
Go to 22bet
Yangasport Promo Code

Get a 500% Bonus on first 4 deposits!
BONUSMAX
FAQ
Do all sports offer 1X2 bets?
No, only sports that have a possibility of a draw at the end of normal time can be 1×2 markets. These include soccer, futsal, ice hockey, basketball, American football, rugby, boxing, and MMA.
Does overtime count with 1X2 bets?
No, extra time (in football) and overtime in other sports, such as basketball, do not count. The 1×2 bet is settled at the end of regular time.
How do you read 1X2?
The 1×2 meaning in betting is easy to read. The '1' is the home team, the 'x' is the draw, and the '2' is the away team. Therefore, a bet on '1' means you are betting on the home team to win.
What is match result 1X2?
Match result 1×2 is simply a full-time (90 minutes) 1×2 bet.
Why is 1X2 betting so popular?
There are a few reasons why 1×2 betting is so popular. Firstly, this is the original soccer bet. Every punter has an opinion on the match result, which is what this market is. 

Furthermore, the bookmaker's margins are typically lower on 1×2 markets compared with BTTS or O/U total goals, so bettors get more value.
Can I use 1X2 bets on accumulators?
Yes, the 1×2 betting market is a favourite for accumulator bettors. Simply add all your selections to your bet slip and choose accumulator (or multi-bet). The odds of each selection are multiplied together to give a total price.