Nigerian betting market is filled with great apps one can download and use. Just like all across the planet, mobile betting is extremely popular in Nigeria. As a matter of fact, the vast majority of punters in NG have mobile betting as their number one choice. Discover what are the top betting apps you can try, which brands are the best and how to bet via an app.
Best Mobile Betting Sites
In case you would like to know more about the top brands in Nigeria that offer mobile betting apps, you are right where you need to be. Check out the table below and find the top operators that offer mobile betting:
| | | |
| --- | --- | --- |
| Brand | Download | Mobile-friendly website |
| Bet9ja mobile | Download apk for Android | Yes |
| Betway mobile | iOS app on AppStore and Betway Mobile App via apk for Android | Yes |
| 22Bet mobile | iOS app from AppStore and 22bet app for Android via apk | Yes |
| Accessbet mobile | Download apk for Android | Yes |
| 1xbet mobile | iOS app from AppStore & 1xbet app for Android via apk | Yes |
Bet9ja
Bet9ja mobile is one of the top-rated operators in NG that has a lot to offer to those who prefer the mobile experience. First of all, their online betting platform is optimised for use on mobile devices. All the sections, features and options available at their website are also available when accessed via a mobile web browser. In case you don't like downloading and using an app, their site can also be used on the go via your smartphones.
On the other hand, those who prefer using applications can easily download Bet9ja app, register and start wagering. Moreover, the operator offers both the sportsbook and casino app, so that the users can get a full package. Just like on their official website, Bet9ja mobile sports betting app has all the same wagering features, promotions, and sports markets.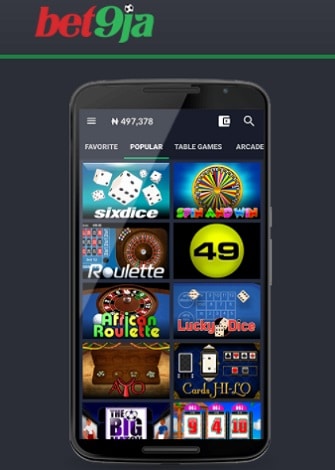 Betway
As one of the renowned sportsbook and casino brands, Betway mobile offers Nigerian punters a great wagering experience. Thus, Betway website looks flawlessly when accessed via a mobile web browser. Just like on their online wagering platform, users can navigate through categories easily and everything is quite intuitive.
Now, on to the Betway mobile app. Mobile punters from Nigeria can get this app for Android and iOS. To clarify, Android users will have to download the apk straight from Betway website. However, iOS users will be able to get their Betway app from the AppStore. In addition, the app uses less data, loads fast, has notifications concerning promos and a lot more.
22Bet
22Bet mobile is yet another NG operator that offers a betting app worth trying. Luckily for the user, this app is available for iOS as well as Android. So, no matter which platform you are on, you will be able to download this sportsbook app and bet. Moreover, Android users can scan the QR code available at the operator's official website and initiate the download. Additionally, you can also download it manually in a few simple steps. If you are an iOS user, simply visit the AppStore and type in 22Bet app to find it.
22Bet website is designed primarily for mobile users and even if it looks a bit simplified, it has all the top mobile sports betting features. You can place bets on various markets, place live bets, wager on virtuals, and even play casino games.

Shop Betting vs Mobile Betting
Betting in a physical bet shop is quite similar to betting online or mobile. However, each of these has its own advantages and disadvantages. Shop betting is one of the first types of betting, and it has a whole betting culture behind it. Retail sportsbooks offer a unique betting experience to wagerers.
These bet shops were actually the cradle of all betting forms and especially live betting which is one of the most popular types today. Even if online gambling is booming, brick and mortar sportsbooks are still very popular all across the world. Some of the main perks of wagering in a bet shop are:
social experience
instant payout
extra safety
instant feedback from customer support
In addition, betting in a shop has its disadvantages that sometimes push punters into switching to online and mobile sportsbooks. Some of these are:
cannot bet instantly
car or commute expenses
more time invested
errors in a betting slip
On the other hand, betting online or even via a mobile device also has its pros and cons. Check out these pros and cons to learn more about betting online:
no travelling
more privacy
bet anytime and anywhere
all betting markets at one place
live betting and streaming
cashout option
Online and mobile wagering has many advantages, but it also has some disadvantages. Take a second to discover what type of inconvenient online betting could bring:
technical problems
account breach
unreliable mobile betting sites and scams
slow withdrawal
no social interaction
To sum up, some of the above-mentioned pros and cons can significantly affect the betting experience. Users can prefer one or another due to a variety of reasons, which is why both shop and online betting have an enormous user base.
How to Bet on Mobile
Placing a wager on mobile devices is almost the same as placing one online. First of all, the users will need to opt for their preferred operator. Then, one should decide whether they prefer betting via a mobile web browser or via an app. Both of the options have their advantages and disadvantages.
Many operators nowadays offer applications, while almost all of them have their online websites optimized for mobile use. In other words, if you want to bet on a certain website from your smartphone you will be able to do so without any trouble.
The majority of online sportsbooks will have the same offer and features on their website regardless of the device you use. Thus, if you are accessing a certain wagering site via your phone, you will probably be able to check the odds, create betting slips, enjoy live betting and streaming, and much more.
However, if you prefer wagering via an app, you will have to make sure that the chosen operator has one, then, you will need to check whether that application is available for the Nigerian market. In most cases, the operator will offer an app for Android and iOS users, or at least one of those.
Android users will probably have to download the application straight from the operator's website via an apk. Moreover, this means that you will probably have to tweak the Settings and allow installs and downloads from "Unknown source". iOS users should be able to find a particular betting app on AppStore and download it.
When placing wagers on your mobile you will have to register and create a betting account. Once you have successfully done that, you can deposit funds and start looking for your preferred market, sport, or event you can bet on.
How to Bet in a Shop
Betting in a shop is a more traditional way of wagering. All one needs to do is find the nearest or preferred betting shop and fill in the bet slip. Depending on the type of sports, market or event you want to bet on you will have to choose the appropriate wagering type.
Singles, doubles, trebles
Accumulators
Totals
Over/Unders
Point spread
Handicaps
Some betting shops might ask the users to register before they allow you to place wagers. In addition, there are brands that might ask you for a government-issued document to prove your age and identity. Moreover, all the legitimate sportsbooks won't allow underaged users to enter the premises or place a bet.
When wagering you will need to have a couple of things sorted out. Firstly, you will need to have some sort of a wagering strategy in your mind. So, creating one before you go to the nearest shop is a smart thing to do. Besides, analyzing the performance and success of the team you want to bet on as well as other statistics could bring you more winnings.
Then, make sure that you have checked the odds before you place the bet. Furthermore, you can do this by looking at the screens in a shop or asking an employee to help you out. Once you have figured out how your betting slip should look like you can start filling in all the details.
If you are going to be filling the slip on your own make sure that you don't make any typos or mistakes that could cost you your winnings. Still, if one of the employees of the shop is going to fill in your slip, make sure that you double-check as you don't want any mistakes.
Best Mobile Betting Bonus
When betting on your mobile devices you should be able to claim the existing welcome offer. Players from Nigeria will have the chance to try some of the best mobile bonuses from Bet9ja, 1xbet mobile, and 22bet. Let's take a look at their current sign-up bonuses:
| | | |
| --- | --- | --- |
| Operator | Mobile Bonus Details | Promo Code |
| Bet9ja | Up to ₦100.000 bonus + 50% extra casino bonus | Get Code |
| 1xBET | Get a 200% bonus up to ₦130.000 | Get Code |
| 22bet | Get a 100% bonus up to ₦50.000 | Get Code |
To start with, with a Bet9ja coupon code you will be able to claim the 100% deposit bonus up to ₦100.000 + 50% extra casino bonus. Besides, the users who want to qualify for this promotion will have to make the minimum deposit of ₦100.
For the sports betting welcome bonus, as far as the wagering requirements are concerned, you will need to stake the full deposit, complete the 10x rollover requirements at minimum 3.00 odds. The ₦50 free bet on the Bet9ja league will be available right after you make the deposit.
Punters from NG can claim the 1xbet welcome bonus by using the promo code and get up to 200% matched deposit up to ₦130.000. To get the bonus you will have to complete the 5x rollover requirement in accumulator bets with odds higher than 1.40.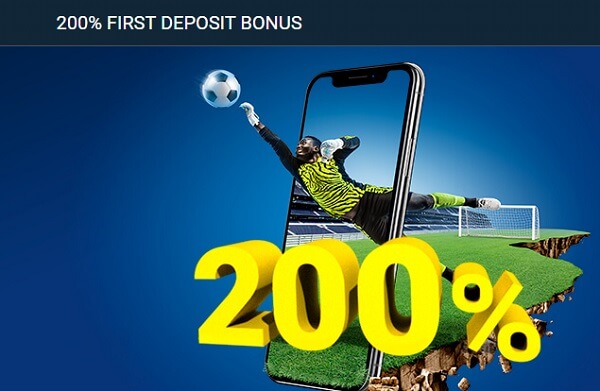 Last but not the least, 22Bet offers a great bonus for Nigerian players as well. When you register as a new user you will get the chance to opt for this brand's sign-up offer. To be specific, you will be able to opt for the 100% matched deposit bonus up to ₦50.000.
Mobile Betting Strategies
Mobile wagering is fun and easy when you know what you are doing. Also, with the right amount of knowledge and analyzing you will be able to compose really good mobile phone betting strategies. If you want to know what are the factors that could affect the success of your bet, stay tuned and learn more about it.
To become a better punter and create great wagering strategies you will need to pay attention to these things:
Choose best mobile betting sites
Do some budget planning
Select the betting market and corresponded betting type
Check the odds on mobile betting apps or mobile betting sites
Hunt for the best mobile bonuses on mobile betting sites or apps
As a beginner, you don't want to place huge amounts of money on one bet. Try to experiment with different wagering types until you gain more experience and simply remember that practice makes everything perfect.
Mobile Betting in NG – FAQ
Here are the top frequently asked questions related to mobile wagering in Nigeria you might want to read.
How Do I Bet With an Old Mobile?
Mobile phone betting with an old mobile won't be a problem if you opt for the best mobile betting sites such as Bet9ja or 1xbet or similar. These websites are optimized for new mobile and old mobile betting. Moreover, when downloading their mobile apps you will be able to learn more about the system or device requirements if you have new mobile and old mobile betting concerns.
What Is the Best Betting App?
There is no one best app out there since there are plenty of apps that are really good. Bet9ja app, Betway app, 22bet, 1xbet app, and Accessbet mobile are among the top apps you can download in NG. In addition, some of these brands offer apps for iOS and Android platforms. In most cases, these apps are user-friendly, intuitive and have a bunch of great wagering features such as live bets, great odds and promotions.
How Do I Download a Betting App?
Downloading a betting app is easy and simple, all you need to do is have a mobile device and internet connection. Android users will have to download the app from their favourite brand by visiting their website and downloading the apk file. On the other hand, iOS users can simply download their sportsbook app via the AppStore.
How Do I Get a Mobile Bonus?
Getting a mobile bonus is easy and simple. All you need to do is choose your favourite operators such as Bet9ja, 1xbet mobile, 22bet or Betway and check for the mobile bonus. If they have one, download their app, register and read the T&C to learn more about the offer eligibility.