One very interesting part of sports betting online is the virtual or esports predictions section. Professional sports in the form of video games are quite popular among punters. And that's why esports predictions today have their separate section in a lot of sportsbooks.
Esports Predictions & Tips Today
There are currently no new tips. Check again later.
Dota 2 Predictions
There are currently no new tips. Check again later.
Overwatch Predictions
There are currently no new tips. Check again later.
League of Legends Predictions
There are currently no new tips. Check again later.
Counter-Strike Predictions
There are currently no new tips. Check again later.
StarCraft 2 Predictions
There are currently no new tips. Check again later.
How do Esports Predictions Tips Work?
Esports aren't exactly new since these games have been around for a long time. But the concept of betting on virtual games has recently gained a lot of attention in the iGaming niche.
The difference between esports and regular video games is that there is a competitive element of esports and that's what makes it exciting to bet on. Professional gamers around the world take part in esports tournaments and competitions all year round.
You can even watch live streams of these tournaments being played on platforms like Twitch and YouTube. As far as tips go for esports predictions, it's a little bit different from traditional sports betting but you'll get the hang of it soon enough.
In this specific niche, you can bet on yourself, on the player or streamer or an in-game item. The rules are not limited to these types of bets but they're just examples to help you understand better.
Esports Tips to get your esports predictions correct would be to follow the streams of every event and get to know the player. If you're betting on yourself, you'll already know your strengths and weaknesses.
When you look at esports predictions tips, there is always an element of uncertainty. No tips are guaranteed to work 100% of the time. So, it is highly advised for bettors to follow their instincts rather than just trust the esports tips.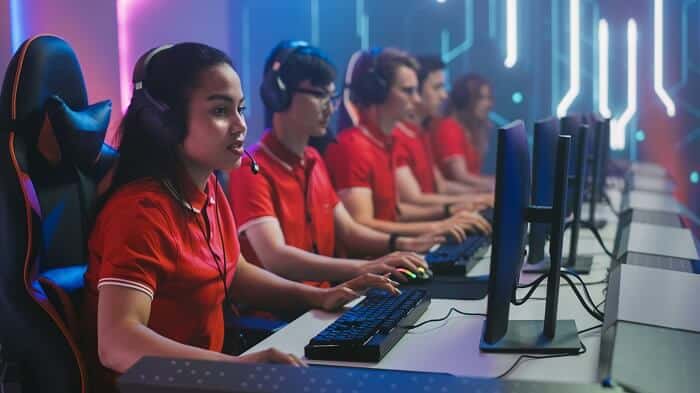 How to Predict Esports Matches?
Esports match predictions are a bit different from regular sports predictions. You can't predict an esports match based on the weather or the playing grounds. So, what do you look at for esports predictions? You look at team and player statistics.
We'll derail from the topic a bit here, but you'll understand. Every type of influencer has his/ her platform. The beauty gurus have Instagram, the storytellers have YouTube, and just like that, the gamers have Twitch.
Now, we're not saying any of these platforms are exclusive to any of the types of content creators. But the community of gamers can generally be found on Twitch and sometimes on YouTube and other platforms. And you can make your esports predictions by watching their live streams on those platforms.
Live streams give a lot of insight into the players and the teams. You can make predictions for any sport starting from first-person shooter games like Counter-Strike to games like FIFA.
Another really good source of information is Reddit. You'll find thousands of subreddits with gamer communities that give out expert predictions for any number of sports. And the gaming community, in general, appears to be quite helpful, so any platform you pick is sure to be a great source of esports predictions.
Esports Betting Tips
Esports betting tips are going to be different based on the type of esport you're betting on. For games like FIFA, you could just use the regular football betting tips with slight modifications. But there are plenty of variations of games like fantasy adventure games and shooter games where the tips are never going to be one size fits all.
Dota 2 and League of Legends Tips
These are two of the most popular esports in the world today and both are team-based games. The reason these two are so popular to bet on is the fact that they are team-based. According to betting experts, punters can opt for live betting on sports like these to increase their winning potential.
Another one of the League of Legend betting tips is to wait for the best tournament to roll around. There are plenty of groups taking part in Dota 2 and LOL worlds tournaments. But if you're familiar with the best teams that have the most competitive gameplay, betting on their matches will make the experience much more exciting.
CS:GO Betting Tips
While Counter-Strike: Global Offensive is also a team-based game, we'll tell you about some alternative tips for csgo predictions. Do a lot of research into the teams and the team statistics. You could even spend time watching some of their old gameplay if they are YouTube content creators.
Which Sites to Use to Bet on the Popular Esports Events?
Below is a table containing the best esports betting sites in Nigeria where you can bet on popular esports.
| Rank | Esports Betting Site | Bonus Details | Check the operator |
| --- | --- | --- | --- |
| 1 | N1bet | 300% deposit bonus up to ₦500,000 | Visit N1bet |
| 2 | Frapapa | 300% deposit bonus up to ₦300,000 | Visit Frapapa |
| 3 | 1xBet | 300% welcome bonus of up to ₦189,280 | Visit 1xbet |
| 4 | 22Bet | 100% deposit bonus up to ₦50,000 | Visit 22bet |
| 5 | Betway | 100% Bonus of up to ₦250,000 | Visit Betway |
| 6 | OgaBet | No deposit or welcome bonus available at the moment | Visit Ogabet |