YangaSport is a fresh new online betting site in Nigeria. Punters can get a acca bonus by signing up and using the YangaSport Promo Code if needed.
Get up to 500% Bonus on your first 4 deposits!
Verified on 02 October 2023
18+. Minimum Deposit Amount: 1st-N500, 2nd-N1000, 3rd-N3000, 4th-N5000. Maximum bonus amount: 1st,2nd,3rd-N10,000, 4th- N20,000. Minimum number of Selections:1st,2nd- 5,3rd-6,4th-7. Minimum qualifying odds per Selection is 1.5. T&Cs Apply.
Games selection
Acca Bonus
Mobile site
What Can I Get with YangaSport Promo Code 2023
What can you get when using a YangaSport Promo Code? Here are the biggest bonuses available at YangaSport. Keep an eye on this page for further breaking news about the bonuses.
| YangaSport offer | Bonus Details | YangaSport Code |
| --- | --- | --- |
| YangaSport Bonus | 600% Acca Bonus | BONUSMAX |
| Minimum Events | 3 | BONUSMAX |
| Minimum odds | 1.30 | BONUSMAX |
YangaSport Promo Code October 2023 – A Step By Step Guide
Do you want to collect a great bonus reward by using the YangaSport Promo Code? If you are a newbie to online casinos or sports betting sites, then you might get confused. However, there's no need to worry.
In this section, we will give you a step by step guide on how to use the YangaSport Promo Code and claim a bonus. The first step to claiming a bonus is to register at the sports betting site.
To register, click on the 'Join' button at the top right corner of YangaSport's website. Fill up the registration form and enter the promo code BONUSMAX. Enter the verification code, read the terms and conditions, and submit.
You created your account. Once you log in, you will need to make a deposit. You will find the deposit button at the top right, as a '+' next to your current balance. Click on it.
From the deposit menu, choose your payment processor – either Paystack or Monnify.
In the next screen, you will get an offer for the first deposit bonus automatically. To accept the bonus, just tap or click on the image. To refuse it, click on the 'Skip bonus and deposit' button.
Then, confirm the deposit amount and enter your payment details.
Once the payment is confirmed, you will get the funds in your account balance in a few seconds. The bonus cash rewards will show up at the same time.
From the list of available promotions, you can apply the YangaSport Promo Code BONUSMAX if needed to claim one.
Bonus Details – Terms & Conditions
Bonuses are a great opportunity, but they come with some caveats. Those are the terms and conditions of the bonus. Keep these in mind when claiming your YangaSport promo code. If you breach any of the following bonus terms and conditions, your account may be disabled.
All punters at YangaSport must be 18 years or older. Only adults are allowed to gamble online. All punters are also allowed to have only one YangaSport account.
You cannot claim the bonus on multiple YangaSport accounts. If your first YangaSport account is disabled or lost, you cannot create a second account and claim it again.
Accumulator Bonus: Up to 210% Bonus Winnings
The other main promotion punters at YangaSport can enjoy is the Acca Bonus. There is no YangaSport Promo Code needed to activate this bonus. It will be automatically activated whenever you make an accumulator bet.
An accumulator bet is basically a multi-bet where all the individual bets must win. For example, you make a Multibet on four soccer matches. You predict 1, 1, X and 2. Every single one of these predictions must be correct in order to win the accumulator.
The payout in the accumulator is actually the payout of the individual odds multiplied together. So, an Accumulator bet, also known as an Acca Bet, is a very high-risk but high-reward option.
The YangaSport Accumulator bonus increases the reward even more. If you have four selections in the accumulator bet, you get a 5% bonus win. If you have five selections, you will get 10% bonus winnings.
Sports Betting Markets at YangaSport
YangaSport has a solid range of sports betting markets for Nigerian punters. It is always a good thing for a sports betting site to have a lot of markets and sporting events. After all, not every punter wants to bet on soccer.
Once you create an account and claim the bonus, you can check out the sports betting markets.
The following sports and games are available here: Soccer, Tennis, Basketball, American Football, Rugby, Badminton, Bandy, Boxing, Cricket, Floorball, Handball, Ice Hockey, MMA, Rugby, Snooker, Table Tennis, Volleyball and Water Polo.
There are lots of betting markets for each of these sports. The betting markets dictate exactly what matches you can bet on and how you can bet on them.
The top leagues and tournaments for each sport are featured at YangaSports. For instance, Soccer fans can wager on the World Cup, Premier League, the EFL Cup, the La Liga, the Ligue 1, the Bundesliga, etc. You can wager on your favourite teams very easily.
You can find the full list of sporting events and leagues by clicking on the 'A-Z List' button at the top left.
Similarly, sports like Basketball, Ice Hockey and Table Tennis are extremely popular. There are hundreds of upcoming events for these games at all times.
Casino Betting Market at YangaSport
Unfortunately, YangaSport does not have any casino betting. There are no slot machines available at YangaSport. You cannot play games like Blackjack, Poker or Roulette.
YangaSport is exclusively focused on sports betting. The advantage of this is that the sports betting experience is much more sophisticated and focused.
There are some other online betting sites that offer both sports betting and casino gaming. However, many of them do not effectively offer both sides. Either sports betting is disadvantaged with limited markets and poor odds, or the variety or quality of casino games is low.
So, YangaSport focuses on offering the best sports betting experience possible.
Live Betting & Streaming at YangaSport
On the bookmaker site, your will enjoy live betting and streaming. Live betting is basically placing bets on a match while it is underway.
With live betting, you can watch the match and place bets as it progresses. For instance, while the first half is ongoing, you can place bets on the second half. Since the game is in progress, the odds will be updated every few seconds.
That means that you can't plan everything in advance. There is no time to look at all the statistics and make a carefully informed decision. It's easier to feel the flow of the game and bet based on that.
The flow of the game could change in an instant, however. An injury, a red card or a simple matter of unpredictable weather conditions could change the odds significantly. There's a higher chance of randomness, which many punters enjoy.
The best way to bet on live games is while watching them. If you do not have a TV or live stream of the game, you can watch it directly from YangaSports. Tune in to YangaTV under the Live section to view the hottest matches currently ongoing.
Even if you can't stream it, you can keep up to date with it. You can see the livescore for every single game. The livescore will always show the current state of the match, as well as statistics and match history.
For instance, soccer livescore will tell you all about which team has the ball and which player is leading. It will record all the penalties, corners, goal attempts, etc.
YangaSport App
YangaSport does not have any kind of mobile app. However, we found that this was not a huge problem.
For starters, the website design of YangaSport was built from the ground up for mobile screens. If you visit the website on a desktop, it will only take up a narrow space in the middle of the screen. This portrait layout is really suitable for mobile devices.
There are some advantages to a mobile app. One is that the app uses less mobile data. For Nigerian punters on a budget, mobile data can become a big expense. However, you don't have to worry about that.
The YangaSport website is also lightweight. There are no flashy animations or high-resolution images to load on every page. The images for the promotional banner at the top are compressed.
There are plenty of advantages to the web version as well. It does not take up any space on your phone. You can hop in and out at any time on any phone.
Plus, as a website, it is compatible with all browsers and all devices, no matter how old. So, even without a proper YangaSport mobile app, the mobile betting experience is top-notch.
Payment Options & Withdrawals at YangaSport
YangaSport uses two payment providers to process their payments: Monnify and Paystack. When making a deposit, choose either one. It will not affect anything.
Both Paystack and Monnify are quite comparable in terms of the payment options they offer. You will find that they accept bank transfers from all the major banks in Nigeria. They also accept card payments from renowned providers like VISA and Mastercard.
Overall, the deposit process at YangaSport is fast and smooth. Generally speaking, card payments will be processed faster and show up on your account balance sooner than bank transfers. However, this can vary depending on the bank, card, and other technical details.
There are minimum and maximum limits to deposits. The minimum amount you can deposit at once is ₦100. The maximum in one transaction is ₦1,000,000 or less, depending on your chosen payment method.
For withdrawals, the same payment methods apply. You can get a withdrawal into your Credit Card or Bank account. Just keep in mind that you must confirm your identity in order to withdraw.
For withdrawals, too, there are some restrictions. You can withdraw a minimum of ₦1000 in one transaction, while the maximum you can withdraw is ₦500,000.
To confirm your identity, you will have to upload some documents. You must upload an international passport, a driver's license, a voter ID card or a National ID card.
Any one of these documents will do. Once uploaded, it will take a few days to verify. After verifying, you can withdraw any winnings you want.
YangaSport's Customer Service
You can contact YangaSport's customer service in a lot of different ways. This is one place where YangaSport really shines. Whether you prefer using a phone call, email or social media, they have a point of contact.
For customers who need an immediate response, a phone call is best. Call YangaSports at 09087008888 between 8 a.m. and 8 p.m. for the day shift. For the night shift, call them at 09096008888 between 8 pm to 8 am.
If you want to chat with a customer service representative instead, the live chat is available during office hours – 9 am to 5 pm from Mondays to Fridays. On Saturdays, they are available from 10 am to 3 pm.
For detailed reports or requests, an email is the best option. If you have some kind of issue that requires customer support's help, send an email to [email protected]. On the other hand, for any kind of information, the general email is [email protected].
Finally, you can reach out to them at any time on social media. Just send a message on their Facebook page.
Our Review of YangaSport
Take a look at the table below to read our rating of this operator.
| Yangasport Nigeria | Our rating |
| --- | --- |
| Acca offer | 5 / 5 |
| Markets | 4 / 5 |
| Odds | 4 / 5 |
| Mobile app | 5 / 5 |
| Payment option | 4 / 5 |
| Customer service | 4 / 5 |
| Average grade | 4 / 5 |
| Register | Register on Yangasport |
Our overall outlook of YangaSport is very positive as also covered in our YangaSport review. This is a focused sports betting site for Nigerians. As a bookmaker, it is very good – it has a lot of different betting markets and covers a huge number of upcoming games for over 15 different sports. There are major bonuses to earn at YangaSport. Using the YangaSport promo code if needed, you can potentially earn up to ₦50,000 in your first deposit.
| What we like | What we don't like |
| --- | --- |
| Great Bonus | Limited Payment Options |
| Great Selection of Games | Customer Support not 24×7 |
| Decent Mobile Experience | |
Frequently Asked Questions about YangaSport
How to Log In on YangaSport?
To login to YangaSport, click on the 'Login' button at the top right corner of the screen.
Enter your phone number and password to log in.
If you have forgotten your password, use the 'Forgot Password' link and enter your phone number. This will send you instructions on how to reset the password.
How to Use the YangaSport Bonus?
You can claim the bonus by using the YangaSport promo code BONUSMAX. You can use bonus cash like normal cash when making wagers. To use any free spins bonuses, use the option in the betslip.
How to Play on YangaSport?
To play on YangaSport by making bets, open the list of Sports by clicking on 'A-Z List'. Choose which sporting event or match you want to bet on. Click on the odds number for a market to add it to the betslip.
How to Register on YangaSport?
To register on YangaSport, click on the 'Join' button at the top right. Fill up the form with your information. Then enter the confirmation code you just received.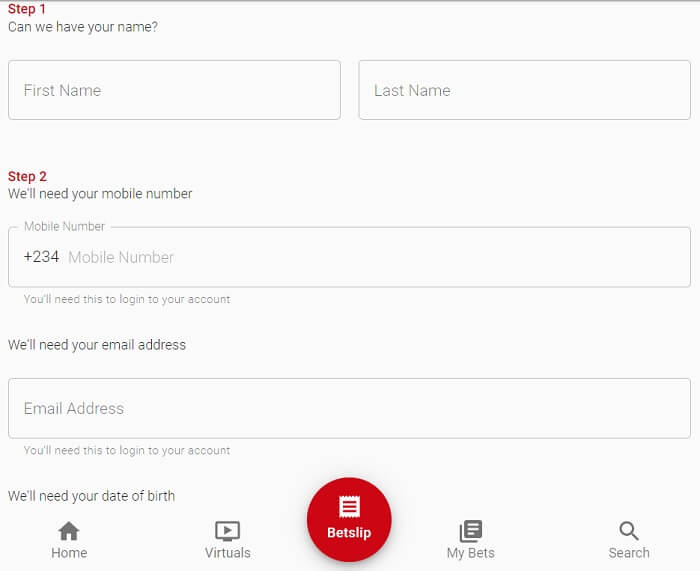 How to Withdraw from YangaSport?
To withdraw from YangaSport, you must log in first. Then click on the 'Account' button. From the menu, select 'Withdraw'. Choose the payment method and the amount to withdraw.
Is YangaSport Legit?
Yes. YangaSport is licensed and regulated by the National Lottery Regulatory Commission, one of the official governing bodies for online gambling in Nigeria.
Who Owns YangaSport?
YangaGames Technologies Ltd. owns YangaSport.
When Was YangaSport Launched in Nigeria?
YangaSport was launched in Nigeria in 2018.