Winners Golden Bet is one of the most popular sites dedicated to online sports betting in Nigeria. Punters can enjoy a huge range of bonuses and games, as you will find out in this Winners Golden Bet review.
So, in this review, we will go over the betting markets and bonuses offered here. We will also check out the live streaming and mobile gaming options. Finally, payment options and customer service are an important part of the overall experience. So, we made sure to go over those as well.
❕ We currently don't have an affiliation with Winners Golden Bet. We recommend that you try Bet9ja, which offers an exclusive Bet9ja Promotion Code.
| Winners Golden Bet review | Our rating |
| --- | --- |
| Markets | 4/5 |
| Odds | 3.5/5 |
| Streaming/Live options | 3.5/5 |
| Mobile app | 2/5 |
| Payment options | 4.5/5 |
| Customer service | 4/5 |
| Average grade | 3.75/5 |
| Register | Sign up |
Winners Golden Bet Sport Bonus Review – N/A
Almost all online casinos and sportsbooks have a welcome bonus of sorts. The goal of a welcome bonus is to attract new players and encourage them to play a lot right off the bat. At the same time, it offers a lot of advantages to a new player.
Unfortunately, there is no welcome bonus available for Winners Golden Bet Sport. There's nothing for either sports betting or casino betting, though the latter is not offered at all here.
We hope that a welcome bonus will be added soon.
Available Sports on Winners Golden Bet – 4/5
The next part of our Winners Golden Bet Review covers the betting markets and available sports. Fortunately, unlike bonuses, this is one aspect Winners Golden Bet is quite well-regarded in!
There are nearly 25 different sports to bet on. You can find the most popular games, like Soccer, Basketball, Tennis, Ice Hockey or American Football. They are the big earners, with thousands of people wagering on these events every day.
After that, you will find Handball, Volleyball, Baseball, Rugby, Aussie Rules, Table Tennis, Boxing and more. Most of these sports don't have the same betting market variety or Payout as the most popular games listed above. But they are still fun to wager on.
There are also a lot of more niche titles: Motorsport, Snooker, Darts, Alpine Skiing, Futsal, Water polo, and various Winter Sports. For these sports, expect only a handful of events to be supported and only one or two available betting markets.
Under specials, you have Politics and Entertainment. Ever wanted to bet on who would win the presidential primaries, the next Oscars, or Emmys? This is where you can place those bets.
For the most popular sports, you can expect to have hundreds of upcoming events to wager on. For instance, for Soccer you can wager on many national leagues. The Premier League, Ligue 1, Bundesliga, Nigerian Premier League, etc. are all featured here.
There are lots of betting markets as well. We found Outrights, 1×2, Handicaps, Asian Handicap, First Half/Second Half, Over/Under, Odd/Even, Exact Scores and other markets here. Customers can bet on exactly what they want, how they want.

Winners Golden Bet Casino Review
Unfortunately, Winners Golden Bet has no casino site at all. Many other sports betting sites usually offer some casino betting on the side.
They are a great way to offer a player some distraction. Consider a punter who has been betting on sports only for weeks and is a little bored of it. If they want to keep betting, they can do so on a slot machine or a table game like Blackjack, Poker or Baccarat!
The change keeps things fresh and ensures that your customers are always in the mood to play something or the other. Yet, it can be distracting for the casino itself. Getting a lot of good casino games involves working out a deal with software providers. Too much focus on casino gaming can hurt the sportsbook itself.
So, you won't find any tables, slots, progressive jackpots, video poker or Blackjack games here. They are really popular games, so if you want to play them you will have to make an account at another site.
That said, in our opinion, it's fine if there are no casino games at this site. Punters here are focused only on sports.
Winners Golden Bet Casino: Welcome Bonus – Terms and Conditions
Normally, we would give the Winners Golden Bet review of the casino's welcome bonus and its terms and conditions. However, at this time there is no casino gaming or bonuses available at Winners Golden Bet.
Odds on Winners Golden Bet – 3.5/5
To rate the odds at Winners Golden Bet, we compared it to some other popular sports betting sites in Nigeria.
Winners Golden Bet offers slightly higher odds on the likely winner of the bet compared to its competitors. While it won't be the absolute highest, it will be a little above average. This makes Winners Golden Bet a good choice for punters who prefer the safe bet.
On the other hand, if you enjoy wagering on the underdog for the bigger payout, then Winners Golden Bet might not be the optimal choice. The odds on the underdog are a little lower than average, typically.
This applies to all sports. So, keep an eye out for this factor when choosing Winners Golden Bet over a different sports betting site.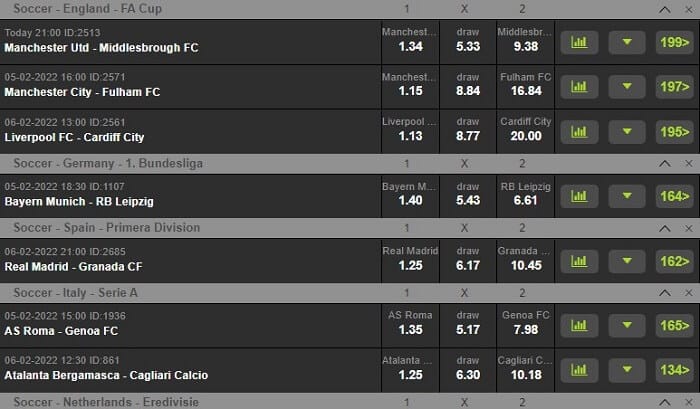 Streaming and Live Betting on Winners Golden Bet – 3.5/5
In this type of betting, players place bets while the match is ongoing. This is the opposite of pre-game betting, where you place all wagers before the match starts.
So, in live betting, the odds are calculated constantly. They can change from minute to minute depending on the events of the game. You can see it for yourself by visiting the In-Play or Live section of Winners Golden Bet!
One minute the home team might be the favourites to win, with low odds of 1.3. Five minutes later, they could lose two of their best players to an injury or a red card. The odds would jump to 2.0 or 2.5 or more. This makes live betting exciting.
Note that you cannot always make a bet on every market. For example, in a Soccer match, the home team has a 3-0 lead at 40:00 minutes. In this case, Half Time/Full-Time betting may be disabled as the result of that is guaranteed.
To effectively do live betting, you need to keep track of the match. If you don't have a television or PC nearby to stream the match, don't worry. At Winners Golden Bet, you can keep track of the live score of a match. You can see the current score as well as the current odds of each market.
You can even pin several live matches to the screen and track them at the same time. Statistics and live score information are also available at Winners Golden Bet. The only thing that is missing is live streaming.
Overall, in our Winners Golden Bet review, we found that the live betting features are quite comprehensive and well done.
Winners Golden Bet Mobile App – 2/5
Unfortunately, there is no Winners Golden Bet mobile app. This is one of the major shortcomings of it. An app is very useful for several reasons.
One is that the app saves you mobile data. On a website, you have to load the page from scratch every time you visit it. On the app, the data is already stored on your phone, so there's no need to reload. Also, an app keeps you logged in and can give you notifications for bonuses and match results.
That said, the website is still a valid alternative. You can do everything on the mobile site that you could do on the desktop. Winners Golden Bet has two mobile versions of their site: an old and new one, a more compact and optimized one. You can pick the one that you prefer.
The layout and design of the mobile site is optimised for the smaller, portrait mode screen. The mobile site also uses less data than the desktop site. Images are either compressed or removed so that the site loads faster.
Winners Golden Bet's mobile offerings are a solid option for Nigeria players.

Winners Golden Bet Nigeria – Payment Options – 4/5
Several deposit methods are accepted at WGB. These methods are all popularly used in Nigeria, so it's almost guaranteed that any punter from Nigeria can deposit and start betting.
There are several ways to deposit. Winners Golden Bet uses several payment service providers. This includes Flutterwave, PayStack, InterSwitch, WebPay and @MailMoni.
The same payment methods are accepted at most of them. You may deposit via a VISA or MasterCard Credit Card or Debit Card. You can also deposit using a direct bank transfer.
Over-the-counter bank deposits is available at FCMB Bank. If you have an FCMB Bank Branch nearby, you can simply deposit your cash there. The funds will appear in your WinnersGoldenBet account in a few minutes.
Another way to deposit is via a WinnersGoldenBet shop or agent. Agents are established at key places throughout the country. You can deposit the cash at them and get it transferred to your account. Or you can buy a coupon code from them.
The coupon code could have a fixed amount of money, which you can then transfer into the account.
Keep in mind that there is a minimum deposit. The minimum deposit is ₦500. Keep in mind that any deposit bonuses you might want to activate will depend on the deposit amount. So, you should deposit larger amounts when you can.
The minimum stake for any bet is ₦1.00. So, the minimum bet is quite high comparatively. This is one of the negative points of Winners Golden Bet's payment options.
What about Withdrawals? After winning a few matches, you may want to cash out the winnings. You can do so by requesting a withdrawal from the account page.
For withdrawals, the only option is a Bank Withdrawal. You can withdraw to an account in any Nigerian bank.
How to Contact Winners Golden Bet Customer Care? – 4.5/5
While Winners Golden Bet aims to provide you with a seamless experience. It could be a technical issue preventing you from playing. It could be an account issue preventing you from logging in.
Whatever problem you have, there is no need to worry. There are a lot of ways to contact Winners Golden Bet's customer support.
Clicking on the Contact button will bring up a window where you can enter your details and a message. They will get back to you as quickly as possible.
You can also call their support phone line for a fast response. The phone numbers are +234-708-709-3729 and +234-806-849-7104. Call either one of them to be connected to a customer service rep.
You can send an email at [email protected]. It may take longer to respond to an email than a phone, but the response will be more detailed.
Finally, you can contact them on social media if you wish. Winners Golden Bet is present on both Facebook and Twitter.
Winners Golden Bet Review: Our Verdict – 3.2/5
Overall, we found Winners Golden Bet to be a solid sports betting site with only a few notable flaws. While we have a positive view of the site, we can't discount some of the bigger issues.
For instance, most other sports betting sites offer some online casino games. If Winners Golden Bet also did that, then players would have more variety. A few of them also offer casino games without sacrificing the quality of the sports betting side, so Winners Golden Bet could do that.
Another issue is that there aren't many bonuses available at this site. Many players want to use bonuses when they play.
However, there are still plenty of good aspects to this sportsbook. It has a decent selection of games and includes a lot of betting markets. A lot of payment methods are supported, and the overall odds are quite good.
Ultimately, we recommend Winners Golden Bet to all Nigerian sports betting fans.
| What we like | What we don't like |
| --- | --- |
| Competitive odds | No live streaming option |
| Cash-out feature | No mobile app |
| Comprehensive betting markets | No welcome bonus |
| In-play betting | |
Frequently Asked Questions about Winners Golden Bet
How do you play Winners Golden bet?
Playing Winners Golden bet is simple. First of all, you must create an account and log in. After signing in, you will have to make a deposit, if this is your first time.
After making the deposit, you can find the list of sporting events for your category of choice. Select which league or tournament to bet on. The list of upcoming matches will be displayed as a list. The 1×2 odds will be displayed here, but for other markets, you will need to click on the match to go to its page.
Now, you can add it to your betslip and decide between single, multi, system, accumulator or any other type of bet.
How do I create a Winners Golden Bet account?
Creating an account is simple. Click on our link to visit the site, then find the register button. You will have to fill-up the form using a Kenyan phone number. International players are generally not allowed at this site, so you might have trouble trying to register as one.
After you're registered, you can use the email and the password you set to log in.
How do I download the winners Golden Bet app?
Unfortunately, there is no Winners Golden Bet app. So, you cannot download it in any way.
You can play the games and bet on sports straight from the mobile site. To view the mobile site, simply click the link given from your phone browser. Or open your phone browser and enter the website's URL.
The phone version can do everything the desktop version could. You can visit your account, browse the list of events, keep an eye on live matches, place bets and collect bonuses.