Note: we don't have affiliation with Sportybet. We recommend that you check our Bet9ja promotion code article
Let's take a look at SportyBet Nigeria, an online betting operator that has been doing a stellar job in recent years. It has come to our attention that they have been getting more popular and thus deserve a review.
For that reason, we checked out all the main details about the brand. Its markets, odds, apps, SportyBet promo code, streaming service options, and more.
| Sportybet review | Our rating |
| --- | --- |
| Welcome offer sport | 4.5 |
| Welcome package casino | 4.0 |
| Markets | 5.0 |
| Odds | 4.5 |
| Steaming/Live options | 4.5 |
| Mobile app | 5.0 |
| Payment options | 4.5 |
| Customer service | 4.0 |
| Average grade | 4.5 |
| Register | Sign up |
SportyBet Sport Review – 4.5
One of the main draws of the website is the inclusion of a welcome bonus. Most of us are hooked to sign up with an operator purely based on the bonus offer they provide. This is common practice and is not regarded as bad behaviour on operators. Indeed, the signup bonuses that they offer are truly useful for further wagering.
When it comes to SportyBet Nigeria, the website had a slew of offers within their promotion section. Yet, they are now in the process of updating them. Actually, we liked the promos that the operator had before, so we expect them to continue in the same manner.
A first deposit bonus offer is the most likely one to make a return. It is very easy to get, even for novice players. One has to sign up for a SportyBet account and make an initial deposit. The deposit is either matched or the player receives a fixed sum which they can then use to start betting on sports. But there are probably going to be some playthrough requirements added which will enable you to withdraw funds.
A welcome bonus is limited to new players only, so users that already have an account with this operator cannot apply for the bonus again. They also need to be of legal online betting age, which is 18 in Nigeria.
Available Sports on SportyBet – 5.0
We were able to notice right off the bat that SportyBet NG has an excellent offer of sports to bet on. Actually, they have a very wide range of betting opportunities, much wider than some of the rival sites. Also, the way everything is displayed makes it a lot easier for users to find what they are looking for.
If you are not sure how to start, you can view the Popular section from the Home menu. It includes:
Today's football
Upcoming games
England Premier League
La Liga
Bundesliga
Serie A
Football is the most popular sport in Nigeria, so it makes sense that they offer the most action for this sport. You can place bets on the top leagues such as England, Spain, Germany, Italy, and France, or switch to some of the lesser popular ones like China, Czech Republic, Australia, Egypt, etc.
The most popular sports are all displayed on the main menu for quick access. Therefore, you can easily switch to:
Football
Baseball
Basketball
Tennis
Table Tennis
Badminton
But don't forget, SportyBet Nigeria also enables their customers to wager on ESports, such as Counter-Strike:GO and Dota 2. Not to mention that there are a ton of other markets that you can all check out by pressing the More Sports button. A drop-down menu will reveal all the available sports that you can wager on.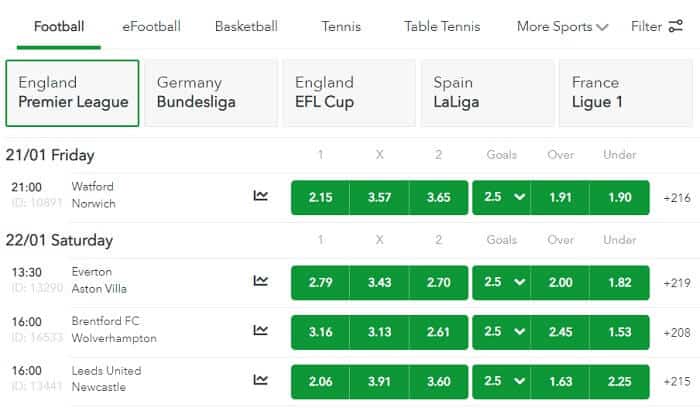 SportyBet Casino Review – 4.0
The SportyBet casino page is still a work in progress. We don't have a lot of information about it, but we hear that they are doubling down on creating an offer that will match everything that the competition already has. SportyBet NG already knows how to create a fabulous sports betting site, but we have to wait for their casino section to see what they are planning.
Since we can't really confirm what the offer is going to look like, we can speculate a bit. Table and Slot games should make up the majority of the online casino game offer of the site. Since these are the games that the fans are usually looking for, it makes sense for them to concentrate more on these sections.
We do expect Progressives and a Blackjack section to be a part of the initial rollout. However, we can't say the same about Video Poker. This feature is an attractive one but may not be a reality at this point. We will follow the situation closely and report on it once things develop.
SportyBet Casino: Welcome Bonus – 4.0
You can't have a casino section without a casino bonus. Our SportyBet review includes a possible look at what a casino bonus might look like when they decide to release one. Since the casino part is still in the works, we are hoping to see something related to the game roster they have.
This might mean getting some Free Spins or a Casino Bonus that will allow users to play some of the popular casino games on the site. Not only that, but we also expect it to be attractive enough to draw in new players. They do need to build a player base and a welcome bonus might do the trick.
We hope to see something that is going to be both lucrative and easy to obtain. Since they are new, we don't expect them to release a bonus that is hard to get as it might avert potential fans.
The same thing will apply as for the sports bonus – only new players from Nigeria, 18+. This is a seminal part of each welcome bonus, no matter the section. Not meeting these criteria will disqualify you from getting the bonus.
Odds on Sportybet – 4.5
Sports betting is still the bread and butter of SportyBet Nigeria, so they need to make sure that their odds are up to date. And in fact, they are. The operator offers competitive odds across the board. But we do see some discrepancies between popular and less-known markets.
For instance, all the major sports that one usually bets on have very good or even better odds than what the competition is offering. On the other hand, lesser sports or the ones that not a lot of people bet on are a bit poor. But it still depends on a case by case situation.
When it comes to major tournaments, the odds are pretty good no matter the popularity of the sports. Since there is more info and lots of interest for these major events, the odds are going to be like the ones seen on other sites.
Updates also happen, but you rarely see major changes being made in the wake of the event. All in all, not bad, but there is still room for improvement.
Streaming and Live Betting on SportyBet – 4.5
The Live betting section on SportyBet NG works more than well. Actually, it is one of the better in-play sections that we were able to see in a long time. The main advantage of SportyBet live betting is in the wide amount of features. This makes the betting experience of the user a much more pleasant one.
Once you load the page, you will be able to see the entire list of sports on the left side of the menu. Choose the sport that you want to wager on from there and see which events are currently being played. You can switch from multi view to single view to determine the sport or game you want to bet on.
Once you decide on a match, it will be displayed front and centre of the page. There you can use the many options that come along with the matchup. You can watch the Match Tracker, view stats, get the head-to-head statistics, a written timeline of the match, and the markets.
The available markets are displayed below, and you can view how the odds change as the match progresses. Basically, SportyBet Nigeria has given everything that you need for a fabulous live betting experience. If you are able to take advantage of them all, you stand to have lots of fun wagering.
Not all the events are covered when it comes to watching streams. In fact, you are not going to be able to see them until you login SportyBet. It basically means that you are not going to be able to watch anything unless you create an account. We hope to see more changes and improvements for the streaming section to be on a par with the fabulous in-play betting services that the site has.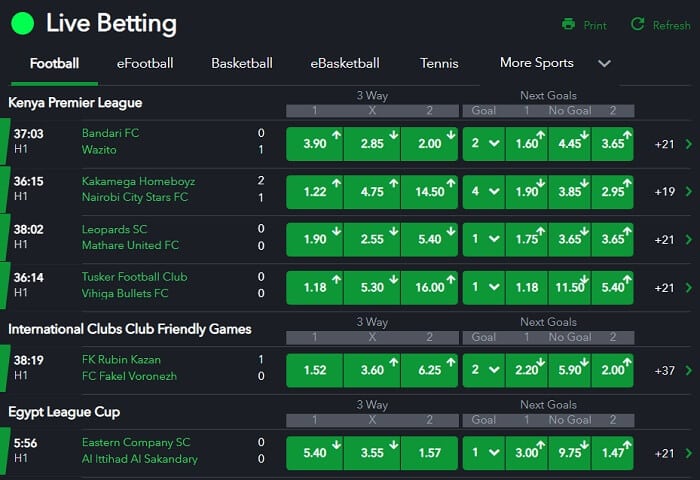 SportyBet Mobile App – 5.0
To make things perfectly clear from the start within our SportyBet review. Yes, a SportyBet mobile app for Android does exist. No, an iOS version is not available at this time.
The app is an excellent way for users to wager remotely and all of the available events on the platform. Sports betting is fun when enjoyed freely, which the app allows you to do. You can place a bet from anywhere and anytime as long as you establish a stable internet connection.
One of the advantages of the SportyBet lite app is that it does not come with heavy requirements. So it is not going to weigh on your phone. Even users with old versions of smartphones may be able to install and use them successfully. Once installed, you can immediately jump right into online sports betting in the manner that you would on a desktop.
The download process is easy and takes only a second. There are actually three ways for users to download the app. Firstly, they can scan the QR code found in the download section of the SportyBet Nigeria page. Secondly, you can click the "download for free" button on the same page. Lastly, users can type in the address http://sporty.bet/ngapp in the browsers of their phones and download the app.
For Android, users will have to have the 4.0.3 or higher packages of the operating system for the app to work. If not, the only alternative is loading the site via a native browser. This is also the only option for iOS users as the site is designed to function like this.
SportyBet Nigeria – Payment Options – 4.5
SportyBet Nigeria has a decent offer of banking options when it comes to payments. The main part is that all of the popular ways for people in Nigeria are covered. The funding process is easy as you are basically going to do the same thing that people on other sites do.
What you should do is go to the deposit section of your account. Then, choose the desired payment method, enter the amount you wish to deposit and confirm the transaction. It is easy and works fast. Deposits are instant, but withdrawals can take longer and it depends on the payment option you decide to go with.
The list of available payment methods includes:
Visa
Mastercard
Access Bank
Verve Card
Fidelity Bank
Diamond Bank
As you will notice, these are all the most suitable methods for people in Nigeria, which is a definite plus for the provider. That way, people will be able to choose a method that they like the most without any major doubts.
How to Contact SportyBet Customer Care? – 4.0
Being able to get in touch with the customer care team is a crucial part of every bookmaker. If a problem occurs, the only way to resolve it is to get in touch with the customer service people and they will tell you what to do. Truly, problems do not happen that often, but a system that allows you to resolve them fast needs to exist.
In the case of SportyBet Nigeria, there are two primary ways that you can contact the support team. One is, of course, via email. Send a message to [email protected] and tell them what your quarrel is. Alternatively, there are two phone numbers that you can call, 07008888888 and 09088999988, which can allow you to find a fast resolution to your problem.
A phone call works faster while an answer to an email might take significantly longer. The response time is the only problem that we had with their methods. We hope that they improve on this by adding a live chat function that does not exist at the current moment.
However, we do like their thorough help section where a bunch of FAQs are neatly displayed. We do advise you to check these out first before trying to contact the team as you might find a solution on your own much faster.
SportyBet Review : Our Verdict – r4.5
SportyBet NG is an operator that we can truly get behind. They have a stellar offer of betting markets which is one of the biggest that we were able to see. The same thing goes for their in-play betting section. They truly gave it their all when they created it and are possibly the site's crown jewel.
The mobile app is another fabulous addition. It works fast and enables instant access to all of the site's features from afar. The only downside is that an iOS version does not exist yet. They also don't have a live chat feature, but the included methods are enough for now. It might become a problem once they start adding more players as it could be difficult to cover them all.
We also expect them to add a welcome offer that is going to match the previous one. But the payment methods are very suitable for a Nigerian market. All in all, not too shabby, there is room for improvement, but as long as they keep moving in the right direction, they will become even more successful.
| ✔️ What we like | ❌ What we don't like |
| --- | --- |
| A lot of sports markets and live betting opportunities. | No Live Chat feature. |
| Fast and very user friendly app. | No iOS app. |
| A number of Nigerian-centric payment methods. | |