BetKing is an international sportsbook that offers a large sports betting market, and other simple features, including various BetKing withdrawal procedures. Its popularity comes from the simplicity of different processes, including payment methods for deposits and withdrawals. This guide discusses successfully withdrawing money from BetKing and other unique information. Of course, you'll have to be a member first, claim the special welcome offer using the BetKing promo code VIPBET and bet before withdrawing.
How Can I Withdraw My BetKing Bonus?
Yes, you can withdraw it. The bonus Bet and Get 25,000 Naira in Free bets is eligible for withdrawals. However, you will need to meet the wagering requirements or terms and conditions to withdraw your bonus. Also, you must meet the minimum withdrawal amount to withdraw your Betking bonus.
To claim the bonus, you must meet the following conditions.
Place your first bets on sports games after registering an account.
The bet must not be cancelled, voided, or cashed out.
Winning bets or bets partially won won't qualify.
You must add your bank account to your profile, and the bookmaker must verify it before you can claim the bonus.
Bet and Get 25,000 Naira in Free bets

18+. This ₦25,000 free bet is applicable solely on Sportsbook. Bet ₦500 or more on Sports within your 1st week of registration and get ₦1000 free bets for Sportsbook the next day after your qualifying bets settle and you have verified your bank account as per Requirements. Bet ₦1000 or more on Sports within your 2nd week of registration and get ₦3500 free bets for Sportsbook the next day. Bet ₦1000 or more on Sports within your 3rd week of registration and get ₦8000 free bets for Sports. Bet ₦1000 or more on Sports within your 4th week of registration and get ₦12000 free bets for Sports.

Visit site
How to Withdraw Money from BetKing?
The process of a BetKing withdrawal is straightforward, thanks to the several available banking options. Customers can use several methods, both locally and internationally, each having its own rules. Here's a breakdown of how to withdraw money from your BetKing account with fewer hassles.
Step 1: Log in to your account by visiting the official website and using your username and password. Select the user area dropdown menu, and select "Withdrawal."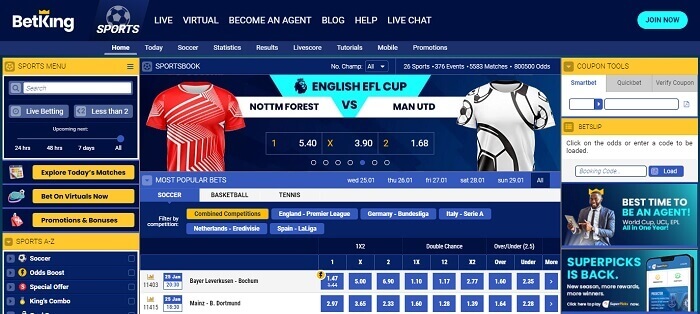 Step 2: On the next page, enter the amount you want to withdraw (watch out for the minimum withdrawal amount) and choose which bank receives it. New customers will have to add a bank account first before proceeding. You must complete verification first (we will discuss this later).
Step 3: Click "Proceed" and expect your payout in your bank account within 24 hours. Please remember that you must complete the BetKing registration first. This allows you to enter your banking details and place bets and win.

How to Withdraw from BetKing Account to your Bank Account
BetKing allows withdrawals to your bank account on all days, including weekends and holidays. However, you must complete a few tasks before requesting a bank transfer. The most important is adding your bank details.
Here's how to save your account details on BetKing.
Log in to your BetKing account, and click on the "My Account" option at the top of the homepage.
On the next page, select "Edit Profile" from the list of options. Your personal information page will load next, with a tab showing "Bank Account Info."
Click on this tab to access the bank information page.
Select your desired bank from the options in the dropdown menu and enter the account number.
Now, select "Save Profile."
The number you requested to save must pass through a verification procedure. Usually, this takes a little moment. Once done, the bookmaker will send you a notification confirming your request's status. However, when you add the account details, you can still request a withdrawal while it is still being verified.
Once done, follow the guide above to secure money into your bank account using bank transfer. One of the ways you pass the account verification is if the details match your BetKing account information.
What Are BetKing Withdrawal Rules?
As a top-rated online sportsbook in Nigeria, BetKing follows a set of rules regarding payouts. Since all BetKing withdrawals are to bank accounts, they may come with specific terms.
For instance, you cannot withdraw without wagering your deposit amount first. BetKing wants users to wager a minimum of 60% of their deposit amount before they can place a withdrawal request. This is in line with financial regulations on money laundering and other similar acts on the platform.
Here are some of the other withdrawal rules.
What Is the Minimum Withdrawal on BetKing?
On BetKing, the minimum withdrawal limit per transaction request is ₦1,000. This applies to all bank types, and you must wager the amount first.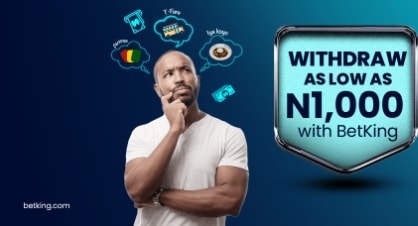 How Much Is BetKing's Maximum Withdrawal?
The maximum withdrawal limit per transaction request on BetKing is ₦10,000,000. However, your bet list may undergo a "grand audit" process before you receive it in your account.
Can I Cancel a Bet?
Yes, you can cancel a bet. However, this is only possible if the sports events on the bet list have yet to begin. Once any of them is in play, you may be unable to cancel it. Speak to customer support for more information.
Are There Transaction Fees on BetKing Withdrawals?
All withdrawal requests are free on BetKing. However, you may want to inquire from your financial institution if you notice deductions on payouts in your account.
How Long Does it Take to Withdraw from BetKing?
The BetKing withdrawal time is usually instant because transactions are processed immediately. However, the bookmaker's payment gateway may sometimes have network issues, and your requests will show "On Hold" on your dashboard.
So, you can wait up to 24 hours to see if the withdrawal will reflect in your bank account. After that, your funds will return to your BetKing account. In addition, you may have to wait further if it is your first request. BetKing conducts security protocol checks on your submitted bank account before approving it.
Do I Need ID to Withdraw from BetKing?
Yes, you need an ID to process your first withdrawal request before it goes through. This is in conformation with regulations to confirm the identity and age of all customers. The ID requirement is called the Know Your Customer (KYC) and follows as part of account verification.
You may need to present your ID if you have a winning bet and want to withdraw it. However, this happens only once. You don't have to provide a means of identification on subsequent withdrawals.
Problem with BetKing Withdrawal
There are several common issues why a BetKing withdrawal may have complications. Some are preventable, and others may need customer support assistance or reach out to your financial institution. Here, we list some fundamental issues and how to resolve them.
Why Is My BetKing Withdrawal Pending?
As discussed above, your withdrawal may be pending or "On Hold" due to network issues. The payment gateway may generate issues that can put a pause on withdrawals.
This is no fault of yours. However, you may have to wait until it clears. The bookmaker will continue trying for the next 24 hours. In the end, you will receive your funds back.
Furthermore, financial institutions may experience delays in funding accounts, especially on weekends. Hence, you may see "successful" on your dashboard, but it will reflect otherwise on the bank account.
To check the status of your withdrawal, follow the steps below.
Log in to your account and click on the "My Account" symbol.
Select "Transaction list" from the list of options, and choose "Transfer Type."
Next, select "Payment Methods" and filter withdrawals.
Click "Proceed" to check out the payment transactions and the status.
What Should I Do if I Can't Withdraw from My Account?
There are reasons why a bettor can't successfully withdraw from his account. As stated, BetKing carries out security checks on the bank account number before processing a withdrawal request.
If your account cannot process withdrawals, you may have to contact customer support for assistance.
Why Was My Withdrawal Request Rejected and What Should I Do?
There are several issues why a BetKing withdrawal may be rejected. They include:
Failure to pass verification checks.
While you can still submit a withdrawal request, the bookmaker will not honour it until you pass the verification checks on your account. Check out the verification help page on the BetKing website for more information.
The name doesn't match.
Your bank details must match your BetKing account. As a result, you may have to update your bank account information and change it. However, please contact customer support to change the name on your BetKing account.
You have not placed bets with your deposit.
You must wager a minimum of 60% before you can proceed to withdraw your amount. This is to prevent money laundering and related matters. If you have deposited funds by mistake or don't feel like betting anymore, reach out to customer support.
Network issues.
Most times, the payment gateway may also experience issues. If it goes on for 24 hours, your request will be rejected, and the funds will be returned to our account. In all, the bookmaker will reach out to you with a reason your withdrawal request did not go through.