Before you register with Frapapa and use the Frapapa promotional code, you should learn about the Frapapa withdrawal process. Because what is the use of a bonus if you do not know how to convert it into cash? This article will be your complete guide to Frapapa withdrawal.
How to Withdraw Frapapa Bonus?
Frapapa Nigeria offers an excellent welcome bonus. As a new punter, you will be eligible to receive 100% up to ₦50,000 on your first deposit. You will need to place a minimum of ₦100 in order to access this bonus.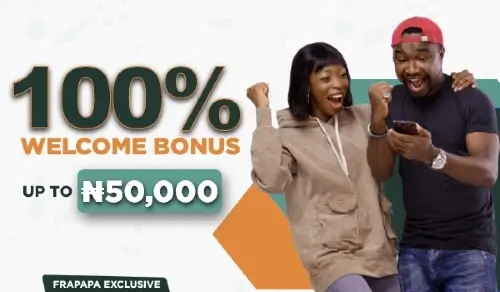 The way this bonus works is that you get up to a 100% deposit match on your first deposit up to ₦50,000. Minimum odds required for this bonus to become active is 1.5 per event, on a total of 5 events!
This bonus is only valid for the sports betting site and not for the Frapapa casino. In other words, you can only use it to bet on sports like football.
Furthermore, you need to activate this bonus during the deposit to Frapapa. As far as Frapapa withdrawal is concerned, you can only withdraw the welcome bonus after you have met the wagering requirements.
The wagering requirements are that you need to wager 5x your bonus amount in eligible bets. The bets that count include all bets with minimum odds of 1.50 per event.
How Long Does Frapapa Withdrawal Take?
If you want to make a Frapapa withdrawal, you have to send a request for withdrawal. The Frapapa withdrawal conditions state that most requests take 5 working days. It may take longer if additional verification steps are necessary.
For example, if you make a Frapapa withdrawal request for a payment method that does not belong to you, then you may face some additional Frapapa withdrawal problems.
In such a scenario, the sportsbook may suspend your account while they conduct additional due diligence. They may ask you to send identity documents and documents to prove that you have the authorisation to use the payment method in concern.
Common identity documents that you may send include a driver's licence, national ID card, passport, etc. Common documents with which you can prove authorisation of the bank account include official letters from the bank or the account holder and so on.
Frapapa Withdrawal Conditions
You can withdraw funds into debit or credit cards and also into your bank account. The bank account must be in your name. It must also be an account with a licensed Nigerian bank.
If the account in which you want to deposit your funds is not in your name, you may have to provide additional documents. That is because the sportsbook may need you to prove that you are authorised to use the payment method.
Frapapa withdrawal conditions do not include a fee in most cases. However, there are situations where you may face charges or fees. You will clearly see such additional charges and fees during withdrawal.
For instance, your payment method may charge you a processing fee or some other charge. The sportsbook also reserves the right to charge a small fee if your withdrawal amount is part of funds that you use to take advantage of an active bonus or promotional offer.
What Is the Minimum Withdrawal for Frapapa?
The Frapapa minimum withdrawal amount is ₦500.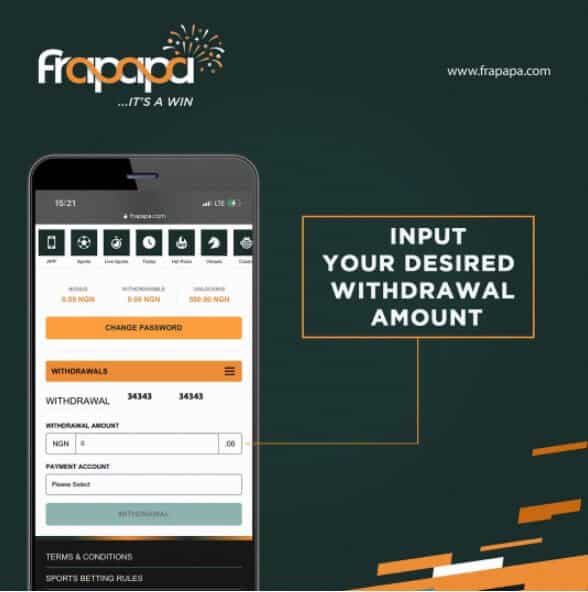 What Is the Maximum Payout on Frapapa?
As far as the Frapapa sports betting site is concerned, the maximum payout per bet is ₦40,000,000. On the other hand, the maximum payout per customer within a 24-hour period is ₦50,000,000.
Frapapa Maximum Withdrawal Per Day
The maximum daily payout of all winnings is ₦1,000,000,000. If the daily Frapapa withdrawal requests exceed that amount, the operator will proportionate withdrawal amounts.
For example, if the daily withdrawal requests total ₦4,000,000,000, each punter will get only a quarter (1/4th) of the amount they requested.
Frapapa Withdrawal Method
Payment methods for Frapapa withdraw requests include all the familiar methods in Nigeria. This includes Interswitch, Paystack, Mastercard, Visa, Verve, and direct bank transfer.
Interswitch and Paystack are the biggest integrated payment gateways in Nigeria. So, you might already be using them for other purposes, e.g., eCommerce. And now you can use them for Frapapa withdrawals too.
Moreover, you can withdraw funds directly into your debit or credit card. All the major card companies in Nigeria are available.
Finally, you can use a direct bank transfer method to deposit the funds directly into your bank account. But the bank account should ideally be in your name.
Furthermore, the bank account must be with a licensed Nigerian bank. You cannot use this method with an account that you may operate at an overseas bank.
Frapapa Withdrawal Problem
You can face Frapapa withdrawal problems for a number of reasons. In this section, we will unpack some of the common issues and how to avoid them.
If you try to withdraw money into an account or card that is under someone else's name, you will face the biggest Frapapa withdrawal problem. That is because sports betting in Nigeria is a highly regulated field. Thus, sportsbooks need to adhere to certain laws strictly.
You can avoid facing this issue by using those payment methods that are under your name. Moreover, you can keep some documents in relation to to your accounts, source of funds, etc., in hand so that you can quickly resolve any issues.
Another problem you might face during Frapapa withdrawal is if you do not actively bet using your account. One of the terms and conditions of account maintenance is that you must actively engage in sports betting using the account. You cannot deposit money and have it lie there idly.
If you do so, the operator may reject your withdrawal requests and take action against your account, such as suspension and even permanent closure.
Why Can't I Withdraw from Frapapa?
In addition to the major withdrawal issues from the previous section, you might be unable to succeed with Frapapa withdrawal for a number of minor reasons.
For example, they may reject or put on hold your withdrawal requests if you have not fully verified your account details. In that case, you have to cooperate with the sportsbook and provide the documents to regularise your account.
Furthermore, you may be unable to withdraw from your account if you enter an incorrect or ineligible amount. For instance, if you choose an amount that falls below the minimum or exceeds the maximum, you may be unable to withdraw.
Additionally, you may be unable to withdraw if your funds are tied up with existing bonuses or promotional offers.
Where Do I Complain to Frapapa?
You can make complaints or resolve issues by contacting Frapapa customer service. You can call their customer service team by dialling 0700-FRAPAPA.
Moreover, you can submit a ticket through their website. You can describe your problem, add screenshots, and add a priority level. They will try to deal with your problem expeditiously.