If you have recently completed or thinking about the Frapapa registration using a Frapapa promotional code, you must learn about its excellent mobile app. The Frapapa app is easy to get and use. Learn all about it in this comprehensive guide.
How to Download the Frapapa Nigeria App?
You can currently download the Frapapa app for the Nigerian sportsbook's official website. Soon, the app should become available on the iOS App Store. But you should only download it from the official website at this moment.
Do not download the APK from third-party sources as this can be dangerous for your phone. Such files from untrustworthy sources can often have harmful viruses and malware that can damage or be used to hack your phone.
The following sections explain the Frapapa app download process for each operating system with simple step-by-step guides. You will find that the process is quite simple and easy.
Download Frapapa on Android
If you use an Android device, follow the steps below to download the Frapapa mobile app on your device:
Visit the Frapapa site from your mobile browser.
Click on 'download' or 'download for Android'.
Download the APK file.
Install the APK file on your device (allow installation of apps from unknown sources while you do this).
After you have completed all the steps above, the Frapapa mobile app will be available on your device.
The logo should become available somewhere on your home screen or app drawer. You can tap on the logo and access the exciting world of sports betting at Frapapa.
Download Frapapa on iOS
Go to the App Store from your iOS device.
Search for 'Frapapa' using the search bar above.
Click on 'Get'.
In 3 short steps, the Frapapa app download and installation procedure should start. Soon, the Frapapa logo should become visible somewhere on your home screen.
You can tap on the logo and start betting on the site from your Apple device whether it be an iPhone or an iPad.
Download Frapapa App on Windows
The site does not have any apps for Windows smartphones. However, you can use the mobile site version on your mobile browser.
All you have to do is find the official website and log in. All the features will be there just as on the desktop site.
What Are the Pros of Using the Frapapa Mobile App?
Below are the top reasons why you should start using Frapapa Nigeria's mobile app.
Sportsbook in Your Pocket
Armed with the Frapapa sportsbook app, you will have your bookmaker by your side at all times. No matter where you are.
This can be convenient in so many situations. For instance, if you are travelling for work or need to bet on an event happening in a different time zone.
You do not have to worry about shops being open or bringing out your laptop. Just take out your phone and make a bet in minutes.
Enjoy Live Betting Like Never Before
The live betting action that you can enjoy using the app is incomparable to anything else.
No matter where you are or how busy your schedule is or what time of the day it is. You can follow every minute of your favourite events and make live bets instantly from your smartphone.
Never Miss Out On the Latest Offers
You never have to worry about missing out on the action or the latest offers when using the Frapapa app. Because all those things will be brought straight to your attention.
For instance, you will get notifications every time a new and exciting offer becomes live. You can instantly check the terms and avail the bonus with a few clicks.
What Are the Cons of Using the Frapapa Mobile App?
There are not that many major disadvantages to using the Frapapa Nigeria app. But there are a couple that you should know about.
Eats Up Storage Space in Your Phone
The app does eat up some storage in your phone, though not a lot. This will generally not be a problem for you.
Unless you have a phone whose storage is already quite full or nearly so.
Clogs Up Your Phone's RAM
The RAM of your phone is responsible for handling all apps and activities on your phone. If you have a phone with low RAM or too many apps running, you will not get the full mobile app experience.
How to Use the Frapapa App?
The mobile app is extremely easy-to-use, fast, and responsive. The interface is so well-arranged that it is unlikely you will ever have to struggle to find or do things you need.
If you have used the Frapapa mobile version site, then using the app should become even easier for you. Because the app resembles the mobile site to a large extent.
The menu, options, and functions are arranged in a similar fashion. The only difference is that the app is more optimised for mobile use and much more responsive.
Apart from that, the basic features and functionalities are the same. You can do everything that you would have done using the mobile or the desktop site. This includes registration, login, claiming bonuses, depositing funds, placing bets, and withdrawing your winnings.
Moreover, betting, the most important aspect, is much easier and better on the Frapapa mobile app. You can do things much more quickly, which is a huge plus during live betting, for instance.
How to Register on the Frapapa App?
The registration process via the mobile app is not very different from the site process. Once you open the Frapapa mobile app, it will ask you to either log in or register.
After you click register, you will be given the registration form, which is quite standard.
It looks more or less the same as the form as it appears on the desktop or mobile site. The form asks for your phone number and password.
During Frapapa registration, you will also be able to claim any relevant Frapapa promo codes, if applicable. This implies that you will be able to claim Frapapa welcome bonuses using the mobile app in the same way as you would have at the full site.
Claim Frapapa Bonus on Frapapa App
As mentioned earlier, you can claim the Frapapa welcome bonus using the mobile app as well. It is one of the best sportsbook welcome bonuses that you can currently get.
The Frapapa welcome bonus is a 100% welcome bonus up to ₦50,000.
There is no need to use a promo code for this bonus, though. By making a deposit of at least ₦100 up to ₦50,000 you will be automatically given the appropriate bonus amount added to your bet slip.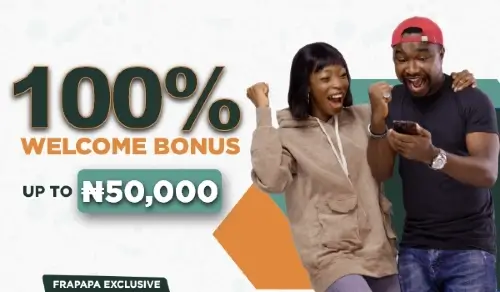 What Are the Frapapa App Features?
The following sections contain quick reviews of the features that you can enjoy with the excellent mobile app.
Stats and Live Tracker
Sports betting requires a lot of research. Hence, the Frapapa app comes packed with all the stats and the live scores that you need for making smart betting decisions. And all this is accessible straight from your phone.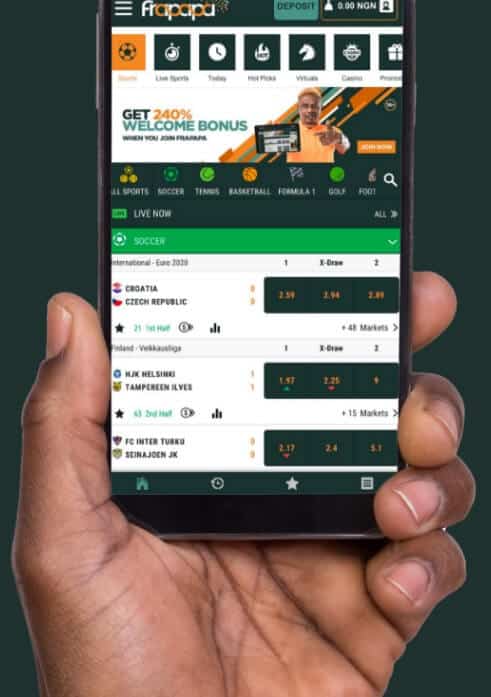 Super Bet Boost
The mobile app also rewards punters with boosted odds for a set of pre-selected matches regularly. So, if you are a fan of boosted odds bonuses, the Frapapa app is where you should be doing your sports betting.
Cash-Out
Using the cash-out feature on the mobile app, you can exit your bets anytime you wish.
Perhaps you want to minimise your losses or earn a small profit while you still can. This feature will come in handy during those situations.
Instant Payment
If you are a tech-savvy punter looking into betting apps, chances are you are doing much of your banking through apps as well.
So, you can now transfer money to and from your banking app and betting app instantly. All thanks to the instant payment feature on the app.
Notifications
Whether it be the latest scores or the latest offers, every update will be delivered straight to you in the form of push notifications.
You never have to worry about missing any action. Neither do you have to constantly scour the site for info?
Everything will be made available to you at your fingertips. Quite literally.
What About Using the Frapapa Mobile Site?
If you are unwilling to use the mobile app for one reason or another, you can consider using the mobile site.
The following table contains all the pros and cons of using the mobile site. So, hopefully, it can help resolve any mobile site vs mobile app conflicts in your mind.
| ✔️ Frapapa Mobile Site – Advantages | ❌ Frapapa Mobile Site – Disadvantages |
| --- | --- |
| Overall UX is less satisfying than the app | Slower than the app |
| Has all the same features as the app | Can burden your phone's RAM through the browser |
| Does not require download or installation | Overall UX less satisfying than the app |
Devices Compatible With the App
System requirements for the mobile app are quite easy to meet.
And that means you can access the app even if you have a really old phone or a really budget phone. But you need to make sure that the operating system is as up-to-date as possible.
The table below lists some of the common devices compatible with the app. This list is merely indicative and not an exhaustive list.
So, if your device is not on it, there is no reason to think that it will not be able to run the app.
| iOS | Android |
| --- | --- |
| iPhone 11, 12, and 13 series (all devices) | Tecno Camon CM |
| iPhone X series (all devices) | Infinix Note 4 Pro |
| iPhone 8 and 8 Plus | Xiaomi Redmi Note 5A |
| iPhone 7 and 7 Plus | Samsung Galaxy Grand Prime Plus |
| iPhone 6S and 6S Plus | Nokia 2 |
FAQ
Below you will get quick answers to common questions regarding the Frapapa apps:
Yes, Frapapa Nigeria has an app for Android & iOS. So, you can access the Frapapa app irrespective of which operating system your device runs on.
The Frapapa app can be downloaded and installed from the sportsbook's official website. You need to download an APK and install it on your phone.
You will be able to update the Frapapa Android app by downloading and installing a new version of the APK. As for the iOS app, you can turn on auto-updates or do it manually on a recurring basis.
If you are unable to install the Frapapa app on your phone, make sure you have enough storage. Or, check whether you have allowed the installation of apps from unknown sources.
Clearing up some storage and/or allowing unknown apps solves the problem in most cases.
The Frapapa app registration process is similar to the process you will encounter at the site. You need to provide your phone number. Then your account will be created.
Yes, it is absolutely safe and secure to download the Frapapa mobile app using the APK. The site is a well-established and renowned brand known for its security.
Frapapa App vs Other Apps in Nigeria
The Frapapa app is compatible with both iOS and Android devices. Initially, it was only available for Android devices. But fortunately, the operator has recently launched its iOS counterpart, which you can download directly from the iTunes app store.
The Frapapa app is an excellent addition to Nigerian betting apps like Parimatch and BetWinner. They are also suitable for iOS and Android devices.
They all come with similar functionalities of their respective sportsbooks, meaning you can use the Frapapa app to bet on your favourite sports anytime from anywhere. You just need to have a stable internet connection.
Although the Frapapa app doesn't have a live streaming option, you can find this on similar applications.
Nonetheless, the Frapapa app still provides timely updates on all your bets.
So, you don't have to miss out on statistics while live betting. Overall the Frapapa app is a great betting option for punters in Nigeria.
| Operator | Bonus | Bonus Code |
| --- | --- | --- |
| Parimatch | 100% of first deposit up to NGN 150,000 | PARING |
| BetWinner | Up to NGN 65,000 | NGBET |
| N1bet | 300% bonus up to 500 000 NGN | NO CODE NEEDED |