With the Cut 1 Bet9ja option, you can create a multiple bet and as long as you have at least 5 qualifying events, you can utilise the Cut 1option. To take advantage of this option, you first need to create an account and make a deposit that will cover all the bets in the betslip. As a new punter, you can use the Bet9ja promotion code to claim the welcome bonus.
Bet9ja Cut 1 Meaning
Cut 1 is an offer by Bet9ja to punters who place multiple bets of over 5 events. When you lose one event, you will still win the bet.
Does Bet9ja Pay Cut 1?
Players who receive the Cut 1 offer are paid depending on the number of selections in their accumulator. The odds are recalculated accordingly and multiplied by a player's stake to determine the amount of payout.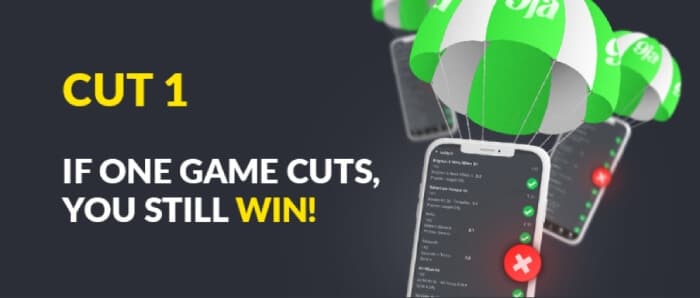 How Does Cut 1 Work in Bet9ja?
Cut 1 is an offer for the New Mobile feature by the bookmaker. So you can only use it with your mobile device. Below is a step-by-step guide on how the Cut 1 offer works:
Log into your Bet9ja account and choose your favourite betting events
Create a normal multibet with five or more events to qualify for Cut 1
Check your bet slip and click on the Cut 1 option
The system will automatically recalculate your odds to allow you to gather a reward even if you lose one game
Wait for all your selected games to be played for the system to establish the results
Depending on the game that cuts, the bookmaker will provide a new Cut 1 permutation accordingly and release your payout.
What Are Bet9ja Cut One Rules?
Bet9ja has a set of rules for players to fulfil before receiving their payouts. You will fine the rules under the terms and conditions, which include:
Players who choose the Cut 1 should agree to receive the lower maximum payout on their bet slips.
You only qualify for the Cut 1 offer if your bet slip has a minimum of five legs.
The Cut 1 feature is only available if you are betting on sports events.
Players who would like to use the Cut 1 feature should opt for the New Mobile.
The Cut 1 offer is independent, so it does not affect the 170% Multiple Boost by Bet9ja.
The odds of the winning selections will be recalculated to determine the payout that Bet9ja should release on the Cut 1 accumulator.