BetKing sports betting site is one of the best online sportsbooks to grace the web. In our review of BetKing sports betting, we will look at some of the features on this site. Before we go on with our review, you can register for a betting account with BetKing. You can use the BetKing promo code VIPBET and start pursuing the Accumulator Bet Boost. New players at BetKing can Bet and Get 25,000 Naira in Free bets!
Bet on BetKing Sports
One of the things you'll notice when you visit the BetKing sports betting site is their many betting options. There are over 20 sports available on the site. In addition, BetKing offers up to 1800 different football games. Although their major market is in the football betting options, bettors can choose to bet on other sports. Some of the popular sports this sportsbook offers include:
Basketball
Tennis
Volleyball
Ice hockey
Boxing
Rugby
Martial Arts
Horse racing
Bettors have the option to choose from a wide variety of sporting events. BetKing hosts games from local and international tournaments. On this site, you can choose from many markets. BetKing sports betting site offers over 200 different sports markets. They have a comprehensive sports book, so there are always sports to bet on every day.
BetKing Sports: Pros & Cons
Pros
BetKing does have a mobile app to bet on in several countries. Where there is no app, bettors benefit from using their "mobile lite site." It's convenient for users to bet on their favourite teams while on the go. The mobile BetKing sports betting site allows you to use the website anywhere and anytime.
If you're looking for betting sites that offer great odds, BetKing is the place to be. They offer really good odds on sports, especially their football betting options. In addition, BetKing has an odds filter that allows you to choose how you want your odds. Also, you can set a time for the odds filter. For instance, if you only want to view odds of 1.5 within the next 2 hours.
The BetKing sports betting site has a Quick Bet feature. It allows you to bet on games instantly.
Bettors can use the live betting feature to bet in real time on their favourite games. The live betting section allows you to monitor the game's progress and make informed decisions before placing your bet.
When you make withdrawals on the BetKing sports betting site, they don't add charges. It is free, and you get your complete winnings.
Cons
BetKing does not have a live stream feature. It would be great if they could include this feature on their site.
Although some countries are lucky to have a BetKing app, not all have access to it. Hopefully, the mobile app will be available in a matter of time.
BetKing Soccer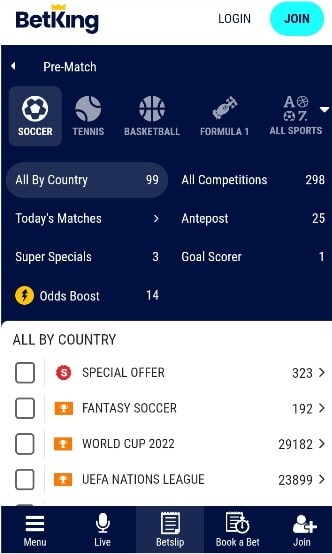 Football is the most popular sport offered on BetKing. The sportsbook has many markets for their soccer bets. If you are starting on the BetKing sports betting site, we explain how you can bet on soccer.
First, you need to create a betting account with BetKing.
Next, make the minimum deposit or more.
On the homepage, navigate to football. You'll see the events slated for the day
Next, choose your betting market (i.e., win-draw-win, over/under, correct score, etc.)
Set your bet amount
Lastly, submit your bet slip.
You can bet on single or multi-bets on the BetKing sports betting site. BetKing offers betting options for both local and international tournaments. You can bet on the UEFA league, World Cup, La Liga, EPL, and many others. In addition, this sportsbook offers one of the best odds in soccer, including their boosted odds promotions.
BetKing In-play Betting
Many bettors prefer to bet live on games; as a result, many sportsbooks include a live section. BetKing is no exception, as they offer a comprehensive live betting section for their customers. Currently, bettors have access to over 80 live football games daily on the site. Although the BetKing sports betting site does have a live stream, you can still monitor the live stats. Their live section will provide all the information you need to know the game's progress.
Besides that, you also get to make informed decisions on your bets. It's easy placing live bets on BetKing, and they offer very good odds on this section. Besides football, BetKing also has live betting options on other popular sports like Basketball, tennis, and volleyball.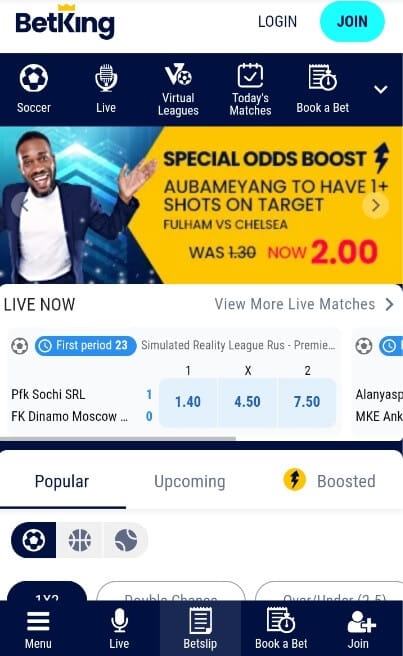 BetKing – Bet on Tennis
If you're a tennis fan, you won't be disappointed with BetKing's offers. This site offers many events for tennis lovers. You can bet on major tennis competitions like Wimbledon, US Open, etc. BetKing even has live betting events as well as virtual tennis games. Whether you want a pre-match, live, or simulated tennis event, BetKing has you covered. However, even though you're spoilt for choice in the tennis section, it still doesn't compare to what they offer for football markets. Looking at the tennis odds on BetKing, it's much better than what other sportsbooks are offering.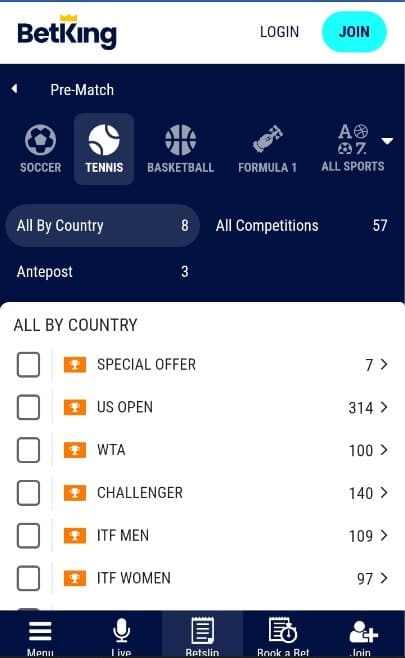 BetKing Basketball
Basketball is one of the popular sports you'll find on BetKing. This sportsbook covers both popular and unpopular basketball events on its site. Bettors can access tournaments like the NBA, WNBA, and other international competitions. BetKing sports betting site also has very good markets for basketball compared to other sportsbooks. In addition, they have very good odds for basketball lovers, and you can bet live on the events. Aside from the pre-match and live games, BetKing also has simulated basketball events.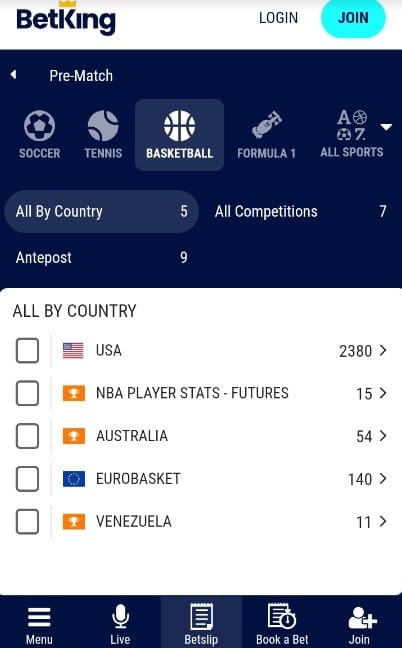 BetKing Virtual Sports Betting
There is no doubt that virtual sports betting has taken the gambling market by storm. Many punters prefer that they have options to bet on basketball all year round, even when there are no ongoing competitions. While BetKing doesn't offer many virtual games, they still have enough to keep punters entertained. When you visit the site, you'll be able to choose from their four virtual soccer games. In addition, they also have other virtual games like greyhound racing, Keno, Color-Color, and Spin 2 Win. You can go to the virtual section of the BetKing online sports betting site to see all the games they offer.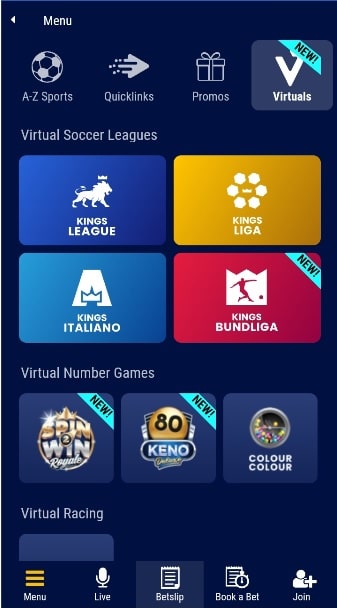 BetKing eSports Betting
If you're looking for variety and want something different, BetKing has something for you. Besides soccer, basketball, and other popular sports, this site also offers eSports betting. With eSports becoming increasingly popular every day, you'll find your favourite eSports games here.
The popular eSports games you'll find on BetKing include League of Legends, CS:GO, Call of Duty, and Dota 2. They also offer other games like Overwatch, King of Glory, and StarCraft.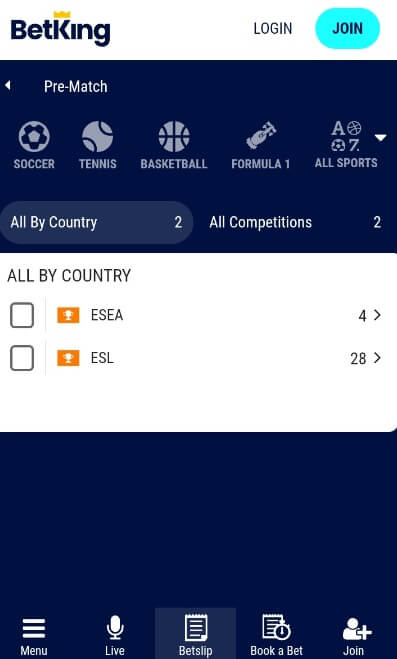 Call of Duty
Call of Duty is one of the popular eSports games played today. You'll find this combat game on BetKing. Call of duty involves a lot of shooting, just like video games. Here army teams face each other in combat. Call of duty is available in multiplayer mode on BetKing. If you're in Nigeria, you can play this very popular eSports on their site.
Dota 2
Dota 2 is another popular game BetKing offers. The game involves two teams of five players. Each player becomes a hero in the game, and their goal is to bring down the structure of the opposing team. It's a very entertaining game, and you acquire abilities as you continue to play. Players will pass through different stages acquiring items to level up. BetKing even offers some professional Dota 2 tournaments.
Counter-Strike: Global Offence (CS:GO)
The popular CS:GO is offered on the BetKing sports betting site. This game involves two teams of five players facing each other. CS:GO has two terrorist teams fighting against each other. One team is a terrorist, while the other is a counter-terrorist. The goal is for the terrorists to plant bombs on the sites while the other team diffuses the bombs. They'll need to diffuse the bombs within 40 seconds.