The BetKing old mobile platform is available for customers who prefer to use this version of the betting site. In this article, we provide details about how to get the BetKing old mobile site along with details about the BetKing promo code.
How to Access the BetKing Old Mobile Site?
Luckily, players who prefer to use the BetKing old mobile platform can still access this version easily. Here, we provide a step-by-step guide on how to access and use the BetKing old mobile site.
Bettors must head to their mobile browser.
Then, they enter the following address, https://old-mobile.BetKing.com/en/sports.
Next, once players click the website name, the BetKing old mobile page will load.
Here, bettors can login to their accounts, place bets and manage their accounts.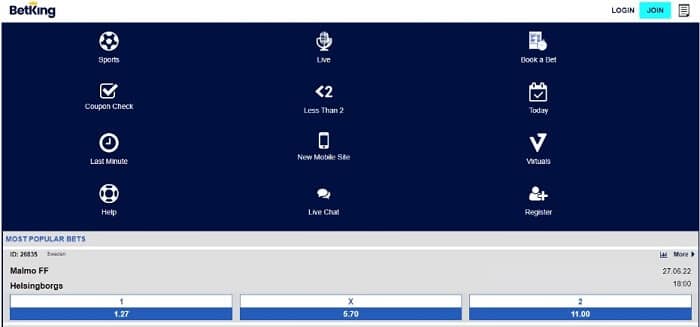 Also, any players using the older betting platform, the mlite BetKing option or the new BetKing mobile application can use the bookmaker's promo code. During registration, bettors can use the new player promo code and claim a welcome bonus.
But before committing to the welcome bonus, bettors must agree to the terms and conditions. It is important that all new players read and understand the T&Cs before opting in.
How to Download the BetKing Old Mobile App on Android?
Currently, bettors can access the mobile platforms via desktop or their mobile phone browsers. At present, the mobile application cannot be downloaded through the bookmaker's website. As a result, players can access BetKing sports betting and other services through the old or new mobile versions. Although the bookmaker could launch their own downloadable app in the future, that is not currently possible.
How to Download the BetKing Old Mobile App for iPhone?
Furthermore, there is no option for the old BetKing app to be downloaded onto iOS or Apple devices. At present, customers cannot get the old app from the BetKing website or the Apple store. But they can access the BetKing old mobile site or newer version instead. To do this, players head to their mobile browser. Then, they search for the old BetKing option and select the first option.
How to Get the Old BetKing Mobile Version?
Any player wanting to use the BetKing old mobile site can still do so easily. Presently, any bettor who wants to continue with the old mobile version can do so by heading to their mobile browser. Then, from here, they should search for the BetKing old mobile site and then select the older version.
Differences Between BetKing Old Mobile & New Mobile Version
Ultimately, there are still plenty of advantages to using the old mobile site. Firstly, the site is a popular choice for bettors who have older Android versions because the site runs quicker and smoother on older devices. In addition, bettors still have good betting selections through the old mobile site, and they can access sports betting. Also, players can register and get the welcome bonus via the older platform.
However, there are some noticeable differences compared to the new platform. Generally, players have more options and features available on the more recent platform. For instance, players can wager on a wide selection of sports and access additional services. These include the BetKing blog, previous match results, statistics and bookmaker promotions.
Why Are Some Players Still Using BetKing Old Mobile?
Generally, the BetKing old mobile remains a popular option for many customers for several reasons. Below, we outline some of the top reasons why bettors continue to use the old site. But, we also highlight some of the cons of the old mobile platform. Usually, older smartphones have a slower internet connection, and the old version does not require as much speed to function.
Pros of BetKing Old Mobile
Here are some pros of the old mobile platform:
Can be used on older smartphones
Requires less quick internet to function
Good selection of sports betting
Players can register and access welcome offers
Some live betting options are available too
Often runs quicker on older smartphones compared to full mobile sites
Nothing has to be downloaded to use
Cons of BetKing Old Mobile
We list some drawbacks as well:
Fewer betting options on offer
Cannot access all promotions
No additional features like statistics or previous results
BetKing blog is not available to view on the older version
BetKing's Old Mobile App Features
Even though the old platform is a scaled-back version of the sportsbook, there are still plenty of features for players to utilise. For example, one of the main features is access to a wide range of sports wagers and a variety of markets. Among these are popular sports, like soccer, tennis and basketball. But, bettors can also view and wager on new markets like virtual sports and futsal.
Also, players can access live betting options for sports, and they can place in-play wagers. In addition, bettors can make use of the 'Book a Bet' feature, where they can select a specific wager to place in the future. This feature is very easy to use, and players simply enter a bet code for the bookmaker to set.
Furthermore, account management features are available such as deposits and withdrawals. Also, players can easily get started with the bookmaker by signing up on the older mobile version by entering their mobile number and some basic personal details.
How to Withdraw Money from BetKing Old Mobile?
When using the older site, bettors can still withdraw funds from their accounts. First, bettors need to head to the platform and log in to their account and click login.

Then, players head to their account and click the 'Withdrawal' option. Next, players will enter some payment information, including amount, bank account and account number. Currently, players can only withdraw by using bank transfers.
Finally, players click proceed, and the transaction can begin.
How to Access Live Betting on BetKing Old Mobile Site?
Presently, one of the only additional features on the old platform is live betting. Getting to the live betting section is simple and straightforward.
First, players log in to their accounts. Then they select the 'Live' option from the homepage.
Next, the live, in-play betting options will load. To complete, bettors can select their preferred fixture and the betting market and then complete the wager using the betslip.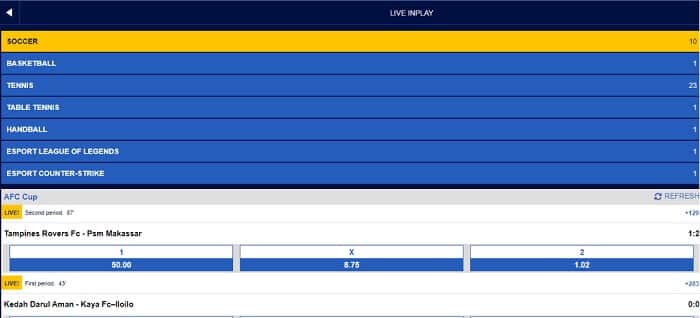 How to Bet on the Premier League on BetKing Old Mobile Site?
Furthermore, customers have the option to wager on Premier League matches through the old platform. Today, the Premier League is one of the most sought-after betting options for bettors, and the site offers some good options in this market.
To access Premier League wagering options on the old mobile version, follow the simple steps below.
Firstly, complete the BetKing old mobile login process.
Second, select the Sports option.
When the options load, press Soccer.
Then, a list of countries and competitions will load. Here, bettors select England, then Eng-Premier League.
Lastly, a list of Premier League fixtures will load, and bettors can choose the fixtures and markets they want to wager on.
What Is the Difference between BetKing Old Mobile and Mobile Lite?
Also, the bookmaker has the mlite BetKing platform. Essentially, the BetKing mobile lite option is a low-maintenance, scaled-back version of the new mobile betting option with fewer options than the main, new mobile platform. Ultimately, the fewer options and simplistic design help the platform to run quicker as it uses fewer data.
Overall, there are a few differences between the old BetKing mobile site and the BetKing old mobile lite version. Both offer similar services and options in terms of betting and account management. However, the old mobile and old mobile lite version remain popular choices for Nigerian bettors due to their compatibility with older smartphone models.
Old Mobile BetKing – Our Review
To conclude, we provide a final review of the older version of the BetKing mobile site. Generally, the older platform has every basic betting service that players need to utilise their betting accounts. Among these features are a range of sportsbook options and betting markets. In addition, players can make payments, sign up and access live betting services.
Ultimately, for players that can make the most of a scaled-back betting site, the old BetKing version is a good choice. However, there are some downsides, like a lack of promotions and casino betting options. What if you would rather use the new app? See our article about it.