Betano is a renowned sportsbook and casino site with operations in several European countries. Now the betting platform has launched in Nigeria, bettors can access a range of wagering services.
Here, you can learn more about the new Betano Casino site and all that it has to offer for Nigerian players.
Betano Casino
The Betano online casino in Nigeria offers various betting experiences to customers. It has a range of games, features, dedicated bonus programs and other aspects that demonstrate its uniqueness.
Moreover, new players can utilise the one-time welcome bonus upon sign up.
Betano Online Casino Welcome Bonus
At present, new customers can sign up with Betano promo code BETANG and get the bonus of 100% up to N100,000.
However, the offer is only available for new players and only one offer per customer is available. Furthermore, players must complete some qualification requirements before they can get the bonus amount.
For instance, you must complete the registration in full. Also, you must meet the deposit and wagering requirements within 30 days of setting up your account.
Then you can complete your first deposit of N100 minimum and N100,000 maximum. In addition, you must wager 10 times the bonus amount on minimum odds of 3.00.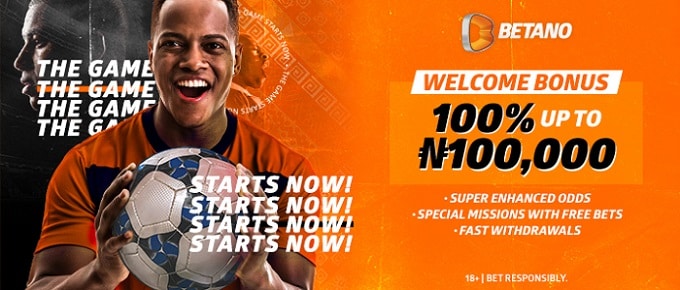 Betano Casino: Pros & Cons
Now the Betano Casino site is live, you can experience all the positive betting services offered by the site. Here, you can review some of the pros and cons of the new Nigerian betting site.
The main strengths of the Betano Casino include:
An incredibly diverse library of online casino games including slots, roulette, card games, and live dealer games.
The casino contains games from all the renowned iGaming software providers such as EGT Interactive, Pragmatic Play, CT Interactive, and many more.
The casino offers a fantastic welcome bonus to new bettors from Nigeria.
However, there are some downsides to this new provider. The main shortcomings of the Betano Casino include:
High wagering requirements of 10x the bonus amount and minimum 3.0 odds to claim the welcome offer.
At present, the brand has no mobile app on offer for Nigerian players.
Betano Slot
Slots are the most popular games in online casinos. They enjoy the same prominent place in the game library of the Betano casino as well.
On the site, you can play some of the best and most popular slots in the world. Overall, bettors can access over 2,000 casino games and hundreds of slot games are on offer too.
Currently, bettors can play a range of slot games with different progressive levels and jackpots. But players can play the more basic and traditional slots with fewer lines and reels.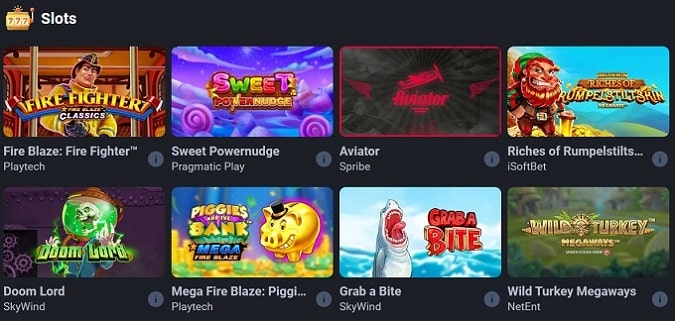 Moreover, the brand has links with some of the top slot game developers in Africa. For instance, Betano has partnered with the likes of Pragmatic Play, Play Tech, Endorphina and Red Rake Gaming.
As a result, bettors have access to some top quality games at Betano Casino Nigeria.
Rules of Slots
Slots can range from quite simple games to highly complex ones that you may have a tough time understanding in the beginning. For instance, there are games called megaways slots which can have millions of dynamic paylines.
On the other hand, there can be old-school basic slots that have a set number of reels and paylines. But the basic rules go something like this.
As soon as you pull the lever or press the spin button, the reels start moving. After a period, the reels stop and you can win if you land a winning combination.
How to Play Slots?
Slots are so popular because they tend to be quite simple to play. Even if you play megaways slots, you do not really have to do much.
All you have to do is pull a lever or press a button for the reels to start spinning. Then you just have to wait for the reels to stop.
If you do get a winning combination, the system will calculate your winnings and pay you out. There is not a lot for you to do.
Best Slot Games You Can Play At Betano
If you enjoy playing slots, you are likely to be spoiled for choice. No matter which online casino you choose. But let us introduce you to some of the best slots you can play at Betano Casino.
Gates of Olympus.
Wolf Gold.
Sweet Bonanza.
Hot Shots 2.
Betano Bonanza.
Betano Mines.
Crabbin' Crazy Betano.
Betano Roulette
In addition, Nigerian bettors can now play some of the most popular classic table games at Betano. One of these options is roulette.
Today, players can participate in several roulette games. For example, classic roulette games are on offer. But players can also access different roulette variations, including American roulette and live roulette.
Rules of Roulette
Roulette is a game that consists of a table, a wheel, and a ball. The table contains the wheel and the board on which you can place your chips (bets).
The wheel, on the other hand, is made up of coloured slots containing numbers from 0 to 32. This wheel is spun and the white roulette ball is thrown into it while it is revolving.
By the time the wheel stops, the ball lands on a specific slot on the wheel. If the placement of the ball on the wheel matches with any of your bets, you win some money.
The payout rates for each kind of bet are fixed beforehand. For instance, you can get a payout of 35 to 1 if you can correctly guess the exact number. This is the highest payout in roulette.

How to Play Roulette?
In roulette, you need to place bets on the table. You can place one or more bets up to as many as you wish. There are no restrictions.
However, you can place bets only up to the point when the ball is thrown into the roulette wheel. Once it is thrown in, the dealer will announce that no more bets can be placed.
Then you just need to wait for the wheel to stop spinning. Once it comes to a standstill, you will be able to clearly see where the ball has landed and whether you have won or lost.
American vs European Roulette
In most online casinos, including perhaps the Betano casino, you may find roulette in several different variants. The most common of which are the American and the European variants.
You should know the difference between the two so that you can pick the right one for yourself.
In almost every case, European roulette is better than American roulette. The main reason behind that is the difference in the house edge between the two variants.
The American roulette wheel has an additional slot which is called the '00' or double zero slot. As a consequence, this variant has a house edge of 5.26% whereas European roulette has a house edge of only 2.7%.
Betano Card Games
The Nigerian Betano casino also has all the major card games available. Some of the major card games that you can find in the casino include the following:
Poker
Poker is arguably the most popular card game in the world. It is a game that you are most likely to have heard about even if you do not know the minute details.
This game comes in multiple variants and the rules vary slightly for each. But some fundamental rules remain the same.
For instance, poker follows a winner gets all or nothing format. This means you win the entire pot if you win the hand. Otherwise, you lose your entire bet.
Each version of poker has a series of hands that have their own rankings. So, the higher your hand ranks, the greater your chance of winning.
Some of the most common poker variants include Texas Holdem Poker, Caribbean Stud, Omaha Hi, 7-Card Stud, and so on.
At Betano Casino Nigeria, bettors can play several poker variants. These include, Jacks or Better, Deuces Wild, and Bonus Poker and live dealer options too.
Blackjack
If there is any card game that can compete with poker in terms of popularity, it is blackjack. You may have heard about it or seen it in movies or television shows.
This game is often colloquially referred to as 21 and often played for leisure too.
The basic rule of the game involves playing against the dealer to secure a hand totalling as close to 21 as possible. But if you exceed 21, you go 'bust' and you lose.
In blackjack, every card is valued at its face value. But the face cards have a value of 10 each while the Ace can be valued at 1 or 11.
If you are looking to play blackjack games at Betano, then you are well-covered. Today, players can sign up and play games like Royale Blackjack 3, All Bets Blackjack, and Speed Blackjack 1 Ruby. But the brand also has more traditional blackjack games on offer.
Baccarat
Baccarat is another popular casino card game that is quite similar to blackjack. The objective, in this case, is to get a hand totalling as close to 9 as possible.
But the interesting bit is that you do not have to play or do anything except bet on either the player or the banker. Unlike blackjack, you are not dealt any cards or anything.
Thus, this makes the game a bit more passive and cerebral which is what many players enjoy.
Betano has a few baccarat games and variations on offer. However, players will find less baccarat gaming options in comparison to the more popular card games, such as poker, roulette and blackjack.
Betano Live Casino
In addition, Betano Nigeria has a live casino option up and running at its new site. Here, you can wager in real time against live dealers and other players.
Overall, Betano has over 300 live casino games. Also, these are usually high quality as well-known igame providers like Pragmatic Play, Playtech, and BetGames supply the games.
Some of the most classic casino games are accessible via the live section. For instance, you will find plenty of poker, blackjack and roulette games. But the brand has some additional live betting options for instant win and gameshow style options.