Wondering what is Bet9ja zoom livescore? Even though the concept is very simple, it could be confusing for punters who have never heard about it before.
See here all you need to know about Bet9ja zoom livescore, the rules, and how to play zoom on Bet9ja Nigeria.
What is Bet9ja Zoom Livescore?
Bet9ja Zoom livescore is the page that shows the scores, results, and tables of all leagues and competitions related to the bookmaker's zoom virtual game.
If you bet on any of the bookmaker's virtual games, then the Bet9ja zoom livescore page is where you will find all the results that show whether you win or not. At the moment, the Bet9ja soccer zoom livescore is the only available zoom virtual game. Thus, the soccer zoom results are what you'll find on the livescore page.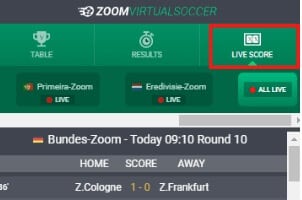 Bet9ja Soccer Zoom Livescore
You might be wondering if there's any difference between Bet9ja zoom livescore and the soccer zoom livescore. The short answer is No. However, the former might refer to a livescore page that shows more than the zoom soccer results. But the soccer zoom livescore focuses more on the different Bet9ja zoom league football games. In other words, it shows the results of the Bet9ja virtual soccer games.
Nevertheless, bet9ja virtual soccer is the only available zoom virtual game at the moment. Thus, it's safe to say both terms are the same.
But what is Bet9ja soccer zoom?
Bet9ja Zoom soccer is a special virtual soccer game by the bookmaker designed for lovers of football. Bet9ja Zoom features many of the real-life football leagues and includes all the games and football teams. However, it is only a simulated version of the real-life soccer.
In real-life football, you get to watch the match for ninety minutes or more before you can see the results. But in Zoom soccer, the results are quick. It only takes a few minutes to get the results and you can tell immediately if you won the bet.
Nevertheless, Zoom soccer bears a lot of resemblance to real-life football betting. You'll find all the top leagues such as the English Premier League, Serie A, German Bundesliga, Primeira Liga, and Spanish La Liga. This makes it exciting as you can bet on all your real-life football teams.
One thing that makes Bet9ja Zoom soccer a perfect choice is its availability on all platforms. You can use any device to bet on the games without any hassles. Furthermore, it offers a friendly user interface that makes your experience enjoyable.
What to expect on Bet9ja Zoom Livescore
If you're familiar with livescore pages, then it won't be difficult to use the Bet9ja soccer zoom livescore. Once you are on the page, you'll see different tabs including table, results, and livescore.
The livescore tab is the automatic page that shows. There you will find all the ongoing virtual matches and their scores. This will help you keep track of the progress of your bets in real-time.
You can switch at any time to the "table" section. It will show you the positions of the teams and other statistics you may be interested in. On the other hand, outcomes of already finished matches can be found in the results section.
Another thing you will notice in the Bet9ja soccer zoom livescore page is that you can sort the results by leagues. For example, if you want to see Ligue 1 zoom livescore, all you need to do is go to the livescores section and click on the "Ligue1-Zoom" tab below the menu.
Here is a complete list of league results available under bey9ja zoom virtual soccer livescore:
Premier League Zoom livescore
La Liga Zoom Livescore
Bundesliga Zoom Livescore
SerieA Zoom livescore
Ligue 1 Zoom livescore
Primeira Zoom livescore
Eredivisie Zoom livescore
How long does Bet9ja virtual soccer last?
Each virtual match takes three to four minutes to end. It takes 2 to 3 hours for a season to end.
What are the Terms for Bet9ja Zoom Virtual Soccer?
Before betting on any sportsbook, it is important to always check the terms and conditions of the platform. Like every other sportsbook, Bet9ja has its terms and conditions. Furthermore, it has different terms to guide its zoom virtual soccer betting.
Most punters usually skip the terms and conditions because they consider them lengthy and difficult to understand. However, the terms for betting on Bet9ja zoom league games are simple to understand. Here is a summary of the terms:
You can combine zoom bets with selections on any real-life sports
You can combine zoom bets across leagues
Multiple boosts apply to Zoom bets
All zoom bets outcomes are based on results from bet9ja zoom bet livescore page.
An interesting thing about Bet9ja zoom is that you can make use of the sportsbook's bonuses and promotions to wager on zoom games. All you have to do is apply the Bet9ja promotion code SPORTMAX and you will get the corresponding bonus. From your first deposit, you can get a 100% bonus of up to N100,000 + 50% extra casino bonus.
Great Bonus
Betting Markets
Loyalty offers
Frequently Asked Questions
How to play zoom on Bet9ja?
Once you're ready to play Bet9ja Zoom soccer, simply visit the website and sign in. If you don't have an account on the site yet, you will have to create a new one.
On the homepage of the site, you'll find a list of sports you can bet on the left-hand side. You will find "Soccer Zoom" in this list. A click on "Soccer Zoom" will open a drop-down list of all the virtual leagues available. Click on the league you want to bet on and you will be directed to the page where you'll find all the Bet9ja zoom league games to bet on.
Here are some of the popular betting markets currently available for Bet9ja virtual soccer:
Double Chance
1X2
Over/Under
Correct Score
GG/NG
Multi-Goal
How to play on mobile
The interface of the bookmaker's website on mobile is slightly different from how it looks on PC. Thus, there's a little difference in the steps to follow.
Here are steps to play Zoom on mobile:
Visit the online bookie and sign in. Then, click on the Zoom in the menu displayed just below the header
Make your selections. In the image below, we picked Z. Arsenal, Z. Everton, and Z. West Brom. To place your bets, click on "Betslip" in the menu at the bottom of the screen. You can also decide to include other bets in the betslip before proceeding.
Enter the amount you want to bet with. Here we choose 400 Naira. You will also see your potential win at the bottom of the betslip
Confirm your selections on the betslip and then click "Place bet"
How to predict bet9ja zoom league?
Prediction of game results is very popular in sports betting. Punters make use of different prediction sites and platforms in a bid to enhance their winning chances. Similarly, predictions can be made for Bet9ja zoom league matches.
In the same way, experts predict real-life football matches using metrics and statistics, they also predict Zoom games. They collect stats and historical data of previous Zoom matches and make use of this to analyse teams performance against each other.
There are a few websites online that provide livescore bet9ja zoom tips. You can get more betting information and predictions from such sites.
How can I play Bet9ja virtual on a mobile phone?
Regardless of which device you use, you can easily play Bet9ja virtual games. There's only a little difference in the steps to take. Here is how to bet on zoom matches with your mobile device.
Visit the bookmaker's website. Then, click on "All" at the top bar to show the full list of options
Choose the "Virtual" link among the displayed options
Select which of the virtual sports available you want to play
You will see the current matches available to bet on. You can also click on the play button to watch the virtual match.
Make your selections in the list of available matches. In the image below, we're backing VFL Copenhagen, VFL Lisbon, and VFL Paris
After making selections click on "place your bets". You have to be fast when betting on ongoing matches as they take only about 5 minutes
Enter the amount and click on bet
How can I check my Bet9ja virtual ticket?
If you've placed a bet9ja virtual prediction and you wish to check your ticket online, it's easy. Simply visit the website on your PC and you'll find a space for "Coupon Check" at the right-hand side of the homepage.
However, the process might be slightly different while using a mobile device to check. You will have to go to the "All" section of the menu. There, you will see "Check a bet". Click on it and enter your bet ID.
Bet9ja
Bonus

Markets

Odds

Streaming & Live

Bet9ja app

Payment options

Customer Care