Bet9ja soccer fans are excited to use bet9ja to place their soccer bets. This is because the operator does not only provide an impressive wealth of betting markets but also several fantastic features. For instance, it enables its punters to bet on virtual football games.
It has even introduced the Zoom soccer betting function that can be accessed from both the new and bet9ja soccer old mobile site. In this guide, you will find all the much-needed information about betting on soccer events at bet9ja, virtual or not.
The Welcome Bonus: 100% up to N100,000 + 1 Free Bet
Using a promotion code for bet9ja enables new players to claim a 100% welcome bonus up to N100,000 (T&Cs apply). This means that by funding your account with at least N100, you automatically are eligible for the offer.

This is a match deposit deal with the maximum bonus you can receive is N100,000. So, if you deposit, say, N10,000, you will get another N10,000 as a bonus. You can use your bonus cash to bet on bet9ja soccer or any other sport you wish. Note that your first deposit will also get you one Bet9ja League Free Bet.
Before you claim your offer, though, please check its terms and conditions. Below are some key details about the sign-up promo to bear in mind:
Minimum deposit of N100 is required (first deposit only counts).
Deposits using Interaccount transfers do not qualify for the offer.
You must place a bet on any sports market with odds of at least 3.00.
You should stake the full worth of the deposit to qualify for the bonus.
Only single and multiple bets are accepted.
Wagering requirements apply (10x the bonus sum) that must be fulfilled within 30 days of getting the bonus.
Note: It does not matter if you are accessing the bet9ja soccer old mobile site or the new desktop one. You can get the bonus regardless of which bet9ja version you prefer.
How to bet on soccer on bet9ja?
Placing a bet9ja soccer bet is easy. Here are the steps you need to go through to lay a bet9ja soccer bet: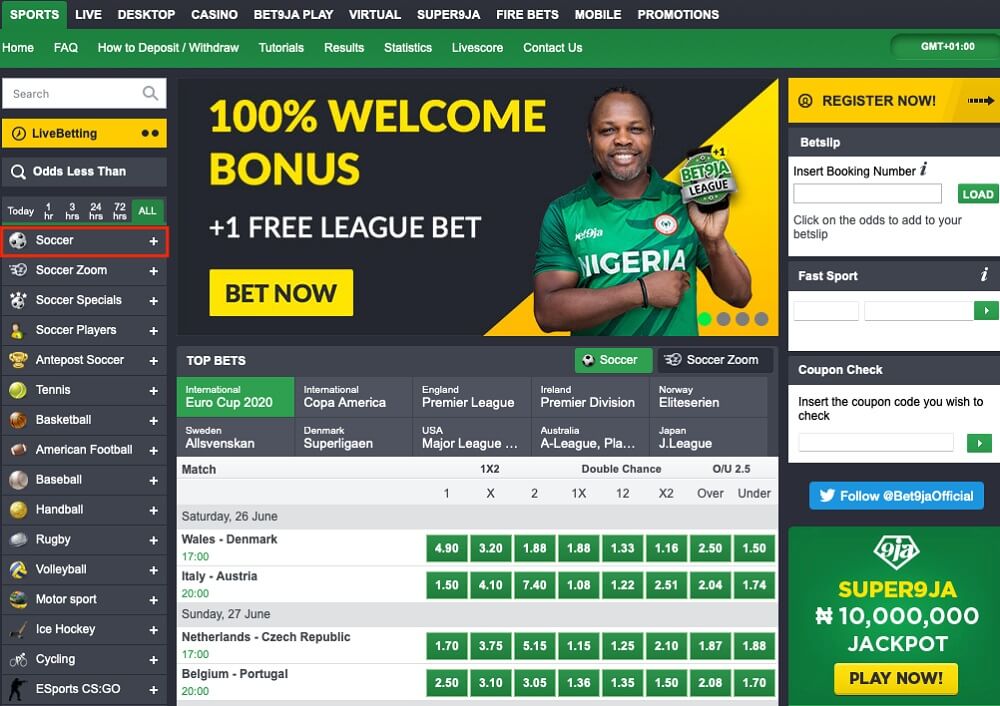 Step 1: Head to the Sports section on the left-hand side of the homepage.
Step 2: Select Soccer from the menu and press the "+" icon for a full list of all matches.
Step 3: Choose the tournament of your preferences and click on View.
Step 4: Pick the events you want to bet on.
Step 5: Click on the preferred odds.
Step 5: You will be able to see the chosen selection on your bet9ja soccer betting slip. Now, insert the amount you want to bet.
Step 6: Click Continue.
Step 7: Hit OK to confirm your selection.
You will see a message being displayed on your screen, verifying that your bet9ja soccer bet has been placed successfully. The procedure is more or less the same if you prefer to use the bet9ja soccer old mobile platform.
Bet9ja Soccer Zoom
Bet9ja Zoom Soccer is a bet9ja virtual soccer offering that's quite close to the actual games. How so? It has real leagues, team names, and markets. The only difference is that it provides simulated results. This bet9ja virtual soccer function features some popular European leagues, such as Serie A, Primera Liga, La Liga, and Premier League. These are represented by the Zoom soccer bet9ja leagues and bear names like Liga-Zoom, Premier-Zoom, SerieA-Zoom, and so forth.

As for the teams, all the favourite ones are there, including Barcelona, Real Madrid, and Manchester United. However, the bet9ja virtual soccer feature has added the letter "Z" in front of every team's name. So, for example, Real Madrid will be Z. Real Madrid.
What is also different about Zoom soccer bet9ja is that its virtual games can be booked on players' devices. This means that you can use your desktop, tablet or mobile phone to book a bet. You will receive a booking code, which you can then use to play your bet in a bet9ja soccer shop. When you get the final ticket from the shop, you are certain that your bet is valid. Sounds like a familiar process? It is, indeed, the way you would place a real bet. This only gives Zoom soccer bet9ja more of a real bet9ja Nigeria betting experience.
What to expect from Zoom soccer? New matches available every single day throughout the year. Therefore, there is no such thing as a league coming to an end. As for the available markets, you can choose between:
Over/Under
Correct score
GG/NG
1X2
Finally, the outcome of each virtual match is displayed in the Results section. It refers to the outcome bet9ja will determine losing and winning bets from. Players also have access to a bet9ja livescore option.
How to play bet9ja soccer (ZOOM)
It is super easy to place bets and play Zoom soccer. Here is a step-by-step guide to help you:
Head to the official bet9ja platform.
Click on Zoom Soccer (left-hand column that displays the sports).

Select the league you want to bet on.
Choose the team you want to book a game for (i.e., bet9ja English Premier League or Premier Zoom).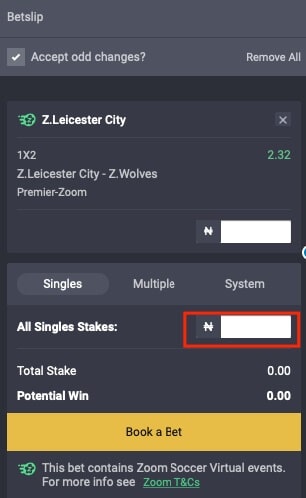 Enter the amount you want to bet in the bet slip on the right-hand side of the screen.
Click on Book a Bet.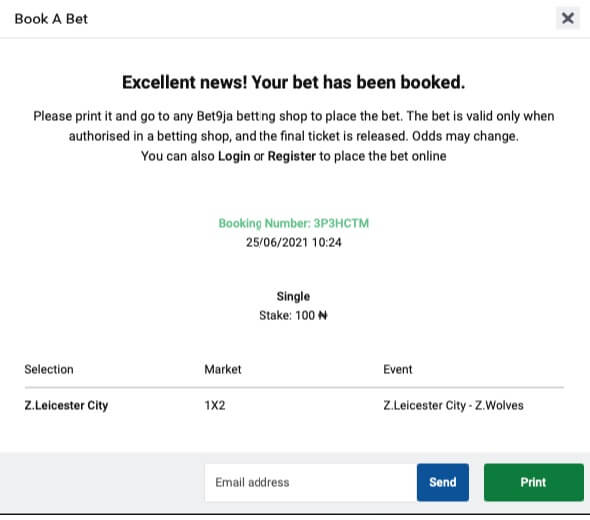 You will be provided with a booking number. You can print it and take it to a bet9ja betting shop to place your bet. Alternatively, you can email the bet booking code.
How to check bet9ja soccer zoom result?
Here is the shortest way to get the bet9ja virtual soccer results and see if your Zoom bet9ja virtual football bet is winning:
Visit the Zoom bet9ja soccer result page (https://www.zoomscores.ng)
Click on the Results tab on the main menu.
Choose the game you want to view the results of.
The screen will now display the results of the game you have selected.
If using the mobile version or accessing bet9ja from a mobile device, the process is as follows:
Click the Zoom tab on the main menu.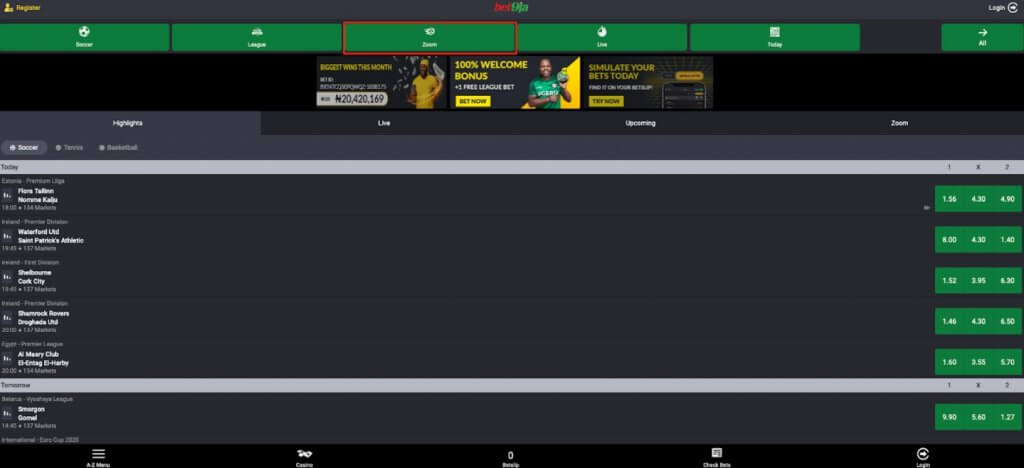 Hit the Stats button (it's quite small, on the top right-hand corner of the page).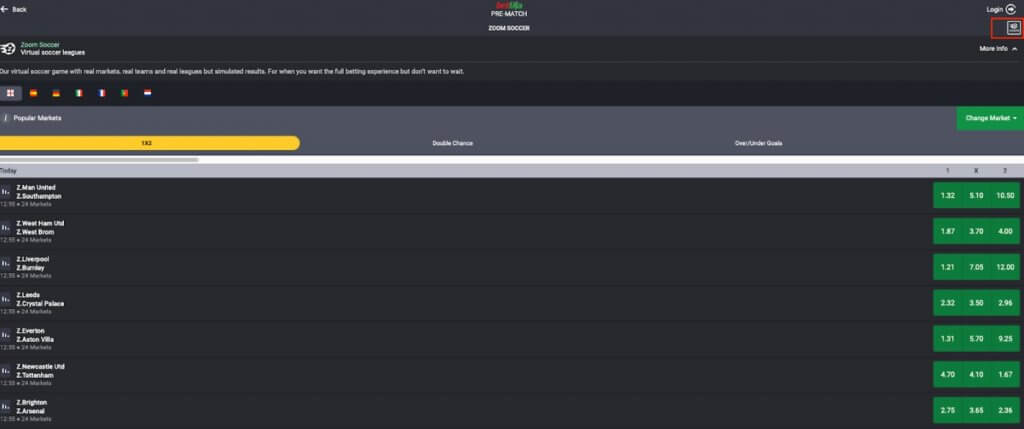 Choose Results (the same menu like the desktop version).

Pick the game you want to view the results of.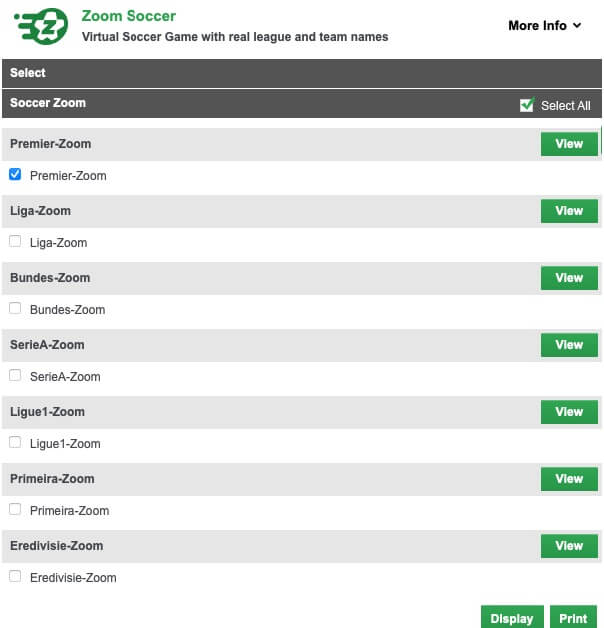 The screen will now display the bet9ja soccer result of the game you have selected.
Please note that the same process can be followed from the bet9ja soccer old mobile site. As you can see, the bet9ja betting experience is nothing but stress-free and uncomplicated.
What are soccer special options in bet9ja?
Punters have several different options to choose from when betting on a sports event. For example:
Red Card – You can win a bet if you predict which player or how many players will get a red card. You may even bet on the precise time a player will leave the game due to a red card.
1st Goalscorer – You bet on the player you believe will score the first goal in a game.
Time of the first goal – If you manage to predict when the first goal will be scored during a game, your bet wins.
Any time scorer – You bet on the player that will score a goal at any given time during the game.
2, 3 and more – You foresee which player will score 2, 3 or more goals during a match.
Total corner – You bet on the number of corners the match will have.
No score – You select the player you believe will not score a goal during the match.
First team to score – You bet on the team you think will open the match with a goal.
First team and last team to score – To have a winning bet with this option, you need to predict the first and last team in a tournament or championship.
Special goal scorer – In this case, you select the potential group of players that will score in a match.
Cards Yes or Not – You bet on the time and number of the yellow and red cards given during a match.
Note: These types of soccer bets are also provided to those using the bet9ja soccer old mobile version.
What are the Bet9ja soccer special rules for betting?
The operator provides some bet9ja soccer rules that need to be followed. For example:
The minimum stake allowed for a bet9ja soccer event is N100.
Bet9ja soccer betting includes the release of a transaction code by the operator. Until that code is issued, the bet is not valid.
If unsure about the validity of a bet9ja soccer bet, please contact Customer Service or check your Account.
You can place a single bet9ja soccer bet or multiple bets, including bet9ja virtual soccer bets.
If you don't know how to play bet9ja soccer, please consult the Tutorials or contact Customer Support.
You can lay no more than three identical bet9ja soccer bets.
The operator can limit the maximum potential winning by each bet9ja soccer bet at any given time.
Our tips on how to play soccer on bet9ja
Knowing how to play bet9ja soccer includes placing bets with a high potential of winning. It doesn't matter if you bet on bet9ja virtual football, a Zoom bet9ja virtual football league, or a real football event. Some basic principles apply to all of your bet9ja soccer betting endeavours. Here are some tips when betting on a soccer event or league:
Focus on tracking the games with the better odds rather than betting on a large number of games with so-so odds.
If you have to play many games, try to play a running ticket (bet9ja soccer special meaning/term for a ticket that can be played throughout several days/weeks). This will enable you to pick sure matches.
Always check the statistics and do your homework before placing a bet. Don't bet without thinking or researching first.
Betting on goals is the best option for beginners or novice soccer punters.
Always play responsibly and not let yourself get carried away. Instead, try to pace yourself and have a self-imposed monthly or daily limit for your bets.
Never put all of your money on a single bet. The bet9ja soccer result may not only disappoint you but also leave you with no money.
Remember that betting on bet9ja virtual football is like any other sports bet. You either get to earn or lose money (real money, not virtual).
Bet9ja Betting on Soccer – Final Thoughts
Bet9ja provides bettors with an abundance of betting markets and many different options to enhance their overall soccer betting experience. Whether you prefer to bet on Zoom soccer matches, virtual games, or real leagues, the operator caters to your needs for sure. As long as you know how to play responsibly, you are definitely in for a fun and entertaining time with bet9ja.
Bet9ja review
Bonus

Markets

Odds

Odds

Bet9ja app

Payment options

Customer Care