Do you know about the Bet9ja FireBets feature? In this review, we introduce you to the exciting Fire Bets feature at Bet9ja, a form of quick and rapid betting. Furthermore, we will tell you how you can use the Bet9ja promotion code and more.
What Is Bet9ja Firebets?
Bet9ja FireBets are like rapid-fire bets, or you can think of them as extremely quick and easy bets. This is a feature unique to Bet9ja. You will not find it in most other online sportsbooks (including mobile ones).
The basic concept is that you may want to place bets without much thought or research. You may not have the time, effort, or inclination to make highly sophisticated bets based on your own research all the time. And that is where Bet9ja extends a helping hand to you with their FireBets.
You can simply enter the Bet9ja FireBets site and choose from a curated set of bets for upcoming matches. You can choose one or more from them and place your bet(s) in minutes. The following sections dive more deeply into the process, so continue reading if this has piqued your interest.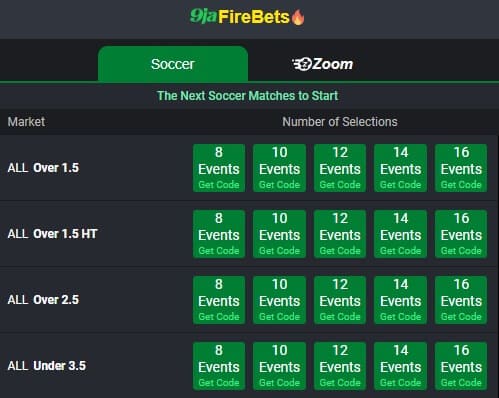 How Does a FireBet Work?
If you want to make one-click bets with big odds on a number of events, then Bet9ja FireBets are the way to go for you. Because the site lists all the upcoming events and lets you quickly make bets on all or some of them at once.
So, for instance, you can make an 'All Over 1.5' for all or some of the upcoming matches listed on the site. This means that you will be able to make an 'Over 1.5' bet for all the selected fixtures.
The site gives you a choice in terms of how many upcoming fixtures you want to bet on. This can range from 8 to 16 of the upcoming matches.
You simply need to select the type of bet you want to make and the number of fixtures for which you want to place the bet. Then you can click on the appropriate option. You will be given a booking code that you can use to confirm your bet. Currently, the Bet9ja FireBets feature is available for soccer only.
How to Access Firebets on Bet9ja?
You can access the Bet9ja FireBets site from the main Bet9ja site or through a separate URL. The main site contains a section called 'FireBets'. Click on that, and you should be directed to the right place. On the other hand, you can follow the separate Bet9ja FireBets URL to go there directly.
Once you are at the Bet9ja fire bets site, you will see a number of fire or quick bets. Click on the option(s) that seems interesting to you. You will be given a booking code that you can use at a Bet9ja shop or at the main betting site to confirm your fire bet.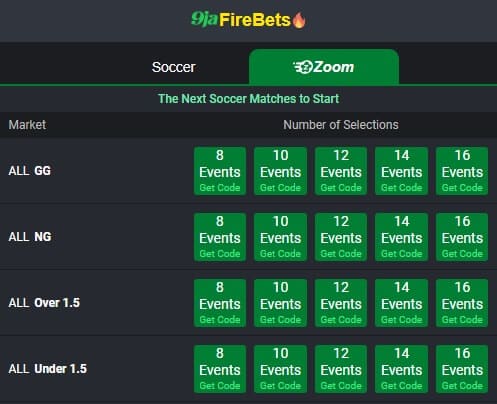 Claim Bet9ja Bonus
Bet9ja sportsbook claims to give punters a very interesting welcome package. Check out our guide to Bet9ja promotion code to see for yourself.
If you are interested in both sports betting and online casino games, you can get a welcome package for both. But you can enjoy the sportsbook bonus alone as well, which is substantial in its own right.
The Bet9ja welcome bonus offers to give you 100% up to ₦100,000 + 50% extra casino bonus. Of course, you need to make a minimum deposit and meet all the wagering requirements and terms to collect it. Also, you can apply the 'SPORTMAX' bonus code.
Go to bookmaker and get your bonus!
Other Great Products on Bet9ja
If you choose Bet9ja sportsbook, FireBets is not the only feature that you can enjoy. It may be one of the best features, but there are other equally attractive features. Such as the newly launched Super9ja jackpot competition.
Both new and existing punters can take part in the Super9ja competition. There are no restrictions in this regard. All you need to do is go to the Super9ja promotions page and correctly predict the scores of 6 pre-selected matches. The matches are generally selected from renowned European leagues, so there is unlikely to be any unfamiliar surprises.
If you get all of them right, you stand a chance to win all or part of the mega jackpot prize valued at ₦10,000,000. The best thing about this promotion is that you do not need to be the top player to win a prize.
Plus, there is no entry fee or requirement to wager your real money funds. So, it is worth checking out.