Welcome to this 1xBet sports betting guide. We will be looking at one of Nigeria's best-known sports betting sites and figuring out whether it is worth checking out. We will also see if the welcome offer stands up against some of its rivals in the industry. If you are looking for general information about the operator, feel free to check out our 1xbet review instead.
1xBet offers a 300% deposit match for new customers signing up for an account. You can click any button in this review to reveal the 1xBet promo code for Nigeria you can use to get the best possible start to your time with the site. But for now, read on to find out all you need to know about 1xBet sports betting.
Disclaimer: 1xBet does not have a license to operate in the US, Australia, Canada and Europe with the exception of Spain.
1xBet Restricted Countries
It should be mentioned before we take a look at the 1xBet sports betting site that there is a list of restricted countries, including the US, Australia, Canada and Europe – except Spain. If you reside in one of those countries or regions you will not be able to sign up and claim the 1xBet sports betting offer.
Bet on 1xBet Sport
1xBet offers a wide range of options when it comes to online sports betting. All the big events, leagues and tournaments are covered from around the world. So you should be able to find the right market without any trouble at all. There are even plenty of 1xBet virtual markets to explore.
Here are some of the main sports and events covered by 1xBet:
English Premier League football
La Liga Football
ATP Tennis
Tennis Majors
Golf Majors
Horse Racing from around the world
MMA
NBA
Boxing
1xBet Sports: Pros and Cons
With such a wide variety of sports and events offered at 1xBet, there is very little bad to say about this bookmaker. It is only that 1xBet sports betting is unavailable in some of the big markets that goes against it.
If you are in the UK or the rest of Europe (apart from Spain) you cannot sign up for an account and explore the betting markets and promotions available for customer account holders.
1xBet Football
Football is the biggest sport in Nigeria – as in most of the rest of the world. So it is only natural that the 1xBet football section is the first place most customers will want to look.
1xBet recognises this and directs you to the main football betting markets as soon as you log in to the site. You can easily check out the latest odds when you enter the site and the top matches are also highlighted to make your betting experience even easier.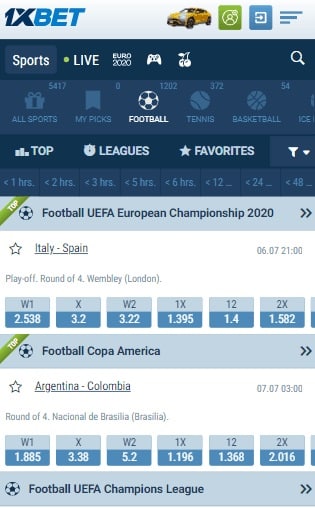 Virtual Football on 1xBet
1xBet offers betting markets on football from all around the globe. But if you want to take a break from real matches, you could always take a look at the 1xBet virtual markets.
Virtual sports have become increasingly popular with customers who want to place a bet whenever they like. These markets cover simulated games – much like a computer or video games – and offer the same random results as online casinos.
1xBet Fantasy Football
Another area of online sports betting that 1xBet has been able to introduce is fantasy football. Picking your own team and players allows you to be the head coach and pick up points for their actions.
You can choose to play 11×11 or 8×8 (denoting the number of players on each team) and select the players from a list provided on a daily and game basis. Play head-to-head against other customer account holders to become the 1xBet fantasy football champion!
1xBet Horse Racing
Although soccer is now the most popular sport to bet online, horse racing is always a favourite with customer account holders. 1xBet horse racing covers meetings from around the world and covers all the big events.
You can choose winners or just which horse will place in the top three. So if you fancy picking a winner for the Grand National or the Kentucky Derby, just head to the 1xBet horse racing section for the latest runners and riders.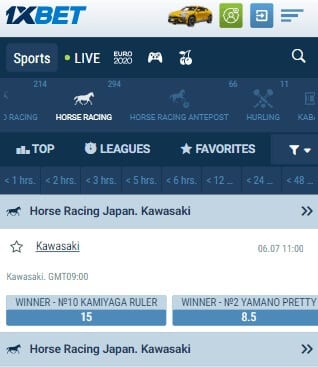 1xBet – Bet on Tennis
With competitions and tournaments taking place worldwide all year round, tennis is a great sport to try your luck when it comes to betting. 1xBet covers the majors, such as Wimbledon and the US Open, as well as all the ATP and WTA tournaments.
1xBet Boxing
There is not much more exciting than the build-up to a big championship bout when it comes to boxing. At 1xBet you can make your predictions on all major fights in the US and across the world.
Boxing lends itself to a wide variety of betting markets and 1xBet allows you to not only pick a winner – but pick which round they will win the belt in too.
1xBet Esports Betting
One new area that 1xBet has gone for is esports. Most online sports betting sites offer some kind of coverage of esports these days, but 1xBet's esports is very impressive.
1xBet's involvement in esports extends to its sponsorship and affiliation with teams. So if you enjoy esports betting, you can be sure to find the latest odds and markets here.
1xBet covers a lot of less popular games that some other sports betting sites don't – and you can always find the latest events for games such as these:
Counter Strike: Global Offensive
League of Legends
DOTA 2
Overwatch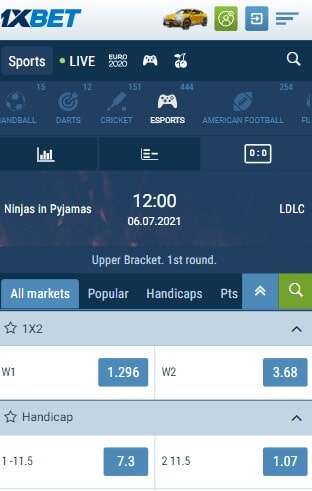 1xBet Sports Betting Review
As long as you are not in one of the restricted countries on the list we think that you should check out the 1xBet site. It covers a wide range of sports and events, including 1xBet virtuals and esports.
There are plenty of promotions, offers and bonuses to keep existing customers happy too. Click on one of the buttons in this review to find out more about the 1xBet promo code and welcome offer.
1xbet review
Welcome Bonus

Odds

Betting Markets

Streaming & Live

1xbet App

Customer care