Valid in

Updated on 30th September 2023
With Yangasport BONUSMAX promo code, get an bonus of up to 500% First Time Deposit. Minimum deposit: NGN500. Min. Odds 5.00. Wagering Requirements 10x. The bonus will expire 14 days from activation.
YangaSport is another newcomer to the bustling Nigeria online sports betting scene. It has some great ideas and solid execution, which we will take a look at in this YangaSport Review.
This sportsbook is operated by YangaGames Technologies. They are regulated by the Nigerian National Lottery Regulatory Commission. They also comply with all the requirements of the National Gambling Board. So, we can preface our YangaSport Review by confirming that it is a legit and safe site.
| YangaSport review | Our rating |
| --- | --- |
| Yangasport offer | 5/5 |
| Markets | 3.5/5 |
| Odds | 3.5/5 |
| Streaming/Live options | 4.5/5 |
| Mobile app | 3.5/5 |
| Payment options | 4.5/5 |
| Customer service | 4.7/5 |
| Average grade | 4.2/5 |
| Register | Sign up |
YangaSport Sport Review – 5/5
The sportsbook has a few promotions punters should have an eye on. The main bonus all new players at YangaSport Nigeria will get is the First Deposit bonus. Since bonuses are so important, we checked it out in our YangaSport review.
As you may have heard, almost all casinos and sportsbooks offer a welcome bonus. This bonus is a great way to attract new players
Welcome bonuses have something for anyone. All punters should check them out after registration when they login for the first time.
Get up to 500% Bonus on your first 4 deposits!

18+. Minimum Deposit Amount: 1st-N500, 2nd-N1000, 3rd-N3000, 4th-N5000. Maximum bonus amount: 1st,2nd,3rd-N10,000, 4th- N20,000. Minimum number of Selections:1st,2nd- 5,3rd-6,4th-7. Minimum qualifying odds per Selection is 1.5. T&Cs Apply.

Visit site

Games selection
Acca Bonus
Mobile site
First Deposit Bonus [EXPIRED]
The First deposit bonus at YangaSport Nigeria is very easy to get. All you have to do is create an account. After registration, you must log in and make a deposit. You will get the bonus right after the deposit. Sometimes, the Yangasport Promo code BONUSMAX might be required.
There are limits on how much you have to deposit to be eligible for the bonus. It might be something like ₦500. This means punters have to deposit this minimum amount to get anything from the bonus.
There are also maximum limits on the bonus. Suppose the bonus is a 500% deposit bonus up to ₦50,000. That means if you deposit ₦1,000, 500% of that would be added as bonus cash. ₦6,000 would land in your wallet instead.
The bonus cash can only go up to a maximum of ₦50,000, hence the limit. There are always a few other terms and conditions in general, so punters should keep an eye out for them. It's a really generous bonus offer YangaSport is offering players
However, if the terms are not too overbearing or obnoxious, then go for the bonus. It's a great offer and a good opportunity to earn a lot of bonus cash, which means more fun and money.
YangaSport Welcome Bonus – Terms and Conditions
First of all, customers must have only one account. They must be above the age of 18. They must not be carrying out any fraud or illegal activity. If a customer breaches any of these rules, their account will be disabled.
Punters are also not allowed to do Arbitrage Bets or Sure Bets. Sportsbooks can actually calculate possible arbitrage values in the same way punters do. So, if a punter starts wagering along those lines, they will detect it and take action.
The bonus cash is actually placed into a bonus balance. This is separate from the player's actual cash balance. You will place any winnings you make from the bonus cash rewards into the bonus balance, not the real cash balance.
The bonus balance cannot be withdrawn or cashed out until the turnover is complete. The turnover is basically the amount of money that has to be played. The turnover for the welcome bonus is 10x. This must also be wagered on betslips where the total odds are 5.0 or higher.
If a bet is voided or cancelled in some other way, then it won't be counted for the turnover requirement.
If you manage to wager 10x your bonus amount as turnover, then the remainder of the bonus credit will be converted to real credit. You could cash it out or use it as normal. Consider that the bonus money can go up to ₦50,000 – imagine getting that much in real cash!
Betting Markets on YangaSport – 3.5
When reviewing a sportsbook, there's obviously one factor that absolutely can't be missed: the betting markets. The available sports at a sportsbook significantly affects its quality. A sports betting site would be no good if it had very few sports to actually bet on.
The list of games at YangaSport Nigeria includes Soccer, Tennis, Basketball, American Football, Rugby, Badminton, Boxing, Cricket, Handball, Ice Hockey, MMA, Snooker, Table Tennis and Volleyball.
Soccer betting is a mainstay of every sports betting website. This is a popular game in Nigeria, so YangaSports offers over 500 upcoming Soccer events at all times.
Each soccer match has over a hundred markets. These are all under 1×2, Half Time/Full Time, Double Chances, Total Goals, Handicaps, and other sports categories. Punters can wager on each and every aspect of a match.
That said, not everyone is into Soccer exclusively. Sports like Basketball, Ice Hockey, and Table Tennis are also very popular at YangaSports. Over a hundred upcoming events are available for betting. We also checked out their betting markets in our YangaSports review.
Basketball markets at YangaSports are plentiful. They have overall, full time, halves and quarters categories, and markets like Handicaps, Total Score, Odd/Even, Over/Under, etc.
It's a similar situation with Ice Hockey and Tennis. Ultimately, every player has a lot of freedom to bet on what they want. Want to bet on sports water spots? And on Table Tennis? You can do so.
In order to bet, you can simply create an account and deposit some money. Then you can go through the list of available sports and betting markets. For each game, the 1×2 bet is displayed in the front. To see other markets, click on the team names.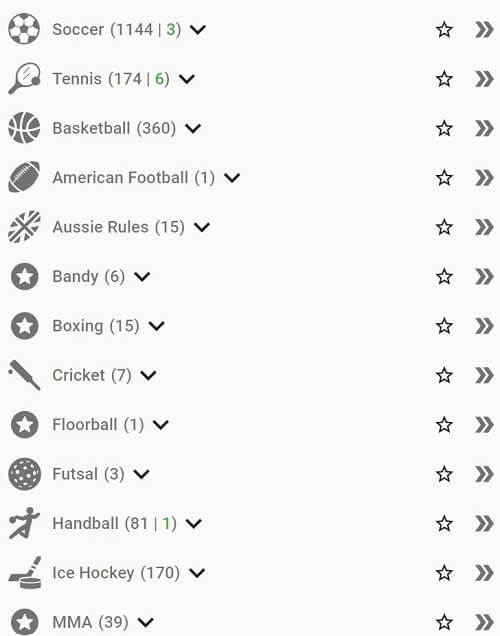 YangaSport Casino Review
Many Nigerian betting sites include some casino games and bonuses. However, YangaSport is not one of them. There are no casino games or bonuses whatsoever to play at YangaSport.
So, if you are looking to play some slot games or table games, you will have to wait. We hope that YangaSport will follow in the footsteps of numerous other leading Nigeria betting sites. Hopefully, they will add a few casino games in the future!
Having a few slot machines or video poker titles would improve their entertainment variety. But for now, when you come to YangaSport, you do so to bet on sports. All of the services and bonuses are geared in that direction.
Odds of YangaSport – 3.5
The odds determine how much money players stand to win in case of a successful bet. So, for many players, it is one of the most important aspects of a review.
During our YangaSport review, we found that most of the events odds that are the same as other bookmakers. For example, in an upcoming Newcastle vs Manchester United match, the odds of an away win are 1.52. This is YangaSport's calculation. Most other bookmakers will also calculate it to around 1.50 or 1.51.
So, the marginal difference in odds is not useful. We would characterize the odds of YangaSport as fair.
Punters can improve and min-max the odds in many ways. Accumulator multi bets allow players to stack several bets in a group. If one of the bets loses, then all the bets do. But if all the bets win, then you get a big odds payout.
It's important to note that according to its terms, YangaSport does not allow arbitrate or sure betting.
In arbitrage betting, punters bet on the same game but with different outcomes at different sites. Since YangaSport's odds are average, it could be used in combination with sites that have surprisingly high odds on one side for sure betting. So, if you are thinking of doing it, we recommend against it.
Streaming and Live Betting on YangaSport – 4.5
There are several types of betting at any sports betting site. One is pre-game betting, where punters place wagers before the match. The other is live betting, where punters place wagers during the match.
Live betting is fun and exciting for many punters. Rather than place bets beforehand and then watch the game, they can join the action.
In live bets, the odds numbers are updated every few seconds. Suppose the Home Team scores a goal. The odds for the Away team would increase immediately, since the Away team's chances of winning just decreased.
Similarly, suppose a Red Card sends the home team's star striker off the field. Their chances of winning would decrease. The odds for the Total Number of Goals may also be updated.
One advantage of live betting is that you can take the real match conditions into account. In pre-game betting, you are out of luck if one team messes up badly at the start of the game. In live betting, you can adjust your bet appropriately.
YangaTV is YangaSports Nigeria's live streaming platform. If you want to watch a live match, simply click on the YangaTV tab. Many live matches are streamed in high definition on occasion.
Don't worry if you cannot afford the mobile data to stream a full match. The alternative to live streaming is the livescore. The livescore is an animated representation of the game instead of a full live stream. It will not use as much mobile data, but provide you with the same information.
Using a combination of the livescore and recorded statistics is very effective. It is possible to place even more accurate wagers than someone watching the match in real time.
YangaSport Mobile App – 3.5
During our YangaSport review, we noticed something was off. The website, even on a desktop, was narrow and in a single column. Most of the left and right side of the screen was empty. There are buttons at the bottom of the screen as a fixed footer.
YangaSport Nigeria chooses to focus exclusively on the mobile experience they do not even have a real desktop site. Instead, their one site is designed from the ground up for a perfect mobile experience. If you visit YangaSport on your phone, you will find that it is suitable for a handheld device.
Using your mobile phone browser, you can do all the same things a desktop user can. There is unfortunately no app, which is a minor shortcoming. An app is useful because it reduces load time and saves mobile data as evidenced by some of the alternative betting apps in Nigeria.
The Yanga Sport website is very well-optimized for different phones and tablets. The website is also designed so that it uses minimal mobile data. There aren't many big, flashy images and animations other than the banner on the home page.
The mobile site also has its own advantages. Since it is run on the browser, any phone can run it. It does not matter if the phone is an Android, iOS, Blackberry, or Windows Phone. If it can launch a web browser, you can visit YangaSports.
Meanwhile, an app will be restricted to one or two mobile operating systems. Most of the time, it will only support Android.
YangaSport Nigeria – Payment Options – 4.5
Without spending money and paying at a sportsbook, it is impossible to wager and bet. That's why we cover Payment options as well in our YangaSport review.
YangaSport Nigeria uses two major payment platform providers: Paystack and Monnify. Both of these platforms are highly secure and well-regarded in Africa.
The advantage of using these payment methods is that they accept different options. Punters can use Credit Cards from VISA and MasterCard, Bank Transfer and Wires, Apple Pay, Visa QR and several mobile phone payments.
The local banks that are accepted here are Guarantee Trust Bank, Kuda Bank, Zenith Bank, and ALAT.
Not all of these methods are available to most Nigerian players. Therefore, it's important to have a wide selection of payment options. In this case, the brand definitely delivers. During our YangaSport review, we tested the payment processes.
Payment options like Credit Cards and Apple Pay only take a few seconds to send the money. Afterward, it will appear in the casino balance in a few minutes. If it does not appear after several hours, it may be time to contact customer care.
The minimum deposit is ₦100.00. This applies to all payment methods. There is no maximum deposit.
Withdrawals are very similar to deposits. After you have won, you may login and visit your account wallet to see how much balance you have. From there, you may request a withdrawal. In this case, the withdrawal will be confirmed and credited within a few hours.
Some payment methods may take a long time to withdraw. For instance, if you withdraw the winnings to your bank account, it will take up to 2 or 3 days to receive the money. This is because the Bank spends a lot of time checking and verifying.
How to Contact YangaSport Customer Care? – 4.7
YangaSport's Customer Care is very easy to contact. They offer a lot of different options, so punters can choose the one they are most comfortable with.
Yangasport
Talk to a member of YangaSport's team
If you have any issues or questions, don't hesitate to contact customer support at:
09087008888 Or 09096008888
To find the Contacts page, scroll to the bottom of the website. In the footer links, click on 'Contact Us', below the Language selection box. This will take you to the contacting page.
Contact YangaSport Nigeria when the issue cannot be resolved by the FAQs. For example, if you lost your password, that is easily solved without contacting them. On the other hand, if you deposited money a few hours ago and it hasn't shown up, that's a bigger issue requiring an urgent solution.
So, to contact YangaSport, you can call their official number. 09087008888 is available from 8 am to 8 pm in Nigeria time. 09096008888 is available from 8 PM to 8 AM.
If you do not want to talk on the phone, you can use the live chat feature instead. Live chatting is available from Monday to Friday from 9 am to 5 pm. On Saturdays, it is available from 10 am to 3 pm. It is not available on Sundays.
If there is no huge emergency and you are willing to wait for a slower response, you may email them. The response from the email can take up to a day, but it will be a very detailed one. The email for customer support is [email protected]. For any generic queries, players can email [email protected].
The physical address is also given on the page. If you live in Lagos, you could pay them a visit.
YangaSport Review: Our Verdict – 4.2
We found in our YangaSport review that it is a unique but top-notch Sports Betting site. There are a few aspects of this brand that are particularly unique.
One of them is the website design which is the same across both mobile and desktop. The generous welcome bonus is another great point in favor of this sportsbook. If you decide to join today, you will get these benefits.
Otherwise, the basic features are well done here. The sports betting section covers a wide range of games and betting markets. The odds may not be anything special, but they are fairly good in general.
There are a few negative points. The lack of a mobile app is one. A lot of niche titles are also missing from the list of sports. The lack of casino games is another major negative point. However, the range of betting markets should still keep any Nigerian punter happy. Plus, not a lot of other sports betting sites actually have a live streaming option like Yangabet does. These positives outweigh the negatives, in our opinion.
| ✔️ What we like | ❌ What we don't like |
| --- | --- |
| Large welcome bonuses | No app |
| Live Streaming through YangaTV | Many less popular sports are missing |
| Optimised mobile site | No casino games |