Before you start searching for LionsBet promo codes online, you should read our LionsBet review. It can help you decide whether the site is even worth signing up for or not.
❕ We currently don't have an affiliation with Lionsbet. We recommend that you try Bet9ja, which offers an exclusive Bet9ja Promotion Code.
| LionsBet Review | Our Rating |
| --- | --- |
| Welcome Offer Sport | N/A |
| Welcome Package Casino | N/A |
| Markets | 3/5 |
| Odds | 4/5 |
| Streaming/Live Options | 4/5 |
| Mobile App | 2/5 |
| Payment Options | 3/5 |
| Customer Service | 4/5 |
| Average Grade | 3/5 |
| Register | Sign Up |
LionsBet Sports Review – 2/5
If you are not familiar with the term welcome bonus, it is basically an incentive given by sportsbooks to induce you to sign up to their site. It is often called a sign up bonus as well.
Most sportsbooks offer welcome bonuses in one form or another. However, there are no welcome bonuses at the LionsBet Nigeria at the moment. Instead, you can choose from a number of other bonuses once you sign up to their site.
The bonuses that you can get at the sportsbook include early cashouts, accumulator bonuses, cashbacks, odds boosts, and weekly giveaways. The site also boasts its ability to deliver on the quickest withdrawals as a bonus. However, we would like to see some jackpots too.
As the site does not have a welcome bonus, we will not dwell too much on the subject of bonuses. But you are probably reading this LionsBet review to know what bonuses you can enjoy at the site.
The cashback bonus can help you cut your losses. And the accumulator bonus can help you increase your winnings. Basically, the cashback bonus gives you a percentage of your expected winnings if your bets fail by a small margin. But the bets need to have at least ten selections, and they can only fail because of one selection.
On the other hand, the accumulator bonus adds an extra cash bonus to bets that you win. For instance, if you make accumulator bets on 6 or 7 matches and you end up winning, you will get a percentage of your winnings as a bonus.
Even though they are not sign-up bonuses, they have their advantages. They are recurring bonuses that you can enjoy from time to time. Maybe the site will introduce jackpots at one point as well.
Betting Markets/Available Sports on LionsBet – 3/5
LionsBet's selection of sports is carefully considered. It does not try to lure you in with hundreds of sports and events. It focuses on a set number of sports and tries to deliver the best betting experience for those.
In our LionsBet review, we believe that the site has taken the right approach and the sports markets are quite good, even if a bit narrow.
Football
The sport that LionsBet prioritises over all other sports is football. That is perhaps not so astonishing because football is the most popular sport in Nigeria and the surrounding region.
On any given day, you can expect hundreds of football events from around the world open for pre-match or live bets. In addition to domestic leagues from England, Germany, and France, you can also bet on leagues from Australia, India, Indonesia, etc.
Furthermore, the site includes a large number of international games, whether they be qualifiers for some tournaments or friendlies. You can bet on those too.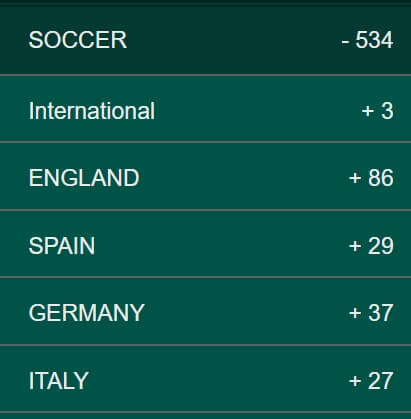 Basketball
As the fastest-growing major sport in Nigeria and the rest of Africa, it is only natural that LionsBet includes a large retinue of basketball betting options.
You can bet on the best American basketball leagues such as NBA, The Basketball Classic, etc. But you can bet on the tournament from other parts of the world that only dedicated fans follow.
For example, events from the Euro Cup, Euro League, the Australian NBL, and other comparable leagues are well-represented at the site.
In addition to football and basketball, the site includes some great sports that have a small but enthusiastic following in Nigeria. They include tennis, table tennis, ice hockey, cycling, and many other sports like that.
LionsBet Casino Review – 2/5
The LionsBet online casino is a place where you can enjoy some games from time to time. However, our LionsBet review found that the site cannot be recommended for a full-blown online casino experience.
The games are limited to a few select categories, and the total game library contains just over 100 games across all categories. Let us look at some of those categories and the games that you can find under each.
Tables
You can play a number of table games at the casino. They include baccarat, blackjack, roulette, cribbage, sic bo, and so on.
You will find some of the games in different variations. For example, there are several different kinds of blackjack and roulette. But this category contains less than a dozen options.
Slots
Most of the games at the casino are actually slots. So, if you enjoy slots sometimes as a distraction from your betting, you will find plenty of decent options.
There are more than 70 slots in the online casino which includes names like Aztec Secrets and Gladiator of Rome.
Instant Wins
You will find a lot of instant win games at the LionsBet online casino as well. They include games like scratch cards, keno, and a few others. But most of the games are different variations of scratch cards or keno.
So, if keno or scratch cards are your idea of a quick and fun casino session, then this site may come in handy for you.
Virtual Sports
As a casino affiliated with a renowned sportsbook, the site has a number of virtual sports games. They include soccer, horseracing, bike racing, tennis, and a few others.
Therefore, you can get the chance to play some virtual sports in addition to betting on real sports with LionsBet.

LionsBet Casino: Welcome Bonus – Terms and Conditions
LionsBet does not have special promotions or bonuses for their online casino. It does not have a special sports welcome bonus either.
The only bonuses that you can enjoy are sports bonuses that are open to all punters. This includes accumulator bonuses, odds boosts, cashouts, weekly giveaways, cashbacks, etc.
Odds on LionsBet – 4/5
One of the biggest reasons to choose LionsBet would be the odds at the site. They are simply some of the highest among Nigerian bookmakers.
Odds across all sports, leagues, and games are generally in the top tier. Furthermore, there are odds boosts and win multipliers that can help you enjoy much better returns.
As part of their promotional offerings, the site offers boosted odds for almost all games from almost all sports and leagues. This means that you may be able to get the highest odds for a particular bet or event at the site.
The accumulator bonus is also something that can boost the odds in your favour. The minimum odds requirement to enjoy this bonus is 1.2, and the bet has to have three or more selections.
Streaming and Live Betting on LionsBet – 4/5
LionsBet delivers quite a solid punch as far as its live betting features are concerned. That is despite the fact that live streaming may not be available for most events. But that is a common absence that you will face at many renowned Nigerian sportsbooks.
The site compensates for that by giving you live simulations of games through which you can visually follow the latest developments. Moreover, the interface is well-suited to help you do live betting on single events and multiple events at once.
For betting on several multiple events at the same time, you need to select the 'multi-view' option in the live betting section. Then you can select the events you are interested in from the list of all live events.
Then you will only see the events that you are interested in. You can follow the developments in real-time through the live score feature and the odds change feature.
Red and green signals appearing on the edges of the odds tell you which way the odds are moving. Red denotes declining odds, whereas green denotes an increase in the odds.
LionsBet Mobile App – 2/5
LionsBet Nigeria has not released native mobile apps for either iOS or Android operating systems. Mobiles have become central to our online experience, and apps can provide a smooth experience that mobile version sites cannot. Thus, many sportsbooks have developed or are in the process of developing native mobile apps.
The ones that do not have well-optimised mobile version sites to compensate. But we discovered during our LionsBet review that it appears lacklustre on that count as well.
The operator has not optimised its site for mobile users. Hence, we must say that the site is not suitable for you if you prefer mobile betting almost always.
But if mobile betting is merely optional or an infrequent thing for you, there are other reasons for which you may want to consider this sportsbook.
LionsBet Nigeria – Payment Options – 3/5
As far as LionsBet payment methods are concerned, you have a large number of choices for deposits. This includes card or bank deposits through Paystack, Webpay Nigeria deposit, Quickteller ATM or online deposit, Paydirect deposit, and Scratch Card deposit.

The minimum deposit requirement is 50 NGN for each of those methods. Whereas the maximum deposit in a single transaction is set at 1,000,000 NGN.
The above methods are for deposits only, though. And that is a bit unique about LionsBet because usually, most, if not all, deposit methods are also available as withdrawal methods.
But that is not so in this sportsbook as you only get a direct bank transfer method for withdrawals. The minimum withdrawal request is 1,000 NGN, and the maximum that you can withdraw once is 500,000 NGN. There are no additional fees from the sportsbook's side for withdrawals.
How to Contact LionsBet Customer Care? – 4/5
Our LionsBet review found that the customer support team is quite helpful, knowledgeable, and can quickly help resolve your issues. Furthermore, there are so many ways to contact them. You can fill out the 'Contact us' form on their website. You can also email them at [email protected].
But if you need a more urgent solution, you can call them or reach them via social media such as Facebook and Twitter. For the call option, the numbers include +234 809 4444 035 / 036 and +234 818 4449 760 / 761.
LionsBet Review: Our Verdict – 3/5
You will find a quick summary of all the best things about the site and the not-so-good things about the site in the table below. Our overall verdict is based on all the points explained above.
While we do find the absence of a welcome bonus disappointing, there are other redeeming features of the site too.
| ✔️ What we like | ❌ What we don't like |
| --- | --- |
| Excellent odds | Not suitable for mobile betting |
| User-friendly live betting | No welcome bonus |
| Responsive customer service | |