Sports betting enthusiasts may find the new Bet9ja Stadium virtual game quite entertaining. The virtual game can be accessed by visiting the official website. If you want to learn more about the Bet9ja Stadium virtual game, follow this review further.
What Is Bet9ja Stadium Virtual?
Bet9ja offers new football stadium virtuals that provide players with quick betting action. In other words, it is about playing a whole season within an hour with the top seven European football leagues. Moreover, there is an option to bet on 67 different matches per week with plenty of betting markets available. These are correct scores, 1×2, no goal/goal with the double bets chance, and others.
In addition, bettors can add matches from different leagues on the same day, which gives out no limits for wagering combinations. Bet9ja Stadium game is available in Standard mode when the games are settled in about 30 seconds. What is more, there is Turbo mode when the games are finished in a couple of seconds.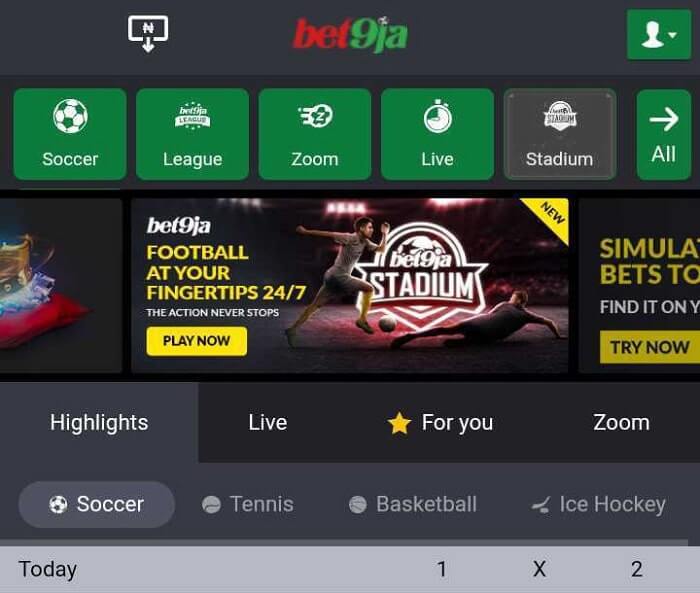 How Does Bet9ja Stadium Work?
If you are interested in learning how Bet9ja Stadium works, take a look at the list below:
Firstly players need to select one of the seven European Leagues that they want to bet on. The available leagues are Premier League, Bundesliga, Serie A, Ligue 1, La Liga, Eredivisie, and Primeira Liga.
Furthermore, once players select the league, they will enter the live games in a random game week.
Moreover, bettors have around two minutes to select the odds for their bet slips. In other words, the matchday switches to a new one within two minutes or less.
Afterwards, wagerers can go back into the menu and make additional bets for other leagues.
Also, there are plenty of betting markets available that punters can choose from. For example, bettors can choose markets like correct score, double chance, over/under, and more to add to their bet slips.
In addition, once wagerers make their selections, they can find a bet slip at the bottom of the screen. Most importantly, the minimum stake is 50 NGN for either single, combined, or multiple bets.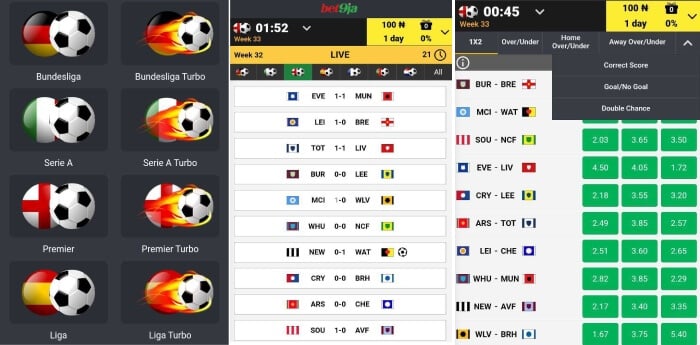 So punters who enjoyed playing Bet9ja league virtual games or watched the Bet9ja league tv will most likely be interested in the new stadium virtuals.
How to Access Bet9ja Stadium?
To begin with, it's important to mention that registered customers with this operator can only access the Bet9ja Stadium games via the new mobile site. Furthermore, to access the Bet9ja Stadium, bettors must log in to their accounts.
Then, at the top of the screen, there is a "Stadium" shortcut from which users can access the games.
Additionally, the Bet9ja Stadium can also be accessed by entering the stadium.bet9ja.com URL into the browser.
What Are Bet9ja Stadium Rules?
Bet9ja Stadium is a virtual football game featuring different leagues and team names. In addition, the outcome of every match is fully simulated. Also, there are standard and turbo modes available.
In standard mode, the matches are switched within two minutes. Bettors can make their betting market selection 30-40 seconds after the kick-off.
If you opt for Turbo mode, there are two options to choose from. In case you pick "kick-off" you will have unlimited time to make your selections. On the other hand, if you click on "more bets", you will only have two minutes to make your selections.
Moreover, there are plenty of betting markets available for all matches. These are match results, over/under, correct score, double chance, goal/no goal, match results +over/under, and more.
Also, there are three bet types available. These are single, multiple, or combined. In addition, the maximum win per one bet is 500,000 NGN.
It's also important to mention that there are also loyalty bonuses for playing Bet9ja Stadium. You will be able to see a counter that shows you how much time you have to place bets until you reach 100%. Afterwards, you will be able to claim a free bet bonus. The first time you reach 100%, you will get 100 NGN in free bets. The next time you reach 100%, the prize will be bigger.
Which Leagues Are Available on Bet9ja Stadium?
Take a look at the list below of the available leagues for the Bet9ja Stadium game:
Premier League
Bundesliga
Serie A
Ligue 1
Primeira Liga
La Liga
Eredivisie
Claim Bet9ja Bonus
All bettors who want to join this sportsbook can use the Bet9ja promotion code SPORTMAX during registration. Afterwards, they can claim 100% on their first deposit of up to N100,000 as well as an additional 50% casino bonus.
Great Bonus
Betting Markets
Loyalty offers

What is more, when bettors complete their first deposit, they can claim the 100% bonus funds for wagering. For example, if punters deposit 1,000 NGN, they will receive an additional 1,000 NGN. However, players can use a maximum of 30,000 NGN of the bonus that they received on a single bet, regardless of the number of selections on the betting slip. In addition, there is a 10x wagering requirement for the sports welcome bonus.
On the other hand, the amount received for the casino bonus must be played at least 40 times with a minimum bet of 50 NGN,